Scholarships for Study in Austria
Land of Alps and Mozart
Austria is a desirable study abroad destination for many students if for nothing else for its beauty and culture. Some of Europe's most renowned composers, artists and thinkers hail from this mountainous country. Besides the opportunity to study in the same halls as these great minds, students can ski the Alps, learn the German language, observe European economics and business first-hand, and engage in expeditions to neighboring countries.
Government Funds
The Benjamin A. Gilman International Scholarship provides undergraduate students who normally couldn't afford studying abroad the opportunity to do so. Those who are receiving Federal Pell Grants are the only students eligible for this award. This scholarship stresses the importance of international experience. It aims at allowing students who have been traditionally under-represented the chance to study abroad. It also encourages students to choose destinations that normally get overlooked by most other study abroad programs. Thousands of these scholarships are awarded each year. The maximum amount students are able to receive is $5,000, while the average amount is $4,000.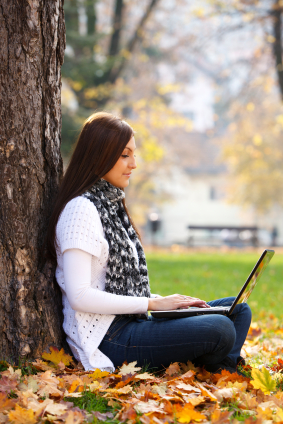 Science majors who feel suppressed by the white walls of a research lab or who yearn for international collaboration may be interested in the Central Europe Summer Research Institute funded by the National Science Foundation. The program is designed for graduate students and provides generous CESRI fellowships that allow cultural, educational and social exchange to take place while students work on projects in Austria and other locations in the region. This fellowship includes an award of $2,000, round-trip airfare, living costs for 8 weeks, health and accident insurance, and a 4-day orientation
College Scholarships
Northern Illinois University provides an Austrian study abroad program in partnership with Salzburg University in Austria. Scholarships are aimed at those who are planning to be abroad for a year. Up to $1,000 may be awarded based on academic merit, value of a written essay and financial need.
Students pursuing their doctorate that are interested in both a Ph.D. in Finance combined with studying in Austria may consider applying to the Vienna Graduate School of Finance. The program is offered by a consortium of Austrian institutions and the courses are English-based. Academically talented and financially strapped grads may qualify for scholarships to the school.
Miami University in Ohio maintains a collegiate exchange with students from Austria. They offer various scholarships to those accepted into the study abroad programs.
Study Abroad Organizations
The American Institute for Foreign Study is one of the oldest, largest and most respected foreign exchange programs in the world. They have over 50,000 students each year participate. Their goal is to enrich students' lives through providing the highest quality educational and cultural exchange programs. Students participating in the AIFS Austria program have the option to choose from a summer, semester or year at the University of Salzburg.
During their stay in Austria, students will explore the history, culture, and sheer beauty of this country. Organizations like AIFS specialize in putting students into innovative and experiential international programs and that means supplying scholarships to many who require additional financial assistance. Around $600,000 in scholarships are awarded each year. AIFS scholarships include:
AIFS Study Abroad Scholarships are generously given out. They partner with some colleges and universities to provide a $1,000 scholarship towards specific programs for spring and fall semesters. To be eligible applicants must be attending a college that recognizes the AIFS program, be in good academic standing and show financial need.
The Gilman Bonus Scholarship rewards those AIFS students who have been given the Benjamin A. Gilman International Scholarship with an extra $500.
Study Again with AIFS Scholarships are offered as encouragement to students who have already participated and are considering doing so again. They offer up to $1,500 is scholarships for this program.
For more information on other scholarship opportunities, visit AIFS's scholarship page.
What music major doesn't wish to study in Austria? With a history of some of the best composers and musicians, Vienna is one of the most significant European centers for the arts.The Institute for the International Education of Students' Vienna programs provides the ultimate experience for music enthusiasts. Applicants may choose from summer, semester and year programs in Austria. Scholarships available include:
IES Fine Arts Scholarships are awarded based on proficiency in one of the arts. Students must also have a GPA of 3.3 or better. Awards are up to $3,000.
High Academic Achievement Scholarships award students who demonstrate high academic achievement. Again, up to $3,000 is awarded.
IES Need-Based Scholarships are for students who need financial help to be able to participate in this program. Up to $2,000 is awarded based on certain criteria: level of financial need and study abroad location.
Country-Specific Study Abroad Scholarships