Scholarships for Albania
Ready for Your Trip?
The Republic of Albania borders Greece, Macedonia, Kosovo and Montenegro, and is located across the Adriatic Sea from Italy. Once an Eastern Bloc country, this Balkan nation now runs as a parliamentary democracy. With close ties to Mediterranean countries, it is working toward membership in the European Union. Following a volatile political and economic decade of reform and government overhauls, Albania's economy continues to positively progress. Albania is a mountainous country with a low-lying coastal shore that has a strong seaport industry. The capital city of Tirana is home to less than one million and provides a vantage point for studying the Albania language and its economic, political and cultural evolution.
Scholarships and formal programs of study are picking up. There are more opportunities open to graduate, post-graduate and post-doctoral researchers whose specialized fields of work are well-suited to funding for beneficial, international collaborative efforts.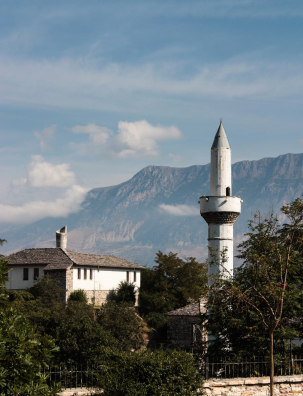 Government Scholarships
The David L. Boren Scholarships are highly competitive scholarships offered through the National Security Education Program. Albania is one of the eligible countries open to both undergraduate and graduate students. Scholarships of up to $20,000 are awarded for up to a year of study abroad. Boren Fellowships of up to $30,000 allow U.S. graduate students to study abroad for 12 weeks to 24 months. Recipients must be willing to pay back the scholarship with a term of service with the federal government. Applicants must study the language of their host country, in this case, Albanian. They should also be interested in cultural studies or a discipline such as business, law, the sciences or agriculture, and be able to identify how their study abroad program, and their future career goals, will contribute to U.S. national security.
The Fulbright Program offers prestigious grants for American students to study in Albania for a full academic year. The Fulbright U.S. Student Program offers 8,000 grants annually for graduating college seniors, graduate students, young professionals and artists to study, conduct research, or teach English in specific countries for six months to a year. The Fulbright U.S. Scholar Program sends about 800 American scholars and professionals abroad for two months to a year to lecture and conduct research in a wide variety of academic and professional fields each year.
The International Research and Exchanges Board (IREX) is an international organization generously funded by private donors, not-for-profit foundations and government agencies. With a focus on civil society, education, technology and media development, it supports the ongoing work of scholars in many regions of the world, including Albania. There are two fellowships that are open to eligible applicants wishing to conduct research in Albania:
Individual Advanced Research Opportunities Fellowships for graduate students. Candidates must be pursuing a well-defined research proposal directly related to foreign policy research or related international affairs. Awards range from two to nine months. Participants are provided with visa assistance, international round-trip transportation, a monthly allowance for housing and living expenses.
Short-term Travel Fellowships for post-graduate and post-doctoral degree holders to conduct research in Albania for up to eight weeks. Candidates may not be in a degree program at time of application.
Non-Profit Scholarships
American Councils for International Education is world-recognized organization that designs programs and provides technical assistance in education for governments and development agencies throughout Eurasia and the United States. The organization sponsors various scholarships for students interested in studying abroad. For Albania, the Title VIII Research Scholar Program and Combined Research and Language Training Program (CRLT) provides $5,000 to $25,000 for up to nine months of full support for overseas research in the Balkans. Graduate students, faculty, and independent scholars may apply.
Country-Specific Study Abroad Scholarships