Technical School Scholarships
Use Scholarships to pay for Technical School
Some students continuing beyond high school are not interested in traditional four-year college pursuits. Associate's degrees and other credentials can be earned in less time, allowing graduates to enter the workforce sooner. Unfortunately, technical, trade and vocational schools do not always receive the same financial aid considerations given to high-profile universities. Though the deck seems stacked in favor of full-fledged undergraduate pursuits, scholarships and grants are available for trade school education too.
Federal student assistance programs usually do not exclude technical school students from participating. Pell Grants and Federal Supplemental Educational Opportunity Grants (FSEOG) offer technical school alternatives, which are applied to college costs for applicants pursuing diplomas, certificates and associate's degrees. Scholarships also originate from organizations and educational foundations that support specific career programs.
Corporate philanthropy and donations from private associations contribute educational funding to schools that teach certain subjects. Trade unions also initiate financial aid for members who engage in continuing education. Often, membership in trade groups and unions extends benefits to family members too. State Governments maintain financial aid initiatives that supplement federal and private aid sources for technical school students.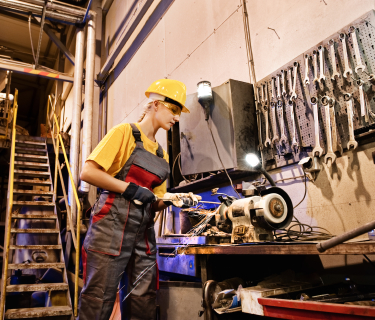 Financial assistance is available for most technical school programs, but qualifying for merit-based vocational scholarships requires high academic standards and a commitment to higher education.
School-Specific Resources for Technical School Students
Mid-State Technical College, and its associated Foundation, provide campus funding for educating central Wisconsin tradesmen and women. The Foundation partners with private benefactors to sponsor scholarships that increase the strength and skill of the future regional workforce. Over 3500 individual students have benefited from the program since its inception, more than 30 years ago.
Application for Mid-State Scholarships, and those offered by many other technical schools, is facilitated by filing a Free Application for Federal Student Aid ( FAFSA). The financial aid application is used by state government and individual campuses to determine your college funding needs. Submit your FAFSA according to your state or school deadline; whichever comes first.
Cincinnati State Community and Technical College provides campus financial aid programs for first-time, returning and transfer students. Applicants must first be admitted to eligible degree programs and certificate programs, before submitting FAFSA results. To continue receiving benefits, program participants must re-apply annually.
To qualify for institutional scholarships at J. F. Drake State Technical College, students submit the following application materials:
Complete High School transcript, including senior year
College transcripts (if applicable)
Letter of reference from school administrator, counselor or instructor
FAFSA
250-word essay outlining the importance of a college education
Additional requirements for general eligibility include consistent enrollment of at least 12 credits each semester, and a cumulative grade point average of at least 3.0.
Linn State Technical College provides campus assistance for worthy applicants attending the Missouri school. The school uses grants, loans, scholarships and work-study programs to help students bridge the higher education affordability gap. In addition to corporate scholarships, and those endowed by private sponsors, Linn State offers its own campus awards. Institutional scholarships available at Linn State include unique programs for student government participants and resident hall assistants. Two worthy recipients earn $1200 each year by winning merit competitions and finishing in the top 30% of their graduating classes.
Technical School Scholarships From States
Individual State Governments provide supplemental resources for education; including financial aid for attending technical schools and completing trade certification programs. These examples illustrate the types of technical college assistance put forth by some states.
Oklahoma Tuition Aid Grant (OTAG) is a state-sponsored higher education program. Qualified state students earn tuition dollars for in-state education. Technical and trade school programs are not excluded from OTAG, provided certain requirements are met and maintained. The Oklahoma Regents for Higher Education has additional program details available.
California plays an active role in educational funding. The California Student Aid Commision operates an aggressive student assistance program called CalGrants, which assists a majority of California's students of higher education. Awards can be used to pay educational expenses at career and technical schools, as well as four-year universities. Tuition, room and board, books and school supplies are offset by CalGrants at qualified state technical schools.
North Dakota "Dollars for Scholars" helps state residents pay for higher education. The effort is backed by funding from the Joann Link Hetzel Memorial Endowment. Technical School scholarships dispensed through the program specifically benefit students attending vocational schools. Ten $1000 awards are distributed to deserving technical school students. Educational programs in mechanics, electrical, welding and surveying are given priority consideration for DFS scholarships.
Minnesota State Community and Technical College students utilize financial aid reserved for technical schooling. Loans and other resources apply to state tuition fees and other college expenses. FAFSA results are used to determine eligibility and award amounts.
Additional Technical School Resources
Some scholarships for vocational school are reserved for specific student groups. Career-specific awards focus on particular professions, like plumbing-only specialty awards that help professionals get certified. Other resources target gender or ethnic heritage, like minority grants and special scholarships that are only open for women. Use your major and other personal characteristics to land technical school scholarships.
The Plumbing Heating Cooling Contractor (PHCC) National Association Educational Foundation Scholarship Program provides funding for professional contractor-members designed to educate future workers and provide continuing education for working professionals. Corporate partnerships are used to fund 24 scholarships annually – for heating/cooling career development. Community college and technical school candidates enrolled in degree or certificate programs are eligible for tuition scholarships.
Kansas community college students qualify for scholarships administered by the Kansas Board of Regents. Competitive Kansas Ethnic Minority Scholarship awards are issued based on cultural heritage and high academic standards, including:
SAT score above 990
Upper 33% of High School graduating class
Cumulative GPA above 3.0
Talbot's Women's Scholarship Fund lends the power of retail success to women's educational pursuits; by providing funding for female university students – including those enrolled in technical vocational programs. The program disburses scholarships worth $10,000 each to six women, and $1000 scholarships to another sixty successful applicants. Women who are returning to higher education, or getting late starts, are given first consideration for Talbot's awards.
Subjects
Browse Scholarships
Resources
More Educational Resources