Scholarships for Married Students
Get Hitched with a Scholarship Deal
Financial aid for college is awarded based on whatever eligibility requirements are set in place by the organizations that provide the funding. In other words: Whoever supplies the money, writes the rules. As a result, scholarships and grants carry a wide range of qualification requirements. Financial need and personal income usually play a large role in determining who lands financial assistance for school, but a host of other attributes are considered too. Even marital status plays a role in college financing.
As the overall demographic changes within higher education, the student body grows increasingly diverse. More adults are matriculating and returning to college after absences. Mothers are re-entering degree programs, after taking time away for child-rearing. Due to this age-shift among students, the number of married individuals enrolled in college is higher than ever. The growing range of student-specific financial aid programs available on U.S. campuses continues to address the needs of emerging student groups like adults returning to higher education, and married college students.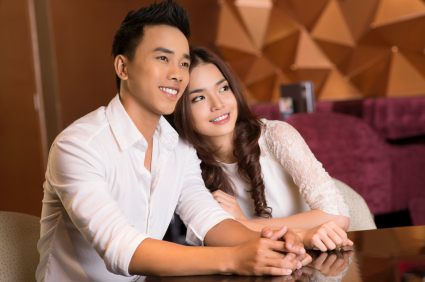 Regardless of your marital status, the best approach for securing college financial aid is to target large-scale general assistance programs first. Government-backed financial aid resources like Pell and FSEOG Grants help offset higher education costs for students of all ages, at many different types of school. These federal programs are need-based, so grades and extracurricular activities are not considered when calculating award amounts.
FAFSA Status Impacts Financial Aid
Landing college aid from government agencies; both federal and state, requires a standard application. The FAFSA (Free Application for Federal Student Aid) gathers data about your finances, to determine how much you can be expected to contribute to your college expenses. Your EFC (Expected Family Contribution) is the number used by financial aid administrators to determine which financial assistance programs are best suited for meeting your educational expenses. It is important that the FAFSA you submit accurately reflects your financial situation.
Your FAFSA status; either dependent or independent, influences the amount of aid you are eligible for. Dependent students can be claimed on parental income tax returns. As a result, parental assets and income are taken into account when calculating EFC for dependent FAFSA filers. Married filers are almost certainly of independent financial status, so financial need – as demonstrated by Expected Family Contribution, is often greater. Filing status is especially important for students who expect to be married during college.
Married Undergraduate Students Earn Scholarships
Undergraduate scholarships provide preferential financing for college, because money earned does not require repayment. While academic and athletic performance play large roles in winning scholarship dollars, other characteristics – like marital status – can sometimes influence scholarship outcomes. These unique financial aid opportunities speak to married applicants:
The Ohio State University – College of Food, Agriculture and Environmental Sciences supplies the Ed Bacome Scholarship for full-time undergraduate program participants. Preferential consideration for winning the award is given to married applicants.
Idaho State University offers the Carl K. Davis Scholarship, which is designated for undergraduates at any class level who are married and planning to attend law-school upon graduation. Pre-law candidates for the Davis award must be enrolled full-time (at least 12 credits each semester), and maintain GPA standards above 2.0
The Paul W. Martin, Sr. Scholarship, at Middle Tennessee State University, is reserved for honors program participants. The competitive merit scholarships are dispensed to preferred student groups, including military veterens and married applicants. Between four and six awards are generated each year, depending on funding, and contribute $1500 each to winning students' education expenses.
Graduate Student Opportunities
If you are a married graduate student, look to these representative programs for financial aid inspiration:
The David D. Marshall Memorial Scholarship (available from Virginia Commonwealth University) is a combination award reserved for married students. Need and academic success are prerequisites, as well as fourth-year academic status. Successful applicants are drawn from the upper 50% of their college classes.
The Elizabeth A. Thomas Health Sciences Scholarship carries preference for students who are married, regardless of their financial need.
Military Dependents
Stateside Spouse Education Assistance Program (SSEAP) benefits military spouses seeking higher education. The educational assistance targets spouses of active duty military, and widows(er) of soldiers who died while on active duty. Graduate studies are specifically excluded, along with bachelor's pursuits beyond each participant's initial degree.
National Military Family Association supplies Military Spouse Scholarships for advanced study. Qualified applicants possess Master's Degrees in counseling, psychology or social work. The Joanne Patton Spouse Scholarship, also administered by the NMFA, can be applied to post-secondary education expenses at colleges, vocational schools and certificate-granting institutions.
Students who are married to active duty military members (having served at least 180 active duty days since 9/11/01) are eligible for ThanksUSA Scholarships. The organization's spouse scholarship allows military spouses to earn funding for vocational programs – even when they do not lead to degrees.
Army Emergency Relief maintains a Spouse Education Assistance Program for military spouse education. Qualified husbands and wives receive tuition assistance for pursuing four-year university degrees. Annual application is required, but participants are eligible for four years worth of assistance.
Christian Colleges
Christian colleges support family-building, with scholarships designed for married college students. Use your faith, combined with your marital status, to land valuable Christian college tuition assistance.
Cornerstone University maintains the Bertha Dewey Stock Scholarship Fund, which is reserved for married students preparing to enter full-time Christian ministry, upon graduation. Applicants must earn at least 60 college credits before seeking the award.
Southeastern University administers financial aid for Christ-centered learning. Some campus programs include preferences for married students, and those who are married, with children.
Student Specific
Browse Scholarships
Resources
More Educational Resources