Adult Student Scholarship Opportunities
Challenges Faced by Adult Students
Modern demographic shifts include changes in the way individuals earn college degrees. The traditional scholastic progression has students finishing high school around age 18, and then continuing directly to advanced degree programs. Today, growing numbers of college students are earning degrees later in life. Some are returning to school after absences, but a significant number of individuals are simply matriculating as adult students.
College students of all ages depend on valuable financial aid to tackle tuition costs and other expenses associated with higher education. Cobbling a funding package for college draws from widespread resources including government-sponsored student assistance programs, privately funded education initiatives, campus-specific aid and other financial aid efforts that target specific student groups. Adults returning to higher education face unique obstacles in the financial aid arena. For example: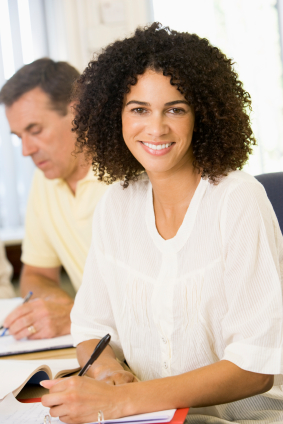 Most scholarship opportunities are specifically designated for graduating high school seniors.
Awards intended for incoming college freshmen sometimes exclude adults; even those who are transferring credits from community colleges.
A large number of grants and scholarships require students to be enrolled full-time in order to qualify. Because they are established in the workforce, many adult students only attend classes on a part-time basis.
Many adult students work full-time, so their incomes disqualify them from need-based scholarships. As a result, adult college students are expected to rely heavily on student loans to pay for college tuition and other expenses.
Despite working within a financial aid system that favors traditional students, adults who are returning to college or getting a late start are not excluded from needed financial assistance. Stalwart federal financial aid programs like Pell Grant and William Ford Federal Direct Loans are prime resources for adults in college, who qualify based on FAFSA results. The Free Application for Federal Student Aid is a comprehensive application that opens financial aid doors for students of all ages. Grants and loans are offered to students based on income, assets and the cost of attending school.
Most adult students apply for financial aid as 'independent filers'; meaning they are not claimed as dependants on their parents federal income tax returns. Since independent students have lower Expected Family Contributions (EFC), their access to financial aid is sometimes greater than those students whose parental income is factored-in to the financial aid equation.
State-specific financial aid provides supplemental funding for adult students who require additional resources. Your campus financial aid office is well-versed about student assistance that is available in your state. Seek general aid from the U.S. Department of Education and state-sponsored programs first, then turn your attention to financial aid opportunities that recognize your unique role as an adult student of higher education. Employers, professional associations, national organizations, advocacy groups and a range of private sector forces work to underwrite education for adult college students.
Scholarships from Employers
Employers are active in educational philanthropy that supports adult education, and scholarships and other benefits often extend to family members of employees. Educating the future workforce is a mission shared by many corporate benefactors, so any adult student's financial aid search should include scholarships that are offered by his/her employer.
Eligibility requirements vary across companies; sometimes requiring participating students to enroll in specific programs to land funding. It was once common for only large employers to support post-secondary education, but this benefit is quickly gaining popularity with smaller companies that are committed to educating workers. Depending where you work, your college financial aid portfolio might benefit from employer scholarships worth $100 to $15,000.
States help companies bring funding to adult students through public/private partnerships that support advanced education. The Oregon Student Assistance Commission, for example, administers the Employer-Sponsored Scholarship Program within the state. Participating companies earn additional tax credits by administering college scholarships for employees and qualified dependants. IRS guidelines establish how funding is disbursed, but colleges are able to target certain vocations by defining scholarship parameters.
Universities like Penn State Erie, The Behrend College administer private employer scholarships that benefit employees and their family members. Companies like Hammermill Paper fund scholarships for past and present employees, their spouses and their descendants. Residents of Erie, PA are eligible for the Hammermill Scholarship; provided they have histories of exceptional academic achievement and demonstrable financial need. Clark Family Scvholarships benefit Penn State Erie students who are employed or related to employees of Parker-Hannifan/Snap-Tite, Inc.
Individual employers of all sizes support education, including Fortune 500 companies which make funding available to university students.
State and National Scholarships
Unique national scholarship opportunities exist for certain adult student groups. Minorities and women; particularly mothers, qualify for distinct programs that promote student body diversity. State educational boards are committed to adult education, so returning students qualify for state-backed funding that increases access for non-traditional college students.
Talbots, the clothing manufacturer, is committed to helping women who choose non-traditional educational paths. Talbots Charitable Foundation has administered more than $1.5 million worth of financial assistance to adult women returning to college. Annual awards number in the dozens, and are valued between $1000 and $10,000 each.
Arkansas Single Parent Scholarship Fund aids returning students who are responsible for dependant children. The group maintains a listing of available scholarships, which augments individual efforts made by campus financial aid offices, to bring needed aid to adult students.
The Association for Non-Traditional Students in Higher Education stands as a valuable resource for adult students. The organization advocates for adult learning, and also puts-forth its own scholarships for adult university students.
Colleges and Universities Provide Financial Aid for Adult Students
Although some school-sponsored scholarships are intended for younger college students, there are programs on campus that specifically support the efforts of returning and adult students. Your college or university's financial aid office is a clearinghouse for information related to specific programs in-place at your school.
The University of Wisconsin offers scholarships for non-traditional students worth as much as $5,000 each. The funds are reserved for students ages 25-50 who are pursuing their first undergraduate degrees. The scholarships are administered to two select groups: Returning adult students and single parent students. The Adult Career and Special Student Services Office promotes the programs, which contain multiple distinct awards. The Alma Baron Second Chance for Women Scholarship, for example, benefits women who meet these eligibility requirements:
45 years of age or older
Admitted and in good-standing at UW
U.S. citizen
Demonstrable need
History of academic success
Depaul University administers a stable of financial aid that specifically addresses adult students' college funding needs. The school's unique Accelerated Adult Degree Completion Program recognizes the role of adult students that require fast tracks to higher education. Each student accepted into the program automatically realizes an annual scholarship worth $12,000.
University of Indianapolis caters to adult learners, with financial aid programs specifically designed for returning students and working adults. Extended evening hours and the School for Adult Learning (SAL) are valuable resources for adult students, who usually qualify for campus assistance.
Financial resources for adult learners are widespread and encompass a range of educational specialties, including those mentioned above. Please consult your school's financial aid office for expanded information about the adult assistance programs available at your school.
Student Specific
Browse Scholarships
Resources
More Educational Resources