Disabled Scholarship Opportunities
Many Funding Options Available
Students with disabilities qualify for a number of unique scholarships. As you piece together your college funding package, consider each of the groups you belong to, as possible sources of aid. For example, if you are a disabled minority studying technology at a U.S. college, each of these unique personal characteristics – or any combination of them, might open financial aid doors for you.
Get the ball rolling on federal and state aid first, by submitting the proper applications; then look for grants and scholarships that specifically strive to help you overcome unique educational challenges.
College help for people with disabilities originates from a wide range of sources, including government agencies, disability advocacy groups, and other private entities. Corporations and memorial foundations contribute generously to educational causes benefiting disabled college students.
Schools receive endowments and alumni donations earmarked for specific student populations – including individuals facing particular challenges. Your financial aid office is well-equipped to request disability scholarships on your behalf, and to steer you toward the best sources of financial aid.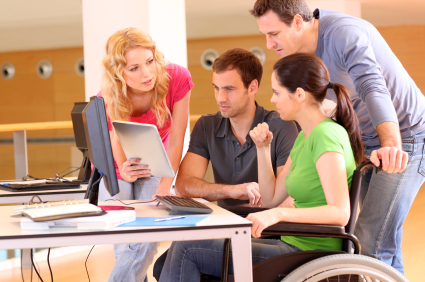 Foundations and Associations
ChairScholars Foundation removes barriers for students with physical impairments. Low-income students with disabilities who are pursuing vocational training or post-secondary education are awarded scholarships that pay tuition and expenses. The organization offers three distinct programs: The Florida Scholarship, The National Scholarship and the New York Metropolitan Area Scholarship. Awards for high school seniors and college freshmen provide up to $20,000 each, to help pay for college.
RISE (Rewarding Individual Success in Education) recognizes students with learning disabilities who have overcome challenges to remain high academic achievers. High school graduates who continue their educational pursuits at colleges and universities are eligible for RISE scholarships. Each $2500 award is applied directly to tuition costs at an accredited school.
Jewish Guild for the Blind disburses 12-16 generous Guildscholar awards annually. College-bound high-school seniors with vision impairment compete for scholarships worth up to $15,000. To qualify, each applicant must submit:
Proof of U.S. citizenship
Verification of legal blindness
SAT/ACT results
Transcripts
Completed Guildscholar application
Three letters of recommendation
Two personal written statements of 500 words each
Susan Bunch Memorial Scholarship is worth $1000 to a learning disabled college student who is pursuing a bachelors degree.
Cindy Kolb MS also aids a bachelors candidate with a disability.
Walt Young MS is for vision impaired students, who each compete for $1000 annually.
The Steve Fateau Past Presidents Scholarship is worth $1000, and rewards high academic achievement. The award goes to a student who demonstrates a commitment to promoting opportunity for disabled students within the college and university system.
CAPED General Excellence Scholarship recognizes community involvement and academic achievement. Each $1500 award goes to a worthy disabled candidate with a track record of getting involved.
School Aid for Disabled Students
Schools initiate their own unique financially aid programs, which stand apart from federal and state funding. Consult with individual college financial aid offices for up to date information about scholarships for disabled students.
The University of Florida, for example, through its Disability Resource Center, administers the following memorial scholarships:
Gardner Mark Harrison – Disabled journalism students benefit from this $500 award, which offsets tuition costs.
Eccleston-Callahan Scholarship Trust – Students who have demonstrated financial need, based on FAFSA results, compete for $1000 scholarship awards. Applicants must be 21 years old, disabled, and maintaining grade point averages of at least 3.0.
Christopher M. Squitieri – The focus of this grant is providing disabled undergraduates and graduate students with equipment needed to complete degree studies.
Theodore R. and Vivian M. Johnson – Annual scholarships worth up to $6000 each are renewable for up to 12 semesters for students showing satisfactory progress toward earning academic degrees. Applicants must be enrolled for a minimum of 9 degree credits each semester, and maintain GPAs above 2.0.
Rita O'Connell – This memorial fund disburses scholarship dollars to physically or cognitively disabled college students who exhibit high character and perseverance. The scholarship is offered through the University Women's Club Fund.
Deb Richard Foundation – Students who are disabled since birth qualify for financial aid from this scholarship program, which requires recipients to maintain 2.0 GPAs and work steadily toward college degrees. Amounts vary based on individual circumstances, and the scholarships are renewable for up to 10 semesters.
Vision impaired students attending the university are eligible for scholarships from these agencies:
Florida Council of Citizens with Low Vision
National Federation of the Blind of Florida
University of Wisconsin-Madison McBurney Disability Resource Center lists the following scholarships for disabled university students:
Adaptive Technology Scholarship is for financially needy students who need help paying for adaptive technology that relates to post-secondary education. Requests should be consistent with McBurney Center recommendations.
Delta Gamma Memorial Scholarship - Disabled undergraduate and graduate students are eligible for this grant, with special consideration for visually impaired applicants.
Robert Deaton Scholarships address the tuition needs of students with AD/HD and other learning impairments.
Arndt Family Scholarship – Visually impaired students who maintain a B average are encouraged to apply if theirs falls within the upper 1/4 of college entrance exam scores. Financial need and high character are further requirements of this disability scholarship.
Federal Scholarships
Disability.gov is a federal informational resource for disabled citizens, which contains helpful information for college-bound students and their parents. The U.S. Department of Education outlines financial aid eligibility for students here, including scholarships, grants and loans.
Remember to employ a catch-all approach to your college aid search. As a disabled student, you are eligible for the same general federal financial aid as others, in addition to the scholarships and grants that are offered exclusively to students with physical and intellectual impairment.
File your FAFSA request, to be considered for all available aid, then consult with your academic advisor for information about student assistance programs that speak to your particular disability.
Unique Scholarships
National Council of Jewish Women – New York Section is responsible for the Jackson-Stricks Scholarship. The award provides tuition assistance for disabled individuals whose vocational training leads to independent living.
Geoff Brachvogel Memorial Scholarship provides tuition assistance with two $500 grants annually. One award is given to a college student suffering from chronic pain, RSD or CRPS, while the other scholarship benefits an allied health major who is committed to helping chronic pain sufferers following graduation.
SpinLife is a wheelchair retailer that offers a scholarship for college students who use manual or power chairs during their educational endeavors. Applicants compete for $500 awards that can be applied to four-year university tuition.
Scholarships and grants are similar, in that they do not require repayment. Either type of award increases access to college for disabled students, so grant resources should be considered alongside scholarships. Grants for Disabled Individuals include funds from the Billy Barty Foundation, which provides scholarship money to students with dwarfism.
Disabilities
Browse Scholarships
Resources
More Educational Resources