Are You Labeled an 'At Risk' Student?
There May Be Money for College if You Look
In the college financial aid arena, the lion's share of attention is given to academic and athletic scholarships. But there are other scholarship programs dedicated to servicing the needs of particular student groups, such as women and minorities, and students from low income households or disadvantaged backgrounds. These scholarship programs have been developed to motivate and support college aged students who may not otherwise have the resources, or the inclination, to pursue a college education. What sets these programs apart from more traditional scholarship opportunities, is the emphasis on a student's background and personal history as criteria for the final award determination.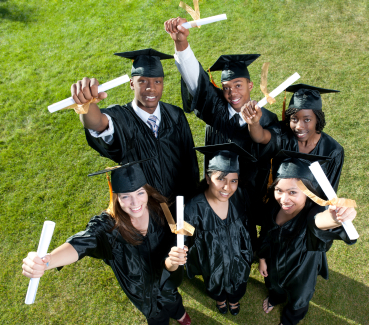 College-bound students who are considered "at risk", or from disadvantaged backgrounds, may find that there are more scholarship opportunities dedicated to their needs than they at first imagined.
Conditions
Disadvantaged, or "at risk" students, generally fall into one or more of the following categories:
Students who are members of an ethnic minority that has a college completion rate far below the national average.
Students with disabilities that may keep them from completing a college education.
Students from low income households where there is a greater than average need for financial assistance.
Students who are migrant farm laborers, or the children of migrant farm laborers.
Students from inner cities and low income communities.
Students who are the first in their family to attend college.
In the most general terms, "at risk" students are those whose income falls below the designated national poverty level, or whose cultural or family background has placed them at an educational disadvantage. This includes women, ethnic minorities, single parents, and first generation college students. Students who fall into any one of these categories may be eligible for an "at risk" scholarship.
Scholarships for "At Risk" Students
Scholarship programs dedicated to the needs of "at risk" students are sponsored by a variety of sources, including charitable foundations, businesses and corporations, federal and state governments, and colleges and universities. The eligibility criteria for these scholarships tends to be highly specific, and will greatly vary between programs. Students should be prepared to do a fair amount of research in order to find the scholarship program that is best suited to their circumstances.
The following selection of scholarships should better illustrate the types of financial aid programs that are available for "at risk" or "disadvantaged" students.
The drop out rate for low income and "at risk' students is a growing problem in the United States, and there is a national push to encourage and support students from disadvantaged backgrounds to persevere and pursue a college education. Through education, students can break the cycle of poverty, and create a brighter and more rewarding future for themselves and their families.
Those interested in scholarship opportunities for "at risk" or underrepresented students should also refer to our sections on scholarships for minorities , scholarships for low income students, and scholarships for students with disabilities.
Student Specific
Browse Scholarships
Resources
More Educational Resources