General Motors College Scholarships
Scholarships Make Valid Recruitment Tools
General Motors (GM) has a very well organized website, with a single Opportunities for College Students page that presents all current information available on internships, co-op positions, and scholarships. GM does not supply scholarships directly to students, but sends funding to organizations that administer that type of financial aid. In 2012, there were four different beneficiaries of GM's scholarship money.
American Indian Science and Engineering Society
The American Indian Science and Engineering Society (AISES) was founded to increase the numbers of American Indians and Alaskan Natives in technical fields of study, focusing on supporting students in the STEM subjects (namely, science, technology, engineering, and mathematics). AISES has a page describing its financial aid, which includes four academic scholarships.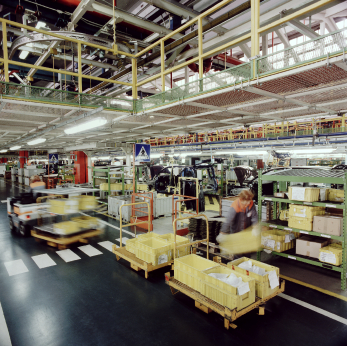 All AISES scholarships share a single set of eligibility criteria, as follows:
You must maintain a GPA of at least 3.0 on a four-point scale.
You must attend school full-time, and you can be either an undergraduate or graduate student.
Your institution of higher education must be an accredited four-year school or a two-year school where you are enrolled in a degree-granting program.
Your ancestry must be either American Indian, Alaska Native, or Native Hawaiian, and you yourself must be at least 1/4 native.
You must belong to AISES.
GM does not specify to which of the four AISES scholarships it contributes, but here is a list:
The AISES Google Scholarship gives $10,000 to an AISES member studying computer science, engineering, or programming in the U. S., and $5,000 for studies in Canada.
The Burlington Northern Santa Fe Foundation Scholarship requires you to supply several documents with your application, such as a current transcript and a Certificate of Indian Blood or other verification of tribal membership.
The AISES Intel Scholarship goes to students who seek degrees in the STEM disciplines. Applicants should be able to demonstrate both interest and accomplishment in computer science.
The A.T. Anderson Memorial Scholarship is awarded to those majoring in either natural resources or STEM subjects.
Buick Achievers Scholarship Program
The Buick Achievers Scholarship Program most recently handed out 1,100 scholarships, 100 of which were renewable for a maximum of four years and worth as much as $25,000 per year. Those in an engineering program lasting five years are eligible for another year of support.
The other 1,000 scholarships are one-time gifts of $2,000 each. The Buick Achievers site describes the qualifications it looks for in applicants as leadership in school, devotion to scholastic achievement, and participation in volunteer work. Here are the eligibility criteria:
You must be either a senior in high school, high school graduate, or an undergraduate.
You must plan a four-year course of full-time study at an accredited school.
You must major in an approved field. Here are a few examples: automotive technology, industrial engineering, business administration, and occupational health & safety.
You must desire a career in some line of business related to the automobile industry.
You must be a U. S. citizen and permanent resident.
Hispanic Scholarship Fund
The Hispanic Scholarship Fund (HSF) pays tuition for Hispanic American students who excel in school. The HSF scholarships include one general scholarship and four sets of scholarships designed for particular categories of students (those graduating from high school, attending community college, in a four-year school, or in the Gates Millennium Scholars program).
Here are brief descriptions of those five kinds of awards:
The HSF General College Scholarship is looking for well-rounded students who have a high GPA (3.0 is suggested) and are also involved in several extracurricular activities like community service projects. The essay portion of your application is very important, both in terms of what you say and how fluently you say it.
There are almost thirty scholarships available for graduating high school seniors, including some reserved for residents of certain areas of the country, one "Haz La U" award that gives $15,000 to the top-rated applicant and $2,500 each to 14 others, and one for those planning to become bilingual teachers in Arkansas.
Community college students can apply for the same number of scholarships, including a $4,000 award from a dairy industry group and awards ranging from $2,000 to $10,000 for excellent students.
Scholarships for college students include $5,000 for students in the first or second year of a doctoral degree program in pharmacy, awards for relatives of U.S. Hispanic Chamber of Commerce (USHCC) members and employees of or participants in the USHCC BizFest Program, and twenty gifts of $3,200 each to juniors and seniors.
The Gates Millennium Scholars program is for minority students (African American, American Indian/Alaska Native, Asian Pacific Islander American, and Hispanic American).
U.S. Equal Employment Opportunity Commission Endowed Scholarships
The U.S. Equal Employment Opportunity Commission Endowed Scholarships (EEOC) give preference to employees of GM and their children who attend any of the 37 participating schools. The funds are administered by those individual schools, so to find details of the program to which you should apply you must contact your school's financial aid office.
Examples of EEOC schools are California State University-Los Angeles, Fisk University, Massachusetts Institute of Technology, and Prairie View A&M University.
Company Scholarships
Browse Scholarships
Resources
More Educational Resources