Beauty Pageant College Scholarships
Find Opportunities for Pageant Winners and Participants
Like the human face, beauty pageants can be pretty cover-ups that hide so much more beneath their facades. Did you know that hundreds of beauty competitions in this country award their winning contestants with scholarship money for college? It turns out that academics, as well as posture, is a huge aspect of the world of beauty pageantry.
What you may have thought was just a face value competition on the surface might be worth a second look when it comes to the chance to pay for your education in a nontraditional, but very viable, manner. The scholarship pageants listed below, who have been working with young women for decades, reward both participants and winners with millions of dollars in scholarships every year and are also extremely proactive about giving back to communities nationwide.
For a smattering of the beauty pageant sponsored financial rewards targeted specifically towards college, look no further. The scholarship potential for anyone involved in the high-demand, high-competition arena of beauty contests is enormous and may be a great consideration for your future financial aid package.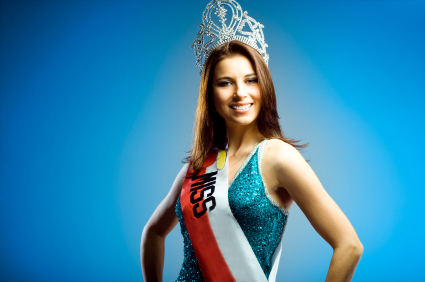 Miss America Organization
The Miss America Organization is the world's leading provider of scholarships to young women, providing more than 45 million dollars worth of scholarship assistance to more than 12,000 young women in one year alone. Almost all the contestants have either received or are in the process of earning undergraduate or graduate degrees, utilizing this non-profit organization's scholarship assistance to further their education.
As a beauty pageant contestant at this level, you are nearly guaranteed some amount of funding, so check your local Miss America organization to find out more.
AJM Scholarship Foundation
The AJM Scholarship Foundation, the organization behind America's Junior Miss, administers college scholarships to the competition's highest achievers. In the decades since the AJM Scholarship Foundation has been working with young women and providing scholarships, many of these women have gone on to attend Harvard, Yale, Princeton, Stanford and many other distinguished colleges and universities.
AJM has a fantastic track record of sponsoring talented and now graduated women who may not otherwise have had a chance of receiving such an education. The good news is you don't have to be Miss America or Junior Miss to win a college scholarship. Just by participating in the pageants, you have an excellent chance of winning at least a partial award.
Every state has the Miss America Pageant and many states and regions have different scholarship pageants. To read more about the scholarship and leadership opportunities from the America's Junior Miss Pageant, log onto www.ajm.org.
Miss America's Outstanding Teen
This organization generously provides scholarships to contestants in all 50 states plus the District of Columbia and the Virgin Islands. Awards vary for different states and for different honors, and overall there are plenty of them waiting to be won.
For example, the state pageant winners all receive a $1,000 scholastic award. For the contestants who take special honors and the crown, the scholarship awards are significant with Miss America's Outstanding Teen winning $30,000 in scholarships. This pageant has awarded more than 125 million scholarship dollars in its 35 year history and continues to award nearly 5 million scholarship dollars annually. For more information on this stunning opportunity, see www.nationalteen.com.
Cinderella International Scholarship Pageant
The Cinderella Pageant, heralding the fairy tale that every little girl is familiar with, has divisions from the youngest Tots all the way through the eldest Teens and Women up to 26 years of age. $5000 cash awards are available at the highest level, but even for the younger set there are $2000-$4000 college scholarships and educational savings bonds available, along with a number of smaller awards for participants in the realm of around $500 that can be used for college expenses. You can get involved with the Cinderella Pageant program from any state in the US, as well as through their international hubs in exotic locales like Guam, South Africa, and Singapore.
American Coed Pageants
Miss American Coed (MAC) Pageants have competitions at various levels in every US state, and give away hundreds of thousands of dollars a year in prizes. This pageant's unique edge is that no girl under thirteen wears makeup, thus cutting down on some of the heavy emphasis on facial preparation of the other contests. It is a very family-friendly and age-appropriate event geared towards positive reinforcement and scholarship rather than narrow competition. Between $250 and $10,000 is awarded to both participants and winners at various levels of the event, and leadership skills and academic promise is strongly considered in each contestant.
Miss Teenage California Pageant
The California Scholarship Foundation, founded in 1979, recognizes and rewards the outstanding female youth of California by administering the Miss Teenage California Pageant. Miss Teenage California wins a $10,000 scholarship and thousands of other scholarship dollars go to runners-up, finalists, and those who win special awards. For more information about this west coast scholarship opportunity visit www.missteenageca.com.
School-Specific Scholarships
In addition to the cash scholarship funds the contestants can win, many colleges and universities have offered scholarships based on different criteria. For example, Huntingdon College in Montgomery, Alabama provides each state pageant winner with full tuition renewable for four years and each state pageant contestant a $700 scholarship renewable for four years.
Keystone College in Pennsylvania awards state pageant winners in the states of Connecticut, Maryland, Delaware, New Jersey, New York, Ohio, Pennsylvania and West Virginia a $3,000 scholarship, renewable for four years. An extra award is set aside for the Pennsylvania state winner. Check with your local college to see if they may have a similar program in your state.
Eastern Arizona College offers a full tuition reimbursement to the winners of Miss Graham County and Miss Greenlee County, as well as the four runners-up in the pageants of the same name. While this amount is available only during the two semesters following the pageant, it is good for up to four years of a full ride to the college.
More Resources for Beauty Pageantry
Beauty pageantry scholarships do not come without hard work, dedication, and a determined competitive spirit. Other resources that may be of help to you in your search for beauty pageant scholarships may include your local women's organization, local beauty stores and modeling agencies, or your local community center. They may have access to competitions or scholarships in the beauty world of which you are unaware and that may even be so small that only people in your community may be eligible for them.
You may be surprised what sources of funding you can uncover with a little hard work in this arena that you might not initially think of as being your ticket to education. Be sure to be personable and specific in your outreach to these pageantry organizations; they deal with a lot of people on a regular basis, and you will stand out by being very intentional about your plans in academic, professional, or volunteer work for during and after your beauty pageant career. Other scholarships geared towards women would also be of interest to pageant participants wishing to fund their college education with free money, and save the world while they're at it, as the beauty queens say.
Student Specific
Browse Scholarships
Resources
More Educational Resources