Student Travel Scholarships
Take a Full Ride to Another Country
Perhaps the only time in your life when you are offered free travel and free international opportunities through a university is as a student. Take advantage of this time in your life to study abroad and whether you wish to visit for a summer, a semester, or an entire year, it's likely to become the defining experience of your college career. Studying abroad provides an opportunity for students to improve their foreign language skills that they have been diligently working at and increase their understanding of other cultures beyond their home classroom.
Funding your student travel and study abroad may seem overwhelming – there are currency exchanges, expensive tuition fees, visas, and travel costs just to get there.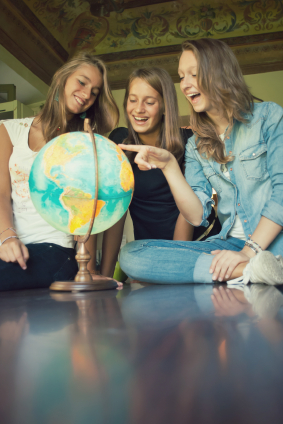 Luckily, though, there are a number of different American foundations that are giving away hundreds of thousands of dollar in scholarship money as an incentive for you to leave the country and come back a more worldly individual. Start by checking out the offerings in the study abroad office of your own school, and expand your research outward from there.
If you're interested in applying for national scholarships for student travel and study abroad, look no further than the Rotary International Ambassadorial Scholarships, the National Security Education Program (NSEP) David L. Boren Undergraduate Scholarships, and the Benjamin A. Gilman International Scholarships. These prestigious fund pools represent three of the nation's leading awards, and you will want to pay close attention to their eligibility requirements and application suggestions to give yourself the best shot at receiving money for free travel abroad.
Rotary International Ambassadorial Scholarships
Rotary International Ambassadorial Scholarships are awarded to students who have completed at least two years of college-level coursework. Scholarships of up to $26,000 can be used to pay for tuition, fees, educational supplies, round-trip transportation, and basic living expenses. Scholarships are awarded to students who demonstrate academic excellence, outstanding leadership skills, a high level of maturity, and a commitment to community service, as well as a passion for history, politics, and culture.
Rotary International is poised to begin offering a new form of financial incentive: global grants. These will be targeted towards students who care deeply about the sustainability and long-term impact of the work they will be doing abroad. These $30,000 grants will be organized into six different areas of interest, dealing mostly with sustainable development, education and health.
Scholarship and grant winners are expected to give regular presentations and participate in Rotary service projects during their study abroad. If you are interested in applying for a Rotary International Ambassadorial Scholarship or a Global Grant, contact your local Rotary club to begin the application process.
National Security Education Program (NSEP) David L. Boren Undergraduate Scholarships
The National Security Education Program David L. Boren Undergraduate Scholarships are awarded to students with a record of academic excellence, foreign language proficiency, and a desire to use international study to advance their careers. Scholarship amounts are based on actual program costs, with the maximum award being $20,000 for a full academic year.
Scholarships come with a requirement that students spend at least one year working in the Departments of Homeland Security, Defense, State, or the Intelligence Community after the completion of their study abroad program. This is a perfect opportunity for a student looking for the commitment of a bundled package of study abroad, travel, and future career placement.
Applications for the NSEP David L. Boren Undergraduate Scholarships must be submitted online.
Benjamin A. Gilman International Scholarships
The Benjamin A. Gilman International Scholarship is slightly different from other study abroad scholarships in that recipients must demonstrate both academic achievement and financial need. To be eligible for a scholarship, you must be necessarily low-income and have been awarded a Pell Grant from your college or university, as well as submit an essay that describes how your study abroad program will enhance your educational experience. The maximum award is $5,000, but scholarships vary based on financial need and program costs.
Since the Benjamin A. Gilman International Scholarship doesn't have a summer cycle, interested students must be completing academic year programs that are at least four weeks long. Multi-country study abroad programs are acceptable only if the student spends at least four weeks in one country.
Detailed application instructions for the Benjamin A. Gilman International Scholarship are available on the above program website.
More Ways to Travel
Do not neglect the resources of your local college and university when it comes to searching for travel abroad monies. See what they have to offer in terms of placing and funding, and remember that some study abroad departments will even allow particularly motivated and intentional students to create their own specialized paths of study by partnering with an international university or degree program in which they are interested.
Once you are abroad, be sure to take advantage of all the opportunities offered only to students. Studying abroad may be one of the most fruitful times in your life to go traveling, since with a little work and research, you will find organizations willing to pay for or discount nearly every aspect of your expenses. Many countries offer free or cheap transportation passes, food discounts, and entertainment vouchers specifically for study abroad students, so make sure you check with your host country to see what is available to you.
Student Specific
Browse Scholarships
Resources
More Educational Resources