9-11 Related College Scholarships
Dedicated to Those Who Passed
The events of September 11, 2001, have had a profound impact on all United States citizens, and the cities that were directly attacked were hardest hit. Those most affected were the residents — those who lost a spouse, partner, parent or family member in the terrorist attacks.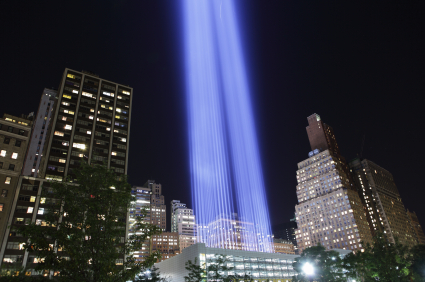 Given such a significant loss, compassionate leaders have stepped forward to endow scholarship programs designed to help survivors reach their educational goals. The following are some examples:
The CFA Institute 11 September Memorial Scholarship Program
Students who are the spouse, domestic partner, or child of a person who was killed or permanently disabled, or a victim, of the events of September 11, 2001, are eligible to apply for funding from the CFA Institute 11 September Memorial Scholarship Program. Both full- and part-time undergraduate students can apply for this funding — up to $25,000 depending on the student's level of financial need. Recipients may attend any accredited institution of their choice, but must be concentrating on finance, economics, accounting or business ethics. Recipients may receive scholarship money for a maximum of five years.
This fund is administered by Scholarship Management Services, a division of Scholarship America. Chartered Financial Analyst (CFA) is the global association of investment professionals , and the CFA Institute and Research Foundation established this scholarship program to foster the spirit of the American Dream.
The Needham September 11 Scholarship Fund
Needham & Company, a major investment banking and asset management firm, established the Needham 9/11 & Heroes Scholarship Fund to ensure that surviving children of those who perished at the World Trade Center on September 11, 2001, are able to get a good education. It was expanded to include the children and spouses of rescue workers who were killed while working at Ground Zero, and the survivors of military members who either lost their lives or were permanently disabled as a result of the on-going "war on terror."
Funds will be provided to individuals in need. A pre-September 11 family income of $125,000 or less is required. Recipients must have been accepted or are presently attending an accredited private high school, college, or university. Each application is evaluated on its merits, and the primary criteria includes financial need, scholastic abilities, and community or civic involvement. In addition to financial information, candidates will submit a personal essay discussing their academic goals and how receiving this scholarship will help them reach their goals. The application form is available online.
NYU 9/11 Uniformed Officers Scholarships
New York University established five scholarships in memory of the uniformed fire, police, and emergency workers who were killed in the September 11, 2001, tragedy at the World Trade Center to enable their dependent children to attend NYU. Undergraduate students attending NYU who are the children of uniformed NY officers and emergency response workers (including police, firefighters and port authority police) who lost their lives at the World Trade Center are eligible to apply for these need-based scholarships.
There is no New York State residency requirement. Students must be admitted to a four-year undergraduate degree program at NYU. There is no New York State residency requirement and transfer students are also eligible. Monies can be used to cover tuition, on-campus room and board, and registration fees for up to eight semesters.
DeVry University
Dependents of military personnel, rescue workers, and civil servants who succumbed to injuries sustained in the line of duty are eligible for a scholarship to pay for the full cost of tuition at any DeVry campus through the DeVry University Grant for Surviving Dependents of Rescue Workers, Civil Servants & Military Personnel.
Recipients will receive funding for up to nine semesters of education, depending on the program of study selected. Applicants must be U.S. citizens who are studying full-time at DeVry. They must be enrolled for two semesters per academic year and maintain a minimum 2.75 GPA.
Brookdale Community College (Lincroft, NJ)
The Assistance Plan Scholarship for Surviving Family Members of September 11 will pay for the cost of tuition and fees for courses toward an associates degree or certificate program offered by the college. The cost of textbooks and supplies will be covered by the Brookdale Foundation.
Student Specific
Browse Scholarships
Resources
More Educational Resources