Fraternity Scholarships
Fraternities Come in all Sizes and Shapes and Most Give Away Money
Fraternities are known for many things, but apart from the college parties and the lifetime of camaraderie, one of their most key characteristics is being well-endowed with funding. Old money and new money alike come together in the treasury of a fraternity, and if you are a member with a specific financial need and a cause to prove it, some of that money may be coming straight to you.
Researching specific fraternities to find one that fits your lifestyle will help you decide which one to join. As you will see in the listing below, scholarships from fraternities have a host of diverse requirements. Not all of them require membership, but some of them require particular faith or interest affiliations. Some are even coeducational, including women as well as men. See if any of the fraternities below catch your eye, and you may dig deeper and find that scholarships are available to you to complete the whole college package.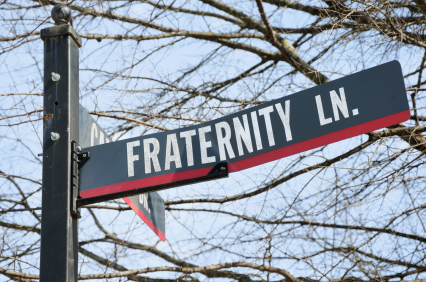 Subject-Based Fraternities
Many fraternities are centered around a particular realm of study. If you are likewise dedicated to a field, consider joining one of the following, or research your own interest to see if there is a fraternity specific to it. Note that, for most of these fraternities, you must be a member in order to apply for funding.
Interested in Music Theory? Mu Phi Epsilon offers multiple scholarships that cover all aspects of music. Scholarships range from $400 to $7000 in aid, and are awarded based on major, musical instrument or the program in which you are enrolled. This fraternity is coeducational.
Although not based on the Greek Letter system, Triangle is a fraternity focused on engineering, architectural and scientific studies (representing the three sides of the shape). Triangle offers multiple scholarships available annually to its large collection of members.
Majoring in Clinical Laboratory Sciences? Alpha Mu Tau offers annual scholarships to both graduate and undergraduate students in this field in partnership with the American Society for Clinical Laboratory Science. Awards vary from $1000 for a part time student up to $3000 for a full-time graduate or undergraduate student.
For Members Only
The following fraternities are not based around subject, but around membership instead. These organizations only provide scholarships to their members. Normally the best way to learn about such scholarships is to ask the treasurer, or other leader of the fraternity you intend to pledge, or to which you already belong. Some fraternities may have scholarship funds available that they don't even publicize, so make sure to inquire as to your specific situation.
Alpha Chi Rho offers several competitive scholarships to members ranging between $500 and $4000. Highest awards go to brothers with the best academic scores and those entering graduate school the year of their undergraduate graduation.
Phi Gamma Delta offers $1000 scholarships for members with financial need as well as those who exemplify the ideals of their fraternity. Eligible applicants must have a 3.0 or greater GPA.
Phi Kappa Alpha is in control of the Pike Endowment Fund, a pool they encourage members to contribute to and take from. The money in this account is used to provide leadership training and scholarships to members. There are multiple scholarships based on location, subject major, and need. Although some information is found online, applicants are encouraged to contact their local chapter or a representative at the Pike Foundation.
Membership NOT Required
If you thought fraternities were too exclusive to offer any financial aid to people outside their bounds, think again. Even high school students can apply for fraternity scholarships without membership through the outreach of these generous organizations:
Alpha Gamma Omega offers soon-to-be freshman undergrads at the University of California-Santa Barbara (UCSB) between $100 and $150 for maintaining a 3.0 GPA and a series of well-written essays. AGO is a Christian fraternity.
Alpha Phi Alpha grants awards to its chapters and encourages them to offer scholarships as well. For example, the Beta Lambda Chapter offers $1000 to high school graduates heading to college.
Delta Tau Delta offers $500 book awards via the Committed to Lives of Excellence Scholarship. Scholarships are awarded annually to five applicants. Other scholarships are available through the Delts, as well. Check their website for more information.
Faith-based Fraternities
Some fraternities are centered around selectivity based on religious preferences. This allows a member and applicant to study any discipline provided they are a practicing member of the appropriate faith. These associations range across a wide span of faiths, from Christianity to Islam to atheism. Here are some faith-based fraternities that you may consider for scholarships:
Alpha Epsilon Phi is a Jewish faith-based fraternity. Alpha Epsilon Phi has a few applications for scholarships online including The Dunn Scholarship and The Jacob and Vickie Karno Scholarship Fund. Both scholarships are based on the member's financial need and leadership performance while an undergraduate member of the Fraternity. The Dunn Scholarship pays winning applicants $1000 if planning to attend a Jewish ministry graduate program. The Karno Scholarship offers $1000 for members entering their first year of law school.
Gamma Phi Delta is a Christian faith-based fraternity. Gamma Phi Delta offers the Ron Brown Scholarship to African American high school students who are related to or a friend of a member.
Beta Sigma Psi is a national Lutheran faith based fraternity. Beta Sigma Psi offers partial college scholarships to seminary students, members with a need, and to members that excel academically, or demonstrate campus leadership.
See the websites of these religion oriented fraternities for more information on applying for scholarships.
Fraternity Scholarship Options
No matter your membership, student status, age, educational background or faith, there may a fraternity that has something to offer you. Most fraternities heavily emphasize the values of giving, sharing, philanthropy, and higher education, so it is no wonder that so many have so much to offer. Making scholarships available to its members or non-members is the fraternity's way of sharing its abundant resources with the community.
These American fraternities are able to offer millions a year in scholarship aid thanks in large part to the contributions of alumni and outside grants. Be sure to contact your local chapter of a fraternity you are interested in to explore any opportunities available to increase your scholarship portfolio.
Student Specific
Browse Scholarships
Resources
More Educational Resources