Home > Financial Aid > Single Mothers
Financial Aid for Single Moms
Moms Head Back to School!
Since the economy has taken a downturn, colleges and universities across the nation have seen a spike in the number of non-traditional students who are enrolling either for the first time, to finish their education, or to improve their credentials in their field. Whatever the reason there has been an increase in applications for financial aid for single mothers and minority women. Many of these women are already trying to juggle the responsibilities of family as well as a job.

Single mothers who are beyond the age of the traditional student are returning to school in record numbers. Businesses, federal, state, and local governments have noticed this, as well as the colleges and universities who have experienced the large influx of non-traditional students. Some of these entities have created grant funds that focus on the special needs of the single mother.
Many of these mothers have been forced to apply for state assistance, EBT benefits, and other assistance programs, because of sudden unemployment. They are returning to school to better their chances for professional careers. Others are trying to hold down either a full-time or part-time job, care for their children, and attend classes. For these women, the online education options are increasingly attractive as the school will work around their schedule.
Financial institutions that fund college education have noticed the increase not only in the population of non-traditional students, but also, that many are enrolling in the online colleges and universities. They have realized that these students are doing so mostly out of necessity because of the time constraints these women have as opposed to the traditional student.
There remain big gaps in funding for the non-traditional student. The primary reason many mothers pursue an online education is because of the flexibility of the schedule. Many single mothers do not have the time to physically appear in the classroom.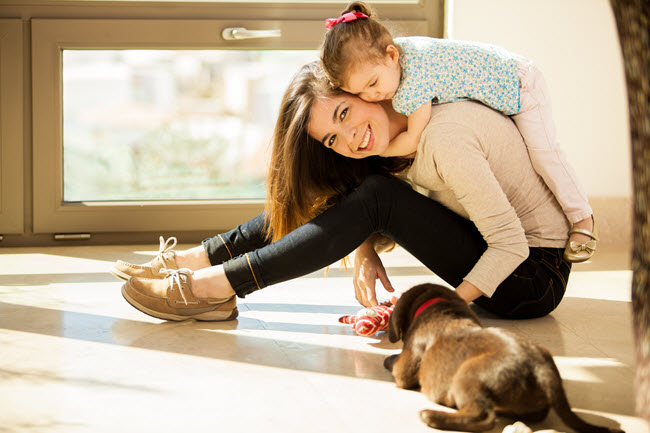 Education Opportunities and Grant Benefits
Grant money is available the financially needy students in order to defray the costs and fees associated with a college education. Few people can afford to pay for a college education out-of-pocket. The average tuition for a four year private college is approximately $20,000. A public university will cost the average full-time student nearly $10,000, and a community college is normally half of the public university. Education in United States is well beyond the financial reach of the majority of American families.
Grants are primarily need based and are a free gift to the student. There are no strings attached and the recipient does not have to pay back the money. Scholarships are free money also, however, they are focused on a specific need, and recipients have to follow strict guidelines and pursue degrees in that particular field of study. Student loans are made by financial institutions and have a payback schedule and carry interest the same as any other loan.
Grants are usually divided into searchable categories and are student specific, subject specific, degree level, and minority. Grants are usually awarded to those students that are low-income and face financial hardship without help from the grantor. View information about grants for single mothers.
Federal Grants
As a result of the No Child Left Behind Act, the federal government is making more funds available than ever before for students to attend the college or university of their choice and pursue a career in their preferred field. By making these funds available, the government essentially, is holding the public schools responsible to give children the consideration they need, without discrimination. The end result has been an increase in the number of high school students graduating and entering into their college careers.
With the right financial resources, more students stand the chance of completing their college education. Hundreds of thousands of dollars are made available every year for students that have a financial need.
The Pell Grant has been available since 1972 and is still is the staple for funding low income students. It is however, at the mercy of the political and budgetary constraints of the federal government.
The Academic Competitiveness (AC) Grant is available for freshmen and sophomores with exceptional scholastic records and established aptitudes for leadership and service. Qualifying candidates must also be Pell Grant eligible.
The S.M.A.R.T. Grant, (National Science and Mathematics Access to Retain Talent) starts where the Academic Competitiveness Grant stops. Juniors and seniors studying mathematics, computer science, engineering, or the sciences are eligible for an award up to four thousand dollars.
State Grants
Many states administer grant programs to resident students based on need, merit, and area of study. If you are interested in learning more about the grants that are available from your state, you can talk to the financial aids office at your college or university, call your state department of education, or, visit the department of education website for your state government.
Grants for Minorities
More African-Americans and other minority groups are graduating from college with four year degrees than at any time in history. Many colleges designed specifically for the minority student offer quality education and financial aids and grants for students in need of assistance.
African American women are probably some of the most impoverished people in the country. Many have the determination to gain the education they need to lift themselves and their children out of the financial state they have been suffering in for so long. These women will find an abundance of grants designed for their specific needs to help them achieve their goals.
Hispanic women still considered to be a minority group, however, as far as population, they have overtaken the number of African American women. These women have been downtrodden for so long and are still struggling with many social issues that have kept them in the "under educated" category in most states. Many south-western states have recognized the needs of these women and have made grants and other resources available to give the Hispanic-American women opportunities for higher education.
Native-American women comprise the smallest ethnic group in the country. They have been downtrodden and disadvantaged for centuries and many consider a high school diploma a final step in their educational goals. Many have been isolated on reservations without much contact with the educational opportunities available. Grants for these women are considered to be critical, if they are to give themselves and their children the advantages they deserve.
Asian-American women belong to the fastest growing ethnic group in the United States. Most grants for this population are managed by ethnic organizations and are available as minority grants at most colleges and universities.
Women who are from disadvantaged, ethnic backgrounds who are the first person in their family to attend college may be eligible for the Sallie Mae and Coca Cola grants for higher education.
Grants for Women
For generations women were overlooked on college campuses and considered to be unable to perform many of the careers that their male counterparts pursuing. Even today many educators claim that women are not as engaged in the educational process as men and they seem to strive to a higher level at a women's campus.
Private women's colleges have developed innovative curriculum, and have expanded many programs such as athletics to give a fuller educational experience.
The American Competitive Initiative is designed to prepare young girls (America's future women) in the primary and secondary levels to consider under-represented careers paths.
Major corporations and organizations offer grants that encourage women to participate in under-represented courses of study, such as mathematics, science, and technology.
The American Association of University Women offers many grant programs to minority and disadvantaged women who may be attending college for the first time, or who are returning after an absence.
Popular Student-Specific Grants
The types of students that are seeking grants for college expenses are almost unlimited. Among the most popular are the non-traditional, disadvantaged, and low-income. Graduate and doctoral programs are also among the most popular. Military personnel are eligible for many grants and programs as a result of their service. One of the most significant groups, however, has to be the high school, and undergraduate college students.
Non-traditional Students
The growing need for single mothers to enter the workforce with a college degree and ready to take her rightful place among the professional women of her chosen field has increased dramatically. The new demand for grants to fund the non-traditional student has increased in recent years. Not only has the economy fueled the need for these mothers to care for their families financial needs, but, many are returning to school to further their education or change their career path altogether. Many university campuses, including community colleges are offering more flexible options for the non-traditional students as far as class scheduling, that includes evening, and weekend classes tailored to the working adult.
Native American Students
Tribal colleges and universities that specialize in the needs of the Native-American students, in many cases, they are beyond the traditional age of the average college student. Most of these non-traditional students live in remote communities and are seeking two-year certificate programs, even though a full range of curriculum choices are available.
Disadvantaged and Low-Income Students
With all the grants and financial aids available to almost every citizen of the United States, there is no reason for anyone to be denied a college education. The Pell Grant is a generous gift that, used wisely, can give the traditional and non-traditional student opportunities that would never be available otherwise. The Department of Health and Human Services offers scholarships to disadvantaged students who want to pursue a career in a health related field.
Grants are available for disabled students as well as better accessibility to on campus buildings for wheel chair confined students. Grants have also been made available by the National Federation of the Blind and the National Association of the Deaf for students who are hearing and/or sight impaired.
Graduate and Doctoral Students
There seems to be no end to the number of grants that are available to the graduate and doctoral students. In many cases, these grants fund the graduate and Ph.D. programs for the university. There are also many grants available for the student who must travel abroad to pursue their doctorate research. There are a large number of small grants available that are funded by not only federal and state governments, but, by corporations and foundations that need the skill sets these students offer.
Undergraduate Grants
The monetary incentive to low-income, disadvantaged women to enter into specialized fields such as science, math, engineering, and technology are readily available. High School seniors should not overlook the brochures that are being given to them concerning the number of grants that are available for college expenses.
Grants for Military, Students and Families
All branches of the military, including the ROTC have grants and scholarships available to cover full tuition expenses for their active and inactive personnel. Both the Army and Navy have programs to fund the spouses of their personnel in his/her educational endeavors.
What Grants Are Available
Women have come a long way in business and other fields; however, they are still underrepresented in many professions. Although, more women finish college than men, most colleges and universities fail to nurture their female students as completely as the male students.
When looking for grant money, the best the best thing to do is to not run out of ideas. Federal and state grants are available for continuing education. Many colleges and universities are now receiving funding to further the education of women.
As a part of Project Reach, The University of Phoenix has been given a large grant to award students stipends for pursuing Masters in Education degrees. Thousands of dollars every year are granted to the non-traditional student in order to pursue their graduate degree.
Subject-Specific Grants
Corporations spend millions of dollars every year to offer grants, fellowships, scholarships, internships intended to attract the most intelligent and gifted students to their industry. There are scores of professional organizations that offer educational funding for students majoring in their field of endeavor.
High Need Fields
Healthcare and teaching are in high demand and there are a considerable number of grants available to those students who are interested in majoring in either of these fields.
Medical Grants
There are still significant regions of the country that are underserved by the medical community. This is a very lucrative profession for the single mother to consider. Not only does nursing pay extremely well, but, there is a virtual gold mine of grants available to the nursing student through not only federal, state, governments, but, many corporations have need of nursing students in their corporate structure.
Teaching Grants for Student Teachers
Even though teaching is a thankless profession, still it is rewarding to those who choose it as their field. Teaching is a great profession for single mothers, considering the number of positions that are available throughout the public school system. Although many public school systems are bankrupt and can't offer teachers the resources that they need to teach their students effectively, many others are still financially secure. These school districts have the most demand and many pay very well. There are grants available from the state, as well as the federal government.
Grants for Service Programs
Grant service programs offers the student the grant money for their educational needs, in return, the student must volunteer to work a certain number of hours per week. This gives the program the talented staff they need, the student the money for their education, plus valuable practical experience.
College Housing Grants
The young mother not only has to worry about keeping her children fed, and clothed but needs to provide adequate shelter for them as well. Many universities offer housing for the non-traditional student who has a family. That having been said, these on and off-campus apartments are usually very high rent.
There are, however, many grants available for the non-traditional college student to cover housing and other living expenses. Often though it is more economical for the young mother to take her children to on-campus dining halls to eat using her student I.D. she and her children can eat at a substantial discount.
Grants for college housing are hard to find, however, they do exist and it is worth the effort in order to provide adequate housing for herself and her children.
Generous Grants Offered by Women's Colleges
Many women's colleges are receiving a record number of grants from the business sector to educate women in fields that are currently under-represented.
African-American, Native-American, and Hispanic-American women are among the most disadvantaged in the country. Many of these young mothers are returning to school determined to break the cycle of poverty for themselves and their children. In order to help these women receive an education and enter the professions of their choice, the federal government, as well as many state governments, have set up countless programs.
Spelman College in Atlanta, Georgia, offers higher education to African-American women. They often extend grants to women based on need, merit, academic achievement, and major course study.
The Goizueta Scholarship offered at Agnes Scott College in Atlanta Georgia, offers Hispanic women a fully funded education if they have a deep economic need, and they have demonstrated high academic achievement, and an aptitude for leadership.
Although no grants or scholarships are available at Wellesley College, they take diversity seriously and spend millions on the students who need financial assistance. Non-traditional students can apply for the Davis Program toward a bachelor's degree or to complete graduate work.
Applying for federal grants, loans, scholarships, and other financial aid is greatly encouraged at Barnard College in New York. The Office of the Dean publishes a list of available grants and other financial aids that are available.
Women have come a long way in business and other fields; however, they are still underrepresented in many professions. Although, more women finish college than men, most colleges and universities fail to nurture their female students as completely as the male students.
When looking for grant money, the best idea is to not run out of ideas. Federal and state grants are available for continuing education. Many colleges and universities are now receiving funding to further the education of women.
As a part of Project Reach, the University of Phoenix has been given a large grant to award students stipends for pursuing Masters in Education degrees. Thousands of dollars every year are granted to the non-traditional student in order to pursue their graduate degree.
Scholarships4Moms.net offers a ten thousand dollar scholarship for single mothers to return to school. Just follow the instructions exactly and fill out the online form. The money is to cover the cost of tuition, books, and room and board.
Women's Independence Scholarship Program (WISP) objective is to help formerly abused women who were battered by an intimate partner to obtain an education in order to secure employment, independence, and self-confidence by attending accredited programs at educational institutions. Preference is given to state funded community colleges, colleges, universities, technical and vocational schools, and proprietary schools.
The primary intent is to help single mothers with young children in desperate financial need overcome the obstacles, and become employable, and economically established to live an independent life.
To be eligible for the scholarship, the woman must be a direct survivor of domestic abuse, and who have been parted from her abuser for at least one year. Women who have been free from their abuser for five years or longer can apply, however, funding may be limited.
The woman must be a citizen of the United States, and has applied or been accepted into an accredited school. She must demonstrate that she has a desperate financial need, and a strong desire to complete the training or academic program. She must also have sought assistance from a non-profit domestic abuse agency for a minimum of six months, and have a definite plan to use the training for career advancement.
Patsy Takemoto Mink Education Foundation For Low-Income Women & Children
Congresswoman Mink, Second Congressional District, Hawaii, was the first woman of color to be elected to the United States House of Representatives. She served her district from 1965-1976, and 1990-2002. Congresswoman Mink passed away in 2002, but, her tireless work in the areas of civil rights, women's rights, integrity of the democratic process, economic justice, peace, and civil liberties continue through her foundation. Congresswoman Mink was committed to helping low-income women with children reach their educational goals. The goal of the foundation for the year 2011 is to offer five educational awards to assist low-income women with children pursue training or education.
The Jane M. Klausman Women in Business Scholarships are awarded to women studying business at the undergraduate level who have demonstrated outstanding potential in the field. Zonta International offers scholarships in the amount of $5,000. Additionally, at the club level, the Zonta Club of Newport Harbor offers a $1,000 scholarship. The scholarship may be used at any university, college or institute offering accredited courses and degrees.
Grants for Women in Non-Traditional Occupations
There are many grants created by the private sector, businesses, and special interest groups that have a stake in promoting women in professions not normally thought to be a career choice for single mothers.
Women who are interested in careers in mathematics, science, and/or technology are breaking into professions that until recently, were considered to be vocations for men only.
Lucent Technology and Bell Laboratories offer a popular research grant program that grooms some of the best minds in top math and science programs for critical research projects.
Federal Loan Repayment Programs
In order to augment the need for nurses in many underserved areas the federal government has many loan repayment programs available to people graduating with nursing degrees that are willing to work in high-need facilities for a specified length of time.
Nursing Education Loan Repayment is a government sponsored repayment program intended to support the role of nursing in the health professions, increase qualified nurses in underserved areas, and ease the weight of student loans for skilled and economically disadvantaged nurses. Registered nurses with proven pecuniary need applying for the Nursing Education Loan Repayment program must consent to work for at least two years at a high-need facility in exchange for sixty percent repayment of unpaid student loans. If they consent to an extra year (three years) the repayment includes twenty-five percent more of their loans, or an overall repayment of eighty-five percent of nursing student loans. Entitled nursing students will be either undergraduate or graduate program participants, have outstanding student loan debt with a spotless repayment record.
Faculty Loan Repayment Program is a federally funded program that helps destitute faculty in the health care professions, including nursing faculty, repay student financed obligations. Participating programs may cover a wide range of specialties, including veterinary, mental health, physical and occupational therapies, to name a few. Qualified faculty must have at least completed four-year undergraduate degrees and either be enrolled in a graduate health professions program or in their last year of work in a health-related field.
Indian Health Service Loan Repayment Program is a federally sponsored nursing student loan repayment program that is funded by the Indian Health Service, a division of the U.S. Department of Health and Human Services. Nurses, at all levels of their profession, interested in working in ethnically motivating and deprived healthcare facilities, inner-city or rural, may qualify for reimbursement of student loans.
Browse Scholarships
Resources
Browse Grants
Student Loans
More Educational Resources