African American College Grants
Statistics and Program Opportunities
Promoting diversity in education leads to equal opportunity for minority groups; but when universities use affirmative action policies to engineer multicultural student bodies, the results can become contentious. Since being upheld by the U.S. Supreme Court in 2003, race can be used as a factor for granting college admission. The Supreme Court will be taking up another case in 2012, to continue debating this method of promoting minority representation in post secondary education.
Regardless of the standing of the affirmative action issue, one thing is certain: Access to college for African Americans is definitely increased through college funding opportunities that target this under-represented group. Grants and scholarships come from a wide range of funding sources.
College is expensive, so it's important to grab any free-money gift aid that is available; whether it comes to you as a result of your location, religion, African American heritage or some other individual trait. If you are a minority student, your quest for college financing should encompass mainstream general aid resources, as well as those that speak to your unique cultural legacy.
College enrollment among African Americans has increased as a reflection of concerted efforts to move minority education forward. Grants that help offset the financial challenges of higher education are important pieces of the puzzle. If you need money for college, use all the resources at your disposal to identify government agencies, advocacy groups, corporations and individual schools that offer grants for African American students.
United Negro College Fund
The United Negro College Fund (UNCF) is the oldest organization in the United States that is dedicated solely to the educational advancement of African Americans. The UNCF was founded in 1944, and in 1972 adopted its familiar iconic motto: "A mind is a terrible thing to waste."
The organization stands as one of the most important supporters for African Americans pursuing their higher education goals. Not only does the UNCF award a host of grants, scholarships and fellowships directly to black college students, but the group also provides generous funding to dozens of historically black colleges and universities that serve African American students at all levels .
UNCF partners with state governments and private industry to administer scholarships and grants for needy Black students. Other financial aid offerings are funded by endowments and memorial funds set aside by individuals and trusts seeking to increase access to college for under-represented groups.
Cultural barriers are overcome by efforts that emphasize bachelor's and master's level education, rather than relegating participants to two-year vocational studies. Corporate grant and internship sponsors include:
Cisco Systems
Marathon Oil
Hallmark
Monsanto
Historically Black Colleges and Universities
Strong support for the education and social advancement of African American students has come from over one-hundred Historically Black Colleges and Universities (HBCU) in the United States. Such familiar institutions as Spelman, Morehouse College and Howard University populate the list:
Howard University in Washington, D.C. provides a handful of freshman scholarships and grants awarded for academic merit. Other grants through the university include the Frederick Douglass Scholars Program and the Mordecai Wyatt Johnson Program, both of which are awarded based on academic excellence. The University maintains a list of updated donor grants and scholarships that address the financial needs of worthy students.
Morehouse College in Atlanta offers grants to African American students based on academic excellence, athletic excellence, and individual program majors. For instance, students with a passion for music might qualify for the music department's grant. The College publishes a helpful Affordability Brochure, to help students measure their need for financial assistance. Tuition alone at Morehouse is more than $18,000 annually; as a result, over 90% of students rely on some measure of financial aid. This comprehensive men-only liberal arts university boasts famous graduates like Spike Lee.
Spelman College in Atlanta stands as the country's oldest Historically Black College for Women. Spelman partners with organizations like the United Negro College Fund to administer grants to needy students. The school maintains a philosophy of female empowerment, embracing the world's many cultures. Spelman's student body, currently numbering more than 2000 women, is drawn from diverse worldwide outposts, including 15 countries and more than 40 states. Georgia residents are eligible for the state's Tuition Equalization Grant, as Spelman is a qualifying participant of the program.
The White House Initiative on Historically Black Colleges and Universities was recently strengthened by President Obama's Executive Order on Educational Excellence for African Americans. Signed by Obama in July, 2012, the initiative strives to create positive outcomes for black students through increased access to post-secondary education, thus promoting higher college graduation rates among African Americans. By implementing best-practices standards at HBCU Obama hopes to further his ultimate goal for the United States; becoming the nation with the highest percentage of college graduates by 2020.
Public and Private Organizations Offer Specialized Grant Funds
Grants, scholarships and internships originate from a variety of sources, including African American advocacy groups that support students pursuing particular training. General college aid programs are also initiated by corporate sponsors, for the purpose of expanding access to diverse student populations.
If you are matriculating with a committed career goal, investigate the possibilities for financial aid within your chosen discipline.
The National Black Nurses Association supports the professional and educational interests of African American nurses. The organization offers nearly a dozen grants, scholarships and fellowships for nurses enrolled in four-year nursing programs. Average grant awards are between $500 and $2,000. Membership in a local chapter of the Association is required for financial aid eligibility, as well as a written essay and two letters of recommendation.
The March of Dimes Nursing Scholarships fund graduate level studies for licensed RNs in maternal-child specialties. Minority students qualify, so if you are pursuing advanced education in this field, don't overlook these generous awards.
The American Institute of Certified Public Accountants (AICPA) illustrates its commitment to diversity in the accounting profession by providing grants for minorities studying in undergraduate and graduate degree programs. Grants are awarded based on financial need and academic merit. The organization publishes an ebook called CPAs of Color, to provide inspiration for minority CPA candidates.
The American Psychological Association's minority fellowship program provides valuable grant funding for minority students enrolled in graduate level psychology programs.
Large corporations like Coca-Cola promote minority education through a diverse network of grants, scholarships and partnerships. Some funds go directly to learning institutions, but if you follow the money trail laid down by corporations, you'll find financial aid opportunities.
Microsoft offers scholarships and internships for minority students. And these go above and beyond founder, Bill Gates' Millennium Scholars Foundation, which shares the wealth with 1000 needy students annually.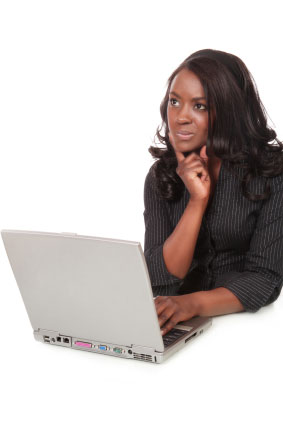 Federal and State Grant Funds
U.S. Department of Education financial aid opportunities have been in place to assist minorities and disadvantaged students since the mid-20th century. States too, administer aid for college, and some of it targets minority populations directly. The first step for African American students needing college dollars is to apply for federal and state funds.
Requesting government aid starts with the Federal Application for Student Financial Aid (FAFSA). The standardized form uses information about your family's financial situation to compile a snapshot of where you stand relating to your college costs.
Your EFC, or Expected Family Contribution is an important reference point for universities determining your financial need. Your EFC is included in your Student Aid Report (SAR), the document that formally outlines your ability to pay for college.
Federal Pell Grants are provided to undergraduate students who need help meeting educational expenses. Using your SAR, financial aid offices determine Pell Grant awards based on:
Need that goes beyond your EFC
Status as a full- or part-time student
Total cost of your education
Attending school for a full academic year
This grant program provides up to $5500 annually for African American students displaying some level of financial need.
Students that qualify for a Pell Grant are also invited to apply for a Federal Supplemental Educational Opportunity Grant (FSEOG). This program adds additional grant aid for students that exhibit the highest degree of financial hardship related to college expenses. If your EFC is zero, you will be considered first for this grant, with remaining funds being distributed to the next most needy applicants, until funds are exhausted. File your FAFSA as early as possible, so you don't miss out on available funding.
College students working toward teaching degrees are eligible for grants that specifically advance the profession. Teacher Education Assistance for College and Higher Education (TEACH) grants require a four-year service commitment that places graduates in high need teaching fields. To capture up to $4000 annually, grant participants must agree to teach low-income students, in high need regions, for four of the eight years following their college graduation. If you accept TEACH funds, and fail to honor your obligation, the grant reverts to an unsubsidized loan that requires repayment.
Academic Competitiveness Grant (ACG) and National Smart Grant are programs that stimulate enrollment in technology related degree tracks like math, science and engineering. Pell-eligible students are invited to apply for ACG funds during their first two-years of college, and SMART grants during their junior and senior years.
The Georgia Student Finance Commission administers The Georgia Tuition Equalization Grant to help Georgia college students meet the tuition demands of in-state private colleges. The grant amount is modest, up to $700 annually, but provides disadvantaged students with one piece of the college-financing pie.
Michigan Department of Human Services maintains a list of financial aid opportunities for African Americans. Funding for Michigan students comes from a diverse cross-section of entities-both public and private.
Iowa Minority Academic Grant for Economic Success (IMAGES) This need based grant requires participants to maintain at least 24 credit hours each academic year, and achieve a minimum grade point average of 2.0 during each grant term. Recipients in good standing enjoy eight semesters of eligibility.
Minority Groups
Browse Grants
Academic
Government
More Educational Resources