Grants for Students with Disabilities
Finding Education Grants for Students with Special Needs
Nearly every prospective college student will need some form of financial assistance when it comes to covering tuition costs. Whether it be a federal grant, a university scholarship, or a private education loan very few students pay their way through college entirely out of their own pockets. For the majority of college-bound students trying to finance the cost of a higher education, there are a great many possible sources for funds, including:
Federal Student Loans and Grants
State-based Grants and Scholarships
College and University Grants, Scholarships and Fellowships
Grants, Scholarships and Fellowships from corporations and professional organizations
Private education loans from banks and lending institutions
Students with disabilities share these same financial challenges, but also face further obstacles in their pursuit of a college education. For students with mobility issues, simply navigating a university campus can present difficulties. College students with visual and/or hearing impairments can find integrating into a traditional classroom setting a challenge. With the passing of the Individuals with Disabilities Education Ac in 1975, campuses began to address many of these accessibility issues. Revised and amended in 2004, the IDEA continues to push for better access for disabled students at colleges and universities across the country.
While the issue of physical accessibility to a higher education has been addressed by the IDEA, the matter of funding that education remains an obstacle for many disabled students. Education grants can provide part of the solution, and are available from a number of varied sources.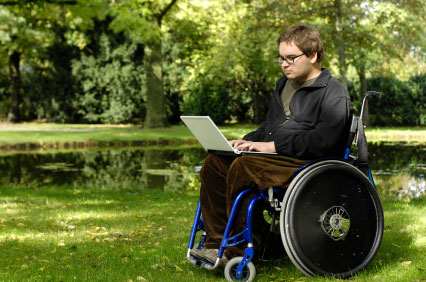 National Organizations and Associations
Students with disabilities have some degree of an advantage when it comes to qualifying for education grants or scholarships. Since the passing of the IDEA, there has been a concerted effort to encourage disabled students to pursue their higher education at tradition public or private institutions. Many organizations, both public and private, sponsor grants for disabled students who would otherwise not have the financial resources to pursue their college education. There are foundations and associations throughout the country dedicated to funding grants and scholarships that address nearly every form of mental or physical disability. An internet search for education grants dedicated to specific disabilities will return a large number of potential leads, and a few notable examples will give you an idea of what you can find.
The National Federation for the Blind – The NFB, founded on 1940, is the largest advocacy organization for the blind and visually impaired in the United States. They sponsor 30 annual scholarships and grants designed to help the visually impaired achieve their education goals.
The Billy Barty Foundation – Founded by the venerable actor in 1975, the Billy Barty Foundation sponsors two annual $1000 grants for college students diagnosed with medical dwarfism.
The Cystic Fibrosis Scholarship Foundation – The CSFS is devoted to helping students with Cystic Fibrosis pursue their post-secondary education at a college or vocational school. The CSFS sponsors several annual scholarships and grants for students with CF. Awards are based on financial need and academic achievement.
Colleges and Universities
Colleges and universities know their campuses are more fulfilling academically, intellectually and socially when they are home to a diverse student body. As a means to that end, colleges routinely sponsor grants and scholarships for students from underrepresented portions of the population. This includes supporting grant programs for students with disabilities. Availability of these programs will vary depending upon the institution, and students are urged to consult with any prospective college's financial aid department to learn more about specific grants for which they may qualify. In many cases, the robustness of a school's grant program may be the deciding factor in which college a student chooses to attend.
Some of the country's colleges and universities with the most highly regarded programs for students with disabilities include:
The University of Illinois at Urbana-Champaign – Since the founding of the Division of Disability Resources & Educational Services in 1948, the University of Illinois has been a leader in educational services for students with disabilities. U of I can also boast of having one of the premier wheelchair sports programs in the nation.
University of California, Berkeley – UCB began their world class disability programs in the 1960′s. Today, their Disabled Students Program continues to offer disabled students extensive academic opportunities as well as teaching the more severely disabled the skills they need to live independently.
Wayne State University – WSU has long been dedicated to making their campus wheelchair accessible, and open to students with disabilities of all kinds. Their Handicapper Educational Services provides much needed financial, instructional and personal assistance for resident students with disabilities.
In addition to the financial assistance that helps disabled students with their tuition costs, many colleges and universities also sponsor grant programs to help pay for much needed ancillary supplies such as braille writers and printers, reading services and state of the art computer software for the hearing impaired. This financial and technological support enables disabled students to participate fully in a classroom setting.
Universities and Colleges for the Disabled
While many disabled students prefer to attend college on a traditional campus, for some the optimal choice remains an institute of higher learning specifically dedicated to the special needs of those students with a particular handicap. For some students, attending college with fellow students who share similar life experiences makes the education process easier.
There are a great number of colleges, universities and technical schools that specialize in providing higher educational opportunities for those with disabilities. These schools also offer an array of grants and scholarships to help offset their tuition costs. Some of the most notable examples of colleges and vocational schools for students with specific disabilities include:
Landmark College – Landmark College has been dedicated to fulfilling the higher education aspirations of students with learning difficulties for more the 25 years. They specialize in students with dyslexia, ADHD and ASD. Landmark offers a number of financial aid services including grants and scholarships for qualifying students.
The National Technical Institute for the Deaf – Located on the campus of the Rochester Institute of Technology, the NTID is one of the nation's preeminent schools for the hearing impaired. Emphasis is on academic programs that will enable students to find a lucrative career in the modern marketplace. The NTID offers a variety of grants and scholarships to qualifying students, based on academic performance and financial need.
The Perkins School for the Blind – Dedicated to providing education and vocational opportunities for visually impaired students of all ages, the Perkins School for the Blind has been at the forefront of education for the visually impaired since 1832. Financial assistance in the form of grants and scholarships is available for qualifying students.
Federal Grants for Students with Disabilities
The Federal government sponsors a number of financial aid programs for college-bound students, including the popular Pell Grant. The Pell grant is open to students from all backgrounds, and those with disabilities are equally encourage to apply to the program. However, more specific to students with disabilities is the U.S. Department of Education's TRIO Programs. Operated in coordination with a number of colleges and universities across the country, the Federal TRIO Programs provide education grants for students from disadvantaged backgrounds, including those with severe disabilities. To apply for any Federal aid, students must first fill out and submit the Free Application for Federal Student Aid, of FAFSA, in order to be eligible for any of the U.S. Department of Education's financial aid programs.
Students with disabilities looking to find the necessary funds to offset the cost of their college education are encourage to refer to our section on Disability Scholarships for information on other possible sources of financial aid.
Student Type
Browse Grants
Academic
Government
More Educational Resources