Veterinary Student Scholarships
Best Vet Scholarships from National Organizations and Colleges
Becoming a veterinarian requires much more than just a love of animals. People tend to forget that veterinarians are licensed doctors, and like all medical professionals must complete a long and intense course of studies before they can be certified to practice. Veterinary school takes time and determination, and students must master a diverse number of disciplines including chemistry, biology, anatomy, and mathematics. Veterinarians are highly educated and highly skilled individuals who must be prepared to diagnose and treat a wide array of animals, from house pets to farm animals. It is a highly challenging profession. Studying to become a veterinarian can be expensive, fortunately there are a wide range of scholarship opportunities available specifically designed to help veterinary students pay for their college education.
Scholarships for veterinary students are supported by a variety of sources. Many corporations closely allied to the pet-care industry sponsor annual scholarships for students pursuing careers in veterinary medicine. National organizations dedicated to the care and support of animals are also prime sources for college funding.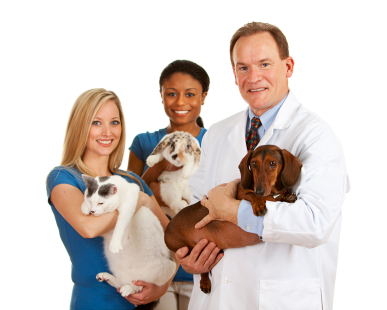 Scholarships for veterinary students are highly competitive, and only the best and brightest will be awarded the funds they need to pay for their education. While students wishing to become veterinarians may not have the pick of the litter when it comes to scholarships, they may be surprised at just how many opportunities are out there for hard working veterinary students.
National Scholarships
Many national organizations sponsor valuable scholarships for veterinary students. Some of these programs are funded by corporations with close ties to the animal-care industry, while others are sponsored by professional associations concerned with the care and well-being of both domesticated and wild animals. The wide range of national scholarship opportunities is indicative of the varied duties and responsibilities of a practicing veterinarian.
As with all scholarships, eligibility requirements and award amounts will vary greatly amongst the available programs. Students are encouraged to research any scholarship program thoroughly in order to be prepared to meet all eligibility requirements. The following examples of nationally sponsored scholarships will illustrate the types of financial aid opportunities that are available to veterinary students.
College Specific Scholarships
One of the prime sources of scholarship funds for veterinary students is their own college of attendance. Many veterinary schools sponsor, or administer, scholarships for deserving students pursuing careers in veterinary medicine. Some of these programs may be funded by private endowments, or through the generosity of local and national organizations.
The following scholarships are good examples of the types of financial aid programs available at specific colleges of veterinary medicine around the country.
The Cummings School of Veterinary Medicine at Tufts University supports a variety of scholarships for its enrolled students. 14 annual scholarships and more than 30 endowed scholarships are available to high performing veterinary students. Eligibility requirements range from financial need to specialized course of study, with some scholarships being specifically targeted to women and minorities entering the field of veterinary medicine. Some of the more popular programs include the Cats, Plain and Fancy Scholarship, the John F. and Georgia O'Neill Flagg Scholarship for Wildlife Medicine, the Bil-Jac Foods Inc. Scholarship and the Westminster Kennel Club Foundation Scholarship.
Regional Scholarships
Veterinary students residing in states with large rural or farming communities often have access to regional scholarship funds designed to increase the availability of licensed veterinarians within the area. Typically, these programs will only be available to students from a particular state or region of the country, and may require that students agree to work as a licensed veterinarian in a critical need rural community.
The following scholarships are typical of the types of regional financial aid programs that are available to students studying veterinary medicine.
The Veterinary Scholarship Trust of New England provides annual scholarship opportunities to veterinary students from Maine, New Hampshire, Vermont, Massachusetts, Rhode Island and Connecticut. A large number of scholarships are awarded every year, with funding being provided by state veterinary associations, canine and equine groups and individual endowments.
The Rhode Island Veterinary Medical Association sponsors a $1000 scholarship for veterinary students entering their senior year of college. To be eligible, students must be a graduate of a Rhode Island high school, and must have a minimum GPA of 2.5.
The Western Veterinary Conference awards 32 annual $2500 scholarships to veterinary students in their third year of studies. To be eligible, students must be enrolled at an accredited college of veterinary medicine within the United States or Canada.
Becoming a licensed veterinarian takes years of study, and a profound dedication to the welfare of all animals. It is a challenging career that requires an ability to both understand and treat animals in distress, and to communicate with and counsel the animals owners. Veterinary medicine offers many rewards, both financial and emotional. For students considering a career in veterinary medicine, the right scholarship can help pave the way to a successful practice.
Health and Medical
Browse Scholarships
Resources
More Educational Resources