Radiologic Science Scholarships
Study Sonography, Medical Imaging, Nuclear Medicine
Health sciences professions are wanting for qualified technicians ready to serve in specialialized medical roles. Baby-boomer demographics and general demand for medical care continue to drive the need for specialists in technical health fields like physical therapy, physician's assistant and radiologic science. Students pursuing health-related educational credentials are in the catbird seat for financial aid opportunities that serve high demand medical fields.
Educational paths within the radiology technician profession range from acquiring diplomas and certificates, to earning bachelor's degrees and post-graduate credentials. Like many other medical technician specialties, the most common path toward radiology certification is to earn an associate's degree. By completing 2-year programs, graduates enter the workforce in jobs like radiology technician and ultrasound technician. By earning additional certificates of specialization, A.A.S. degree holders open more employment doors within imaging disciplines like magnetic resonance imaging (MRI) and computed tomography (CT). Mammography, ultrasound, nuclear medicine and MRI specialists work in hospitals, clinics, stand-alone imaging centers, sports medicine facilities and a host of other health institutions.
On their own, certificates and diplomas provide faster ways to enter the radiology workforce, but higher levels of education are required to advance within the profession. Bachelor's degrees are favored for positions like Director of Radiology, Lead Radiologic Technician and Radiologic Educator/Trainer. Master's degrees prepare students for roles as Radiologist's Assistant, as well as upper-level management positions directing entire facilities.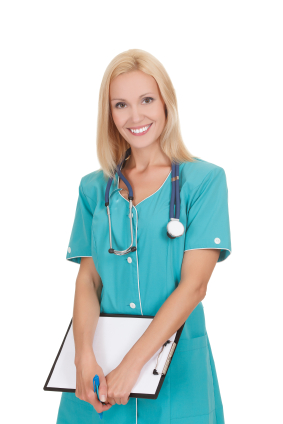 Whatever path you choose, your access to scholarships and other financial aid increases by studying for employment in a high-demand field like radiology. Industry associations, educational foundations, private entities and government agencies each put forth unique opportunities for financing radiology education. And institutions of higher learning themselves play active roles in underwriting educational expenses for promising radiology students.
As you assemble your college financing strategy, use your academic major to uncover career-specific grants, scholarships and loans.
Scholarships From Industry Groups
The American Society of Radiologic Technologists offers educational support for student members. The organization's Education and Research Foundation issues several distinct scholarships that target specific student groups like entry-level radiology tech majors and professional-level applicants. These examples showcase some of the educational efforts made by the vocational advocacy group:
Jerman-Cahoon Student Scholarships are available for entry-level radiology students. Five annual awards worth $2500 each are issued to students specializing in radiology, sonography, magnetic resonance imaging and nuclear medicine.
The Royce Osborn Minority Student Scholarship is provided to minority students with outstanding academic records. Applicants compete for one of five annual scholarships worth $4000 each. Radiology, sonography, MRI, nuclear medicine and radiation therapy students are invited to apply for the entry-level financial assistance.
Varian Radiation Therapy Student Scholarship program addresses the needs of radiology professionals who are returning to school to earn certificates, diplomas, associate's degrees, bachelor's degrees or master's degrees that will advance their careers. Applicants compete for nineteen annual grants worth five-thousand dollars each. Radiology technologists who are supplementing their educational credentials with radiology therapy degrees are also eligible to apply.
Parsons Degree Achievement Scholarships are the newest addition to the ASRT stable of financial assistance for radiology students – benefiting winners in 2013 and beyond. The generous program awards 20 individual scholarships annually, to students enrolled in programs pursuing their first college degrees. Each award is worth $2000 and may be applied to a bachelor's or master's program.
Radiologic technology students embarking on careers as educators in the field are eligible to apply for the Monster Medical Imaging Educators Scholarship Program - winners earn up to $5,000 each.
Radiologic technicians interested in pursuing advanced degrees are eligible to apply for the Siemen's Clinical Advancement Scholarship. Four awards worth $5000 each go to bachelor's, master's, and other degree candidates within imaging disciplines.
The Illinois State Society of Radiologic Technologists administers the Elizabeth Bray Scholarship. Student members are invited to apply for scholarships of at least $500 values. In addition to membership of at least 60 days prior to application, each candidate must maintain a minimum GPA standard or 3.0 and be enrolled in an accredited radiology technician program. Selections favor students who combine academic excellence with extracurricular activity and financial need.
University Assistance for Radiology Students
Boise State University Radiologic Sciences Department puts forth these examples of the types of aid found on individual college campuses:
Gary Craychee Memorial Scholarship recognizes students with exceptional academic records.
Mack Radiological Tech Scholarship is merit-based. Recipient must be enrolled full-time.
Anna Mae O'Reilly Scholarship recognizes undergraduate students who are outstanding in applied clinical areas, and inspire others with positive attitudes.
University of North Carolina Chapel Hill offers a Professional Development Fund from which the Volunteer Association's Educational Assistance Program distributes funds to allied health professionals, including radiologic technicians who wish to continue their education. Awards vary, but are usually valued in the hundreds of dollars per academic semester.
Angelina College in Texas offers a small scholarship for radiologic sciences majors: Qualified second year radiologic sciences majors compete for the Griffith-Ford Scholarship, which is is awarded to students with demonstrated financial need. Scholarships are applied to tuition and fees for satisfying clinical requirements in radiologic technology programs.
Students enrolled in the School of Radiology at Bradford College in Pennsylvania are eligible to apply for one of three distinct scholarships funded through the Bradford Hospital Auxiliary. Worthy would-be radiology technicians and imaging specialists vie for educational financing using the school's Academic Scholarship, New Professional Scholarship and Scholarship for Clinical Excellence.
Additional Funding Resources for Radiologic Sciences Students
Radiology majors qualify for some of the same general financial aid that helps other students succeed in college. Pell Grants and other federally backed student assistance provides your primary resource for higher education financing. File your FAFSA early, and take advantage of Federal Direct Student Loans to cover expenses when grants and scholarships fall short. States too are large benefactors of education, so don't miss out on financial aid opportunities right in your own back yard.
Beyond generic programs, explore career-specific efforts to support radiologic science education. Colleges, and individual radiologic technology departments grant assistance to promising students. State aid for medical professionals in-training sometimes takes the form of tuition-for-service arrangements that offset college costs. Health-related corporations operate scholarship funds for educating medical professions. And professional associations that promote the advancement of Radiologic Science are active players in educational philanthropy, providing competitive awards for degree candidates and working technicians fulfilling continuing education requirements.
Health and Medical
Browse Scholarships
Resources
More Educational Resources