EMS and Paramedic Scholarships
Scholarships for First Responders
Emergency Medical Services personnel are essential features of any disaster management effort. Whether paid or volunteer, paramedics are usually the first to arrive at accident sites, making split-second life-saving decisions during every shift. Training is comprehensive for EMS providers and paramedics, because no two disasters, emergencies or accidents are alike.
Initial certification requires schooling, and continuing education also plays an important role in keeping EMS personnel on the cutting edge of life-saving first responder protocols. College level programs exist at two and four-year colleges, in departments that grant certificates, diplomas and degrees. Degree programs include graduated levels of EMT education and certification, each requiring relevant coursework. Whether basic or advanced – EMT school costs money, so would-be paramedics and first responders are always on the look-out for scholarships and other financial aid.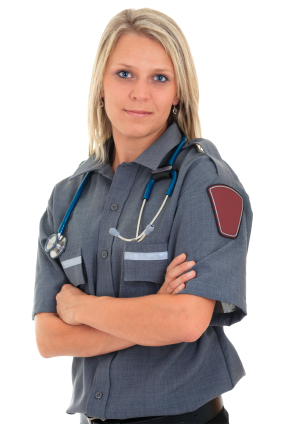 Scholarships for EMS Personnel
National Association of Emergency Medical Technicians (NAEMT) supports EMS careers with educational scholarship opportunities. Individual active members of the organization are invited to compete for educational funding, in these categories:
First responders are given the opportunity to earn EMT -Basic credentials, with the help of NAEMT Scholarships worth as much as $500 each.
EMT-Basic credential-holders are able to pursue EMT-Paramedic education, which is supported by scholarships worth up to $5000 each.
Paramedics earn $2000 awards to be applied toward continuing EMS schooling
Degree Completion program accommodates applicants who have earned academic credits previously, and are returning to school to complete degree programs
The Bucks County Emergency Health Council EMT Scholarship Award recognizes an outstanding EMT who is enrolled in paramedic courses. Scholarships are valued at around $800 each.
Bound Tree Medical Legacy Scholarship provides incentives for students who follow in their EMT parents' footsteps. The fund provides $50,000, to be distributed to sons and daughters of EMS personnel, firefighters and police officers who are launching educational pursuits that lead to Emergency Medical Services certification and employment. Funds are for students working toward their initial EMT certifications, and for basic certified professionals that are moving into the Paramedic certification level of education. Eligible students are required to apply for certification through state programs.
The New Hampshire Chapter of the American College of Emergency Physicians offers a Paramedic Scholarship. Eligible students must be enrolled at an accredited New Hampshire college to qualify. Awards are worth at least $500 each. Additional requisites for application:
Full or Part-time college enrollment
Enrolled in Associate's Degree program
New Hampshire resident for a minimum of three years prior to application
Academic transcripts reflect cumulative GPA of at least 3.2
Two letters of recommendation
Active participation in coursework
Completed application
Candidates are evaluated with particular attention paid to personal attributes like compassion, leadership potential and interpersonal communication skills.
The San Francisco Paramedic Association funds the Sandy Rehmar Paramedic Scholarship. Sandy Rehmar is remembered among her peers for her high standards and bravery in her fight against leukemia. Ms Rehmar's commitment to continuing education and community involvement are driving forces behind scholarship evaluation criteria. Students with high academic standards are invited to apply for the scholarships, which are distributed exclusively within the nine counties surrounding the San Francisco Bay.
The Rockingham Regional Ambulance Association, in New Hampshire, has an established Paramedic Scholarship Fund. The Association tries to offer two scholarships annually, which go to students who qualify based on merit and need. The number and amount of the awards is determined by available funding.
Students enrolled in North Carolina degree programs, who are also members of the N.C. Association of Rescue and EMS are eligible to receive scholarships from the association. Scholarship offerings are split into two categories; one for students in four-year degree programs and another for students pursuing 2-year credentials. Awards are valued according to program costs, but maximum amounts are as high as $4500.
Southeastern Alaska schools host EMS programs, which qualify for tuition assistance from the Southeast Region EMS Council Scholarship Program. Qualified candidates each earn up to $500 toward Alaska EMS education.
Students in Tennessee and Kentucky are eligible to apply for Brian Jenneman Memorial Scholarships. Successful candidates are pursuing paramedic certification, and must be accepted into paramedic training programs at the time of application.
The Iowa Emergency Medical Services Association distributes educational scholarships to motivated EMS students. Qualified applicants earn up to $1,000 each, depending on the specific EMS training that is undertaken. Financial need is considered when granting scholerships, and applicants must be Iowa residents. IEMSA members, and their immediate families are eligible to apply, provided they have reached the age of 18.
The College of Southern Idaho's Paramedic Program provides access to the Health Sciences Scholarship. As part of the application process, candidates are required to submit essays detailing their career aspirations following completion of their EMS schooling.
The Michael J. Latta EMS Scholarship Foundation honors Mr. Latta's memory by distributing financial assistance for EMS education. Annual application deadlines fall in mid-March.
Oakland Community College EMS Academy supports scholarships like the Honor and Dedication award, which grants $1000 each to worthy would-be fire and EMS professionals.
Health and Medical
Browse Scholarships
Resources
More Educational Resources