Gynecology & Obstetrics Scholarships
Help Offset the High Tuition
Gynecologists and Obstetricians are some of the most rewarding occupations to have. From assisting in childbirth to helping women live healthier lives, most OB/GYN physicians feel very satisfied with their profession. It pays well too! According to the Bureau of Labor Statistics the average salary of OB/GYN's is $218,000.
These jobs are very difficult to get, and the competition is fierce when it comes time to apply for jobs. Those wanting to practice in the field of Gynecology & Obstetrics must study for longer periods of time. It is required that students earn their Doctor of Medicine and participate in a four-year residency program before they can become practicing OB/GYN physicians. With this elongated study comes higher tuition. Fortunately, there are many programs that give aspiring OB/GYN's the funding they need to complete their degrees.
National Health Service Corps
The National Health Service Corps (NHSC) has been working for over 40 years to create healthy communities by matching those without access to health care with primary health care providers. That is their main purpose: to guarantee access to health care for everyone-especially those who may go without care- and to prevent the spread of illness and disease. One main focus of the NHSC is to provide scholarships to students seeking career paths in primary care.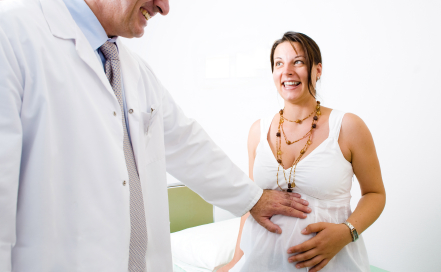 Medical students in their fourth year at any accredited medical school are eligible for a scholarship from the NHSC. This award provides tax-free payment of tuition, other educational costs, and provides a monthly living stipend. They offer other opportunities that aren't monetary. Students will gain access to educational, training, and networking opportunities, and they will also have help when finding a job at an NHSC-approved location.
East Tennessee State University
The OB/GYN department at Eastern Tennessee State University is dedicated to improving the healthcare and well-being of women in the Northeast Tennessee and Southern Appalachian areas. ETSU has a remarkable residency program for their students. In addition to the many scholarships provided by the Quinn College of Medicine, students also receive other types of Benefits specifically from the OB/GYN Department. Students receive funds for purchasing textbooks or software, and they get reimbursements for exam registration fees. For out-of-state students, they also cover rotation expenses including training license, housing, mileage, and malpractice expenses. For in-state students, the beginning amount of funding is $2,680, and out-of-state students receive close to $5,000!
Illinois Department of Public Health
The Illinois Department of Public Health offers the Medical Student Scholarship Program. It has the sole focus of increasing the amount of primary care physicians in rural areas of Illinois that lack a sufficient amount of OB/GYNs, family practitioners, and general pediatrics. By providing scholarships for tuition, fees, and living expenses their students are able to focus on their medical studies. To be eligible, students must show a commitment to primary health care and demonstrate a need of financial aid. Preference is given to students with experience in providing health care to populations that were underserved. Students are required to repay this loan after graduation. However, the graduates aren't required to pay back with money, but with service. Within 30 days after completion of residency training, it is required that the scholarship recipient establishes a practice in an area of Illinois that has a shortage of primary care providers.
Michigan State University
Michigan State University offers a unique scholarship to its medical students studying Obstetrics, Gynecology & Reproductive Biology. Those in their fourth year of study and are about to enter an OB/GYN residency program are eligible for the Bruce H. Drukker, M.D. Endowed Award of Excellence in Obstetrics and Gynecology. This award is specifically for residency relocation and related expenses. This award is given to students who have showed academic excellence while in school and on the USMLE Step II exam in Obstetrics & Gynecology.
Society for Maternal-Fetal Medicine
The Society for Maternal-Fetal Medicine (SMFM) is dedicated to improving pregnancy outcomes by advancing the science and practice of obstetric care. To reach their goal, in conjunction with the Council of the American Gynecological and Obstetrical Society and the American Association of Obstetricians and Gynecologists Foundation (AAOGF), they offer the SMFM/AAOGF Scholarship Award. This $120,000 per year award goes to assist in travel expenses to the annual fellows' retreat, salary, technical support, and supplies.
University of Iowa
Many American students don't get the chance to experience what education is like in Europe. Well, the University of Iowa, in conjunction with Cambridge University, allows students this opportunity. The Cambridge University OB/GYN scholarship is awarded to a third year medical student so they can expand their knowledge of obstetrical and gynecological education and patient care in the United Kingdom. Students will be studying for four weeks at Cambridge University. Students undergo this program in the second half of their fourth year of medical school. This scholarship provides $1,700 in cash to be used for airfare, room, and board.
West Virginia Rural Health Education Partnerships
West Virginia offers a great incentive program to any physician- including OB/GYN's. Their State Loan Repayment Program (SLRP) provides up to $40,000 for a two-year commitment to serve in an area that is far from medical centers. These funds are to be used to pay off already-existing medical student loans. Participants are eligible to stay for another two years and receive a maximum of $25,000 per year of service.
Health and Medical
Browse Scholarships
Resources
More Educational Resources