Anesthesiologist Scholarships
Pursuing a Career as an Anesthesiologist
An anesthesiologist is the doctor responsible for suppressing a patient's ability to feel pain or move, for the patient's protection during surgery. The deepest sedation available is general anesthesia, in which the anethesiologist has to deliver enough drugs to the patient during an operation to continue the loss of consciousness, while keeping the patient alive.
It's expected that anesthesia will depress the action of the heart and suppress autonomic breathing, and as long as those effects are counteracted all is well. The anesthesiologist's job is a very serious responsibility, as you can imagine: it requires strength of character as well as professional commitment.
Many people choose other jobs in the field of anesthesiology, such as anesthesiologist assistants (AAs), who work under the anesthesiologist in a care team. Anesthesia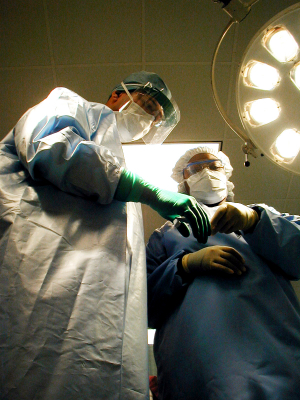 technicians (ATs) manage the necessary equipment, and certified registered nurse anesthetists (CRNAs) are nurses who specialize in administering anesthesia.
The following are some of the numerous examples of education funding available for those interested in anesthesiology.
Scholarships From Colleges
University of North Carolina (Greensboro)
The University of North Carolina (Greensboro)'s UNCG School of Nursing offers a Nurse Anesthesia concentration in its master's program, and any of the scholarships offered for general nursing can be used by those concentrating in anesthesia. These four scholarships are reserved for those seeking a masters in anesthesia:
The NC Baptist Hospitals, Inc. Scholarship, awarded for academic excellence.
The Sandra M. (Sandy) and Richard G. (Dick) Ouellette Graduate Scholarship in Nurse Anesthesia, which considers academic performance and financial need and is renewable if you continue to meet the requirements.
The Rebecca Jensen Scott Fellowship In Nurse Anesthesia, given to a graduate student in the clinical residency program at the UNCG School of Nursing.
The Helen P. Vox Graduate Scholarship in Nurse Anesthesia, which goes to a financially needy student who has maintained a good academic record.
Texas Tech University
The Department of Anesthesiology at Texas Tech University's Paul L. Foster School of Medicine offers a number of scholarships to its high-achieving anesthesiology students, and for many no application is required because your performance in school will determine your selection. You may contact the Office of Admissions for more information.
University of Michigan (Flint)
The University of Michigan (Flint)'s School of Health Professions and Studies sponsors three scholarships for students in its Anesthesia masters program. Here they are:
The Diane Brown, CRNA Scholarship and the Barbara I. Sprague, CRNA Scholarship go to students in the second year of the Nurse Anesthesia program. You must be passing your practicum, you must have finished 12 credit hours, and you must be able to show involvement in health care organizations or other community activities.
The Virginia K. Polzin, CRNA Scholarship has the same requirements, with one exception: the 12-credit-hour standard need not be met.
University of Colorado (Denver)
The Department of Anesthesiology at the University of Colorado (Denver) offers the Virtue Scholarship for anesthesia residents who are seeking a career in research (either clinical, translational, or basic). Recipients are given mentors, chances to conduct research, and support for this expected career path: residency and fellowship, followed by joining the faculty.
Full Virtue scholars spend at least two years on the faculty, and this is a scholarship-for-service commitment requiring you to pay back funds if you leave the program prior to completion.
Columbia University
Columbia University's Department of Anesthesiology administers the Virginia Apgar Scholars Program, for medical students who have finished residency. Recipients must agree to spend two years in either a clinical fellowship or a research fellowship, and the goal is to steer these students into academic medicine.
If you choose the basic science option (as opposed to clinical science), you will be eligible for the NIH T32 program, which brings $15,000 per year while you are in the clinical anesthesia years (CA1-CA3) and during your fellowship period.
Government Scholarships
The federal Indian Health Service (IHS) recruits nurses for American Indian and Alaska Native communities using student grants. The American Indians into Nursing Program is for student members of that community, and one of the professions eligible for financial aid is nurse anesthetist. The participating colleges are Arizona State University, University of North Dakota, Montana State University, Salish Kootenai College, and Oglala Lakota College.
You can obtain details on the nursing grants by contacting those schools individually, and there are links on this page.
Scholarships From Private Organizations
The Stark Community Foundation has established the Dale O. Heimberger CRNA Memorial Scholarship to support the education of Ohio residents who show promise in scholastic endeavors and can demonstrate financial need. To qualify, you must be in a nurse anesthesia program at an Ohio college or university.
Health and Medical
Browse Scholarships
Resources
More Educational Resources