K-12 Teaching Scholarships
Well-Funded Programs Attract Qualified Teachers
America's public school systems have taken hits over the most recent decades. Funding cuts and the public's perception that the nation's teachers are not adequately serving their classrooms have combined to place the profession in peril. To make sure children are prepared for their roles in society, qualified teachers are heavily recruited; and where they do not exist, they are created using K-12 teaching scholarships and grants. K-12 teaching program enrollees receive assistance from a variety of state and national sources.
Reputable teaching programs draw scholarship funding that bolsters the strength of K-12 teacher education. K-12 teachers are trained to work with a range of children; with particular attention paid to cultural, social and non-traditional student sensitivity. Teaching students also receive training on how to structure curriculums; including language and reading methods for K-12 and implementing the latest forms of technology into their classrooms.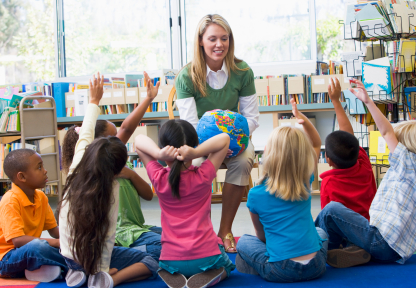 Federal Aid Benefitting K-12 Educators
Teacher Education Assistance for College and Higher Education (TEACH) is a popular tuition payment program that benefits K-12 teaching students. In effect, the program provides loans for teaching students, which are forgiven in exchange for employment commitments following graduation. Each participant is eligible for up to $4000 during each academic year aid is sought. Upon completion of teaching degree programs, TEACH recipients are bound to provide a minimum of four years of employment at high-need schools serving low-income student populations. Graduates who do not follow through with the teaching portions of their TEACH obligations are subject to repayment of loans and interest accrued during college.
The Federal Government also provides funding for state administered programs like New York's Teachers of Tomorrow, which blends local dollars with federal funds to help train K-12 teachers for the state's neediest schools.
State Scholarships
Would-be elementary, middle, and secondary school teachers are well-served by individual states' educational assistance efforts. Because education remains a decentralized bastion of local government control, a great deal of decision-making occurs at the state level and below. Public school systems that are chronically understaffed partner with scholarship funding entities to create aid programs that best address local education shortcomings.
In some cases, state scholarship efforts are tuition-for-service arrangements that trade higher-education for work commitments. State-funded teacher scholarships pay for your education, in exchange for your commitment to work in one of the state's critical shortage schools. Some such awards even stipulate which subjects you'll teach after graduation; allowing understaffed school districts to target those curricular areas that are most in-need of qualified teachers. These state programs illustrate nationwide efforts under way to bolster K-12 education.
Delaware Teacher Corps Scholarships are issued to qualified teaching students in exchange for service at one of the state's middle or high schools after college graduation. Preferred areas of specialization include music, reading, art, science, bilingual education and math. Eligibility is limited to students who meet the following criteria:
Delaware resident
U.S.Citizen or eligible non-citizen
Finish in upper half of high school class
Combined score of 1570 on SAT
Minimum 2.75 cumulative GPA
Enrolled full-time at a Delaware public college in undergraduate or graduate program leading to teacher certification in a critical need subject
Golden Apple is dedicated to developing and supporting a competent and well-trained teacher work force within the State of Illinois. The organization devotes special attention to Illinois' neediest schools. Exceptional teacher preparation is provided by way of the group's methods, resources and mentorship emphasis. Juniors and seniors in high school are invited to apply for scholarships from GA. Golden Apple Scholars vie for highly competitive scholarships that grant college freshmen and sophomores annual awards worth $2500 each. Juniors and seniors receive $5000 annually for their participation as GA Scholars, which may be applied to education costs at any of 53 state schools. In exchange for the generous levels of tuition assistance, each recipient is required to teach in a high-need Illinois school for at least five years following the completion of teacher schooling. The organization distributes monies to over 100 new participants every year, with an established goal of increasing that number to 250. Additional application materials include:
Several student-submitted essays
ACT results
Transcripts form high school
Mississippi's Critical Needs Teacher Loan/Scholarship (CNTP) grants full-ride tuition scholarships to those students enrolled in K-12 teaching programs. Participants must be willing to work in disadvantaged school systems following graduation. For their commitments, participating students are compensated with tuition, room and board assistance that covers college bills throughout college. To be considered for the CNTP awards, each applicant must meet these standards:
Pursuing a Bachelor's degree in teacher education at a Mississippi University
Cumulative grade point average of 2.5 or above
Junior status at a 4-year Mississippi school
Minimum enrollment of six credit hours each eligible semester
The College of Education at Northern Illinois University specializes in educating K-12 teachers. Selection criteria for many of the school's campus-specific aid programs often include academic achievement, financial need, extracurricular activities and leadership skills. Scholarships available include:
Penelope Cameron College of Education Scholarship is awarded to a junior majoring in Elementary Education.
A. Kerby and Helene Tink Early Education Fund offers scholarships to students majoring in Elementary Education, with a specialty emphasis on those candidates interested in teaching early adolescents in grades 5-8. Qualified applicants maintain a minimum GPA standard of 3.25 and receive above average ratings on clinical experiences completed.
James and Moke Chee Wolter Scholarships recognize undergraduate Elementary Education students with an above average ability to relate to young children. Academics performance is a major consideration, with a 3.25 GPA required for application.
Inspiration Software, Inc. sponsors annual Inspired Teacher Scholarships. The company creates software related to K-12 teaching curricula that emphasize visual learning. The scholarships benefit K-12 teachers who successfully integrate visual learning strategies into their teaching mantras.
Prospective Secondary Teacher Course Work Scholarships award $10,000 each to outstanding students pursuing K-12 education with concentrations in Mathematics. Scholarships are financed by a special Texas Instruments memorial fund honoring Franklin Demana and Bert Waits. The valuable awards are designed to boost the population of talented math teachers working within public school systems.
Education Scholarships
Browse Scholarships
Resources
More Educational Resources