Paleontology Scholarships
Uncover Funding and Pay for College
Long before man walked the earth, it was inhabited by dinosaurs. Thousands of years after their extinction there are many who study the fossils left behind. Students studying Paleontology take classes in the history of the Earth and others related to a Geoscience major.
This course of study covers more area than strictly paleontology. It includes all of our planets processes and even our own history. Many with undergraduate degrees in Paleontology go on to get their Masters and Ph.D. Once someone has obtained all of their desired degrees, there are many career options for them in the field of paleontology.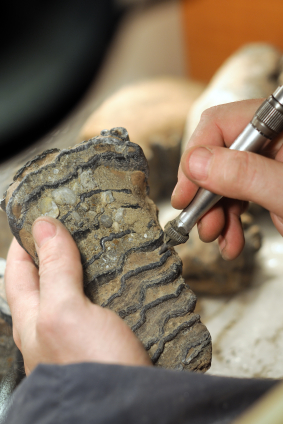 Some may search for fossils out in the field; some may analyze different fossils in a laboratory; some will be conducting private research or work in museums. There are more opportunities for Paleontology majors, and there are also scholarship opportunities for those wanting to engage in these studies in college.
Private Funds
The Barry M. Goldwater Scholarship is a highly competitive, merit based scholarship program given to students all over the country preparing for careers in mathematics, the natural sciences, or engineering. The goal of this fund is to stop a potential future shortage of highly qualified scientists, mathematicians, and engineers by providing funds to students pursuing careers in this field. The scholarship covers tuition costs, books, fees, and room and board. About 300 of these scholarships of up to $7,500 can be awarded to a student annually.
The Association of Applied Paleontological Sciences is an organization filled with commercial fossil dealers, collectors, enthusiasts, and academic paleontologists. Their purpose is to encourage ethical fossil collecting practices and produce cooperative liaisons between researchers, instructors, curators and exhibit managers in the paleontological community. They offer twoscholarships to students conducting research: the James R. Welch Scholarship and the Charles Sternberg Scholarship. These awards are for $1,500 apiece and go to students who show outstanding academic achievement in the field of paleontology.
There are scholarship opportunities for minority students studying Paleontology. The American Geological Institute offers the AGI Minority Geoscience Scholarship which is intended to diversify those who enter this field. The amount of funding from this scholarship ranges from $500 to $3,000.
The Association for Women Geoscientists is dedicated to getting more women involved in the geosciences. They offer financing to women studying this field.
Chrysalis Scholarship- this award goes to graduate students whose studies have been interrupted by unfortunate life circumstances. The funds are intended to cover costs associated with completing your thesis/dissertation. Up to $2,000 is awarded.
AWG Minority Scholarship- $6,000 may be awarded to minority women pursuing a degree and a career in the geosciences.
AWG Winifred Goldring Award- memberships to different paleontology organizations can be quite costly. To offset these costs this award provides funding for one-year's participation in Paleontological Society and AWG
Be sure to check out their scholarship page for a full listing every one they offer.
College Scholarships
University of Missouri has a tremendous paleontology program where they offer numerous scholarships to students. Their alumni program allows them the ability to provide generous scholarships ranging from $300 to $3,000 in funding.
Wallace B. Howe Fellowship in Geological Sciences- this award goes to students in the geology department. students must be conducting research involving U.S. Paleozoic-age sedimentary rocks.
Maurice G. Mehl Memorial Scholarship in Field Geology- graduate students in geology who are specializing in stratigraphy and paleontology and in need of financial for assistance qualify for this scholarship. The funds of this award go toward paying for expenses.
Ernest J. Palmer Memorial Scholarships- this award goes to students in the fields of paleontology and systematic botany who need financial assistance.
Carl B. Rexroad Geological Sciences Endowment Fund- this award primarily goes toward paleontological study in Missouri, and secondly to paleontological study outside of the state. Graduate students get first preference, followed by undergraduates, and then faculty.
James H. Stitt Memorial Scholarship Fund- is reserved for graduate level students who are in the midst of research.
The Florida Museum of Natural History provides generous scholarships to students involved in paleontology studies at the University of Florida:
R. Jerry Britt, Jr., Paleobiology Scholarship- is awarded to undergrad or grad students at UF with superior academics and passion for paleobiology research.
Miss Lucy Dickinson Scholarship in Vertebrate Paleontology- incoming graduate students who are pursuing the Doctoral degree in Vertebrate Paleontology are eligible for this award. There are two ways to receive funding. In the first option they provide $6,000 for up to three years. The other avenue is for two-years, and they will provide full graduate study support, including tuition and stipend.
Scholarships for Physical and Life Sciences
Browse Scholarships
Resources
More Educational Resources