Geographic Information Science Scholarships
Cutting Edge Global Mapping Careers
The use of overflights to generate continually updated geospatial information, used by increasingly sophisticated mapping programs, has dramatically altered the profession of mapmaking. There are two primary types of mapping professionals, cartographers and photogrammetrists. Cartographers study and produce standard geographic maps like those published by the United States Geological Survey, sometimes including measurements like elevation, terrain, and population density.
These maps are usually expressed in two dimensions, although height and depth may be indicated thereon.
Photogrammetrists use photographic images to measure and model the real world, producing both two-dimensional maps and three-dimensional models. Aerial photogrammetry uses a series of satellite images to create a digital model that can be translated as a map, and close-range photogrammetry uses short-range photographs to model smaller objects like buildings, movie sets, or accident scenes.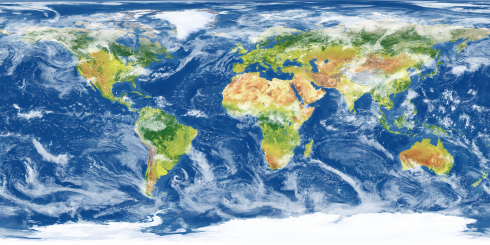 GIS (geographic information systems) specialists are technicians who use software to create and maintain databases and maps that can be used to map not only physical characteristics of an area but also socioeconomic and demographic information about its inhabitants. They usually work for local governments on projects like mapping a municipality's system of water lines, sewers, and storm drains.
Scholarships From Colleges
Geomatics is that discipline that studies the gathering and processing of GIS data. There are numerous schools that provide scholarships for geomatics students, so the following information represents only a small sample thereof.
University of Alaska (Anchorage)
The University of Alaska (Anchorage) includes a Department of Geomatics in its School of Engineering , and offers a certificate in GIS. The department offers five geomatics scholarships, and here are three examples of what you will find:
The Excellence in Geomatics and Geospatial Scholarship and the Maurice P. Oswald Scholarship go to highly motivated students who demonstrate leadership, have a GPA of at least 2.5, and attend school full-time. Both scholarships bring at least $500 each year.For the Excellence in Geomatics award, preference goes to students in GIS studies.
The F. Robert Bell and Associates Engineering Endowed Scholarship requires a 2.0 GPA, potential for success in school, and enrollment in at least six credit hours.
Purdue University
Purdue University's Geomatics Engineering program is part of the School of Civil Engineering, and in addition to the general departmental scholarships, there is one award specifically for geomatics students, the John G. McEntyre Endowment Scholarship. The McEntyre award goes to an Indiana resident, with preference given to juniors.
Northern Illinois University
The Department of Geography at Northern Illinois University provides the Richard E. Dahlberg Memorial Scholarship for students focusing on cartography and GIS. You must be a department major with a GPA of at least 3.2, and the award process will consider academic achievement first, followed by financial need. Preference goes to seniors.
Cayuga Community College
Cayuga Community College gives the Ralph W. Standbrook Scholarship for $500 to a Geographic Information Systems/AS major who has finished at least six credit hours in GIS with a GPA of at least 3.0. Both full and part-time students may apply.
Scholarships From Private Organizations
United States Geospatial Intelligence Foundation (USGIF)
The United States Geospatial Intelligence Foundation (USGIF) distributes annual scholarships to students of the geospatial sciences. In the last round, the average award was $4,160, and you may contact USGIF directly for more information.
Cartography and Geographic Information Society
The Cartography and Geographic Information Society (CaGIS) hands out two scholarships, based on students' grades, statement of goals, reference letter, and professional activities. Criteria for the two are identical, except for degree track and amount: there is a CaGIS Masters Scholarship Award for $750 and a CaGIS Doctoral Scholarship Award for $1,500.
You need not belong to CaGIS in order to apply.
American Society of Photogrammetry and Remote Sensing
The American Society of Photogrammetry and Remote Sensing (ASPRS) has posted an entire page filled with information on its scholarships and other awards, including travel grants. Here are three of the scholarships:
The Robert E. Altenhofen Memorial Scholarship is intended for either undergraduates or graduate students who display talent in photogrammetrical theory. You must be a student member to apply, and the award is for $2,000.
The Abraham Anson Memorial Scholarship, also for $2,000, is intended to encourage those who want to follow a career in research or education related to geospatial information and mapping.
The Robert N. Colwell Memorial Fellowship goes to graduate or post-doctoral students who excel in working with remote sensing or other GIS technologies. The Colwell brings $5,500.
Association of American Geographers
The Association of American Geographers has established the Darrel Hess Community College Geography Scholarship, to foster geography studies in nontraditional higher education nationwide. Students in two-year-schools who plan to transfer to a four-year program are eligible, and two awards for $1,000 each are handed out annually.
Scholarships for Physical and Life Sciences
Browse Scholarships
Resources
More Educational Resources