Fire Science Scholarships
Careers as Inspectors, Firefighters and Investigators
Fire inspectors prevent fires by checking buildings for fire hazards and making sure all applicable fire safety codes, like those requiring sprinklers in office buildings, are met. They test fire suppression equipment like extinguishers, examine potentially hazardous equipment (for example, tanks storing flammable materials), and review emergency evacuation plans.
Fire investigators do their work after a fire has occurred, conducting a forensic examination of the premises in conjunction with other professionals like chemists or structural engineers. This requires more scientific expertise than the fire inspector's job, and the investigator is often called into court to testify in insurance litigation, when millions of dollars can depend on an investigator's opinion about what caused a particular fire.
Firefighters, of course, are the emergency responders given the task of putting out a fire and rescuing trapped occupants. This profession is more dangerous that that of inspector or investigator, but requires less higher education. Firefighters usually have emergency medical training, and they are responsible for maintaining their firefighting equipment and providing information about fire safety to the general public.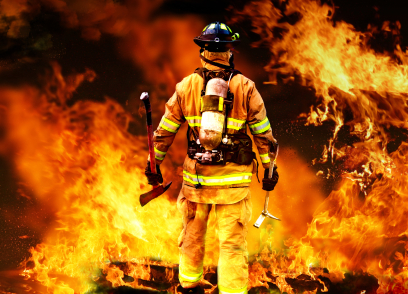 Scholarships From Professional Associations
The International Association of Fire Chiefs Foundation (IAFCF) sponsors a number of scholarships designed to help both working firefighters and students cover the costs of fire science programs. There are different sets of criteria applicable to each award, but you may submit a single application to be considered for all of them. Here are three examples of what IAFCF has to offer:
The Motorola Future Leaders Scholarship Fund gives preference to those enrolled in the IAFCF Company Officer Development Program
The Garry L. Briese Scholarship Award goes to a company officer in a degree program (usually to a driver/engineer or lieutenant), and
The Heather Westphal Memorial Scholarship Award is for first responders who are female.
The Maryland State Firemen's Association (MSFA) maintains a page of scholarship information for those studying fire sciences or emergency medical services, and here is a list of three of the awards currently offered:
The Delmarva Power Scholarship Award brings a student $4,500
The Floyd B. Heimer Memorial Scholarship Award is in the amount of $2,000, and
The MSFA Dr. John Bryan Scholarship Award is funded by the MSFA, so the amount can vary.
MSFA keeps a downloadable list of criteria available, showing which educational programs and schools qualify for funding. Priority goes to a student in Fire Protection Engineering at the University of Maryland, followed by Fire Science at the University of Maryland University College and two other possibilities.
The National Fire Protection Association funds a large number of scholarships, some awarded through the organization and others assigned to different colleges (Worcester Polytechnic Institute, the University of Maryland, and Oklahoma State University). For example, there is a group of four scholarships named for individuals (Arthur E. Cote, David B. Gratz, John L. Jablonsky, and George D. Miller) with separate application requirements and monetary awards of at least $5,000 each.
College Scholarships
Students enrolled in Seminole Community College's Fire Science program may qualify for either of these two scholarships:
The Goldenrod Fire Association Scholarship, which pays up to $1,000 toward tuition and fees to students from Central Florida. Applicants must be undergraduates in the program, or graduates of the program who are currently employed as firefighters and seeking an A.A. or A.S. degree. A GPA of 2.5 is required.
The Salvano Family Public Safety Endowed Scholarship, which requires applicants to maintain a 2.0 GPA and enroll in the Firefighter I & II Minimum Public Safety Standards Program. You must have financial need to qualify.
Lake Superior State University's Fire Science program hands out the Stephen (Steve) Bell Memorial Scholarship to Fire Science majors who are at least sophomores and have a GPA of 3.0.
The Fire Protection Technology program at Portland Community College (PCC) sponsors three scholarships for Fire Protection students:
The Frank McVitty, Jr. Fire Fighters Scholarship gives $1,400 to a student with a 2.5 GPA who has completed at least 18 credits in the program.
The Albert E. Jones Memorial Scholarship for $1,000 goes to a student who has a a 3.0 GPA and is a U. S. citizen living in Clackamas County. Applicants must have accumulated at least 24 credits at PCC by winter term's end.
The W.H. Cravens Fire Science Scholarship in the amount of $500 is given to a student with 12 complete credits at PCC who has a 2.5 GPA.
The College of Justice & Safety at Eastern Kentucky University (EKU) offers several scholarships to students enrolled in one of its fire science degree programs. Here are two examples:
The Richard Washburn Scholarship, for a full-time student in the Fire Protection Administration program with a 2.0 GPA. Applicants must document their achievements in working for fire and emergency services agencies.
The Arthur Glatfelter Scholarship, given to majors in fire and safety degree programs who want to work in either Fire and Emergency Services or Loss Control/Loss Prevention after graduation. You must have a 3.0 GPA if you are a freshman or fire science transfer student, but otherwise a 2.75 will suffice, and you must attend EKU full time to qualify.
Scholarships for Physical and Life Sciences
Browse Scholarships
Resources
More Educational Resources