Volleyball Scholarships for Men and Women
Get a Full Ride This Year
Volleyball is a college sport played by men and women. At most schools, the women's side of the volleyball program is well-established, while the men's team is often newer. Men's teams are growing in numbers, and finding representation within more athletic conferences. Another interesting distinction is that women play in the fall and men play in the spring. The NCAA sponsors more women's volleyball programs than men's. There are over 300 Division I Women's volleyball programs compared to just over 20 Division I Men's programs.
College volleyball athletes seeking financial aid opportunities find greater numbers of scholarships available for women, than for men. Even Division II volleyball is dominated by greater numbers of female participants, with more than 260 Division II Women's volleyball programs, compared to around twenty Division II Men's Volleyball teams.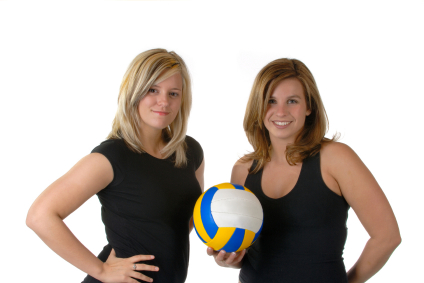 Athletic scholarships serve top-tier performers, and are highly competitive for all sports. Volleyball players are eligible for higher levels of assistance when academic performance is as noteworthy as on-court achievement. Scholar-athletes have access to merit-based funding that rewards their classroom contributions, as well as their athletic ability. In non-scholarship athletic programs, like those at NCAA Division II schools, good grades are the only way for volleyball athletes to land merit-aid.
Individual athletic departments administer campus-specific athletic scholarships, and recruitment is governed by strict standards and regulations. Your coach and guidance counselor are well-versed on proper protocols, use their experience to navigate the volleyball scholarship landscape.
Men's Volleyball Programs
Slowly but surely, increasing numbers of men's competitive volleyball programs are being added to conference volleyball play. Thanks to grants from the NCAA and USA Volleyball, greater gender equity is being facilitated within college volleyball programs. Top programs that offer men's volleyball scholarships include:
Women's Volleyball Programs
Women have greater access to volleyball scholarships, by virtue of the number of programs, but top scholarship are still highly competitive. These noted women's volleyball teams are fueled by educational scholarships that draw outstanding players:
UCLA Women's Volleyball program ranks consistently near the top of the conference. UCLA not only rewards top athletes; academic performers earn recognition as well. If your on-court skills are at an elite level, use academics to solidify your scholarship position at UCLA.
Michigan State University is an NCAA Division 1 school offering full scholarships to some of the best female volleyball players in the country. The Big Ten's Spartans consistently recruit All-American players to the women's volleyball team.
For Division II players, small schools like Francis Marion University offer scholarships that allow solid scholar-athletes to compete at the collegiate level.
NCAA Recruiting
Volleyball scholarships, like other athletic awards, are very competitive. NCAA schools provide online Prospective Student-Athlete forms that help high-school athletes apply for financing. Here, athletes are screened based on athletic statistics and academic record. For scholarship success, coaches and recruiters emphasize the importance of getting your name and athletic history into the right hands, at the right time.
The NCAA Sports Listing allows you to search Division I and II Volleyball programs, including those that offer full or partial athletic scholarships.
NAIA Recruiting
NAIA schools offer student-athletes a competitive alternative to NCAA D1 and D2 schools. The National Association of Intercollegiate Athletics represents large numbers of skilled athletes who may not have opportunities to play at the NCAA Division One level. Equitable playing time and championship potential exist at the nearly 300 NAIA member colleges and universities, alongside worthy higher education opportunities.
Some of the top Women's NAIA volleyball programs are hosted by Dickinson State University, Fresno Pacific, and Georgetown College in Kentucky.
Athletics
Browse Scholarships
Resources
More Educational Resources