Basketball Scholarships for Men and Women
Can You See Yourself on the College Court?
Many high school basketball players dream of playing at the college level, and are hoping to win a full ride scholarship that will pay their way to the big time. But athletic scholarships of all types are highly competitive, and students need to be prepared to work hard to get noticed by college recruiters.
Students hoping to win a basketball scholarship need to begin their campaign early in their high school career. No later than their sophomore year, students should be working with coaches to develop their game, honing the skills that will attract a college recruiter. With the guidance of their high school coaches, they should begin choosing the colleges or universities they most want to attend. It's a long process, and students will have to petition colleges to get the attention of their recruiters and coaching teams. Only a very few players every year win a basketball scholarship, and diligence and hard work are as important as talent on the court.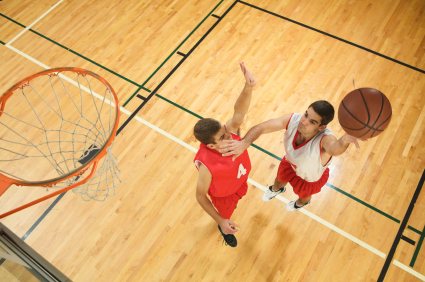 Elite Basketball
College basketball is regulated by three national athletic associations, the NCAA, the NAIA and the NJCAA. These organizations set the rules governing all aspects of college basketball, with an eye toward protecting student-athletes at the collegiate level. They also closely regulate the number of basketball scholarships any given school can offer. These restrictions add to the competitive nature of athletic scholarships, and only the very best players will make it to college on a full or partial scholarship. Hundreds of thousands of high school athletes every year dream of winning a basketball scholarship for college, but only the very elite make the cut.
NCAA – Basketball
The National Collegiate Athletic Association, or NCAA, was founded more than a hundred years ago. The NCAA regulates every aspect of college athletics. It consists of three divisions, which determine the rules by which member colleges and universities can recruit players and award athletic scholarships. All NCAA member schools are bound by the regulations of their division, and are subject to severe penalties for any infringement of those rules.
NCAA Division I
341 member colleges and universities make up the NCAA Division I. These are the powerhouse schools when it comes to all collegiate sports, and only the best and the brightest athletes will win scholarships to these elite institutions. The NCAA closely regulates the number of scholarships that a Division I school can offer. Division I women's basketball programs are limited to 13 full tuition scholarships, while the men's programs are capped at 15 full ride scholarships. That means only 13 women and 15 men will receive Division I basketball scholarships in any given year.
NCAA Division II
NCAA Division II is made up of smaller public universities and private colleges. There are 290 men's programs, and 291 women's programs, in Division II basketball. Each member college and university in Division II is restricted to 10 full ride scholarships for their men's program, and 10 full ride scholarships for their women's program. Unlike Division I schools, coaches at Division II schools may divide their allotted full tuition scholarships into partial tuition awards as a way of attracting more players to their campus. For example, a Division II coach may recruit 20 players for a school's women's basketball team, dividing the ten available scholarships between them.
NCAA Division III
NCAA Division III schools are typically smaller than those in Division I and Division II. They also tend to place a greater emphasis on academics than athletics. This doesn't mean, however, that Division III schools aren't home to impressive basketball programs. There approximately 395 Division III men's basketball programs, and 425 women's basketball programs across the country. According to NCAA regulations, Division III schools are restricted from offering any basketball scholarships as a recruiting enticement for their teams. However, Division III schools routinely offer general scholarships for academically talented students who also excel on the basketball court. In this way Division III schools can build successful basketball teams, while bringing academically talented students to their campus.
NAIA Basketball
The National Association of Intercollegiate Athletics, or NAIA, is comprised of smaller colleges and universities throughout the country. While NAIA schools do not have the high profile of those in the NCAA, they do offer a fair number of scholarship opportunities for student-athletes who may be as interested in earning a degree as in playing basketball. NAIA schools allow talented high school basketball players to turn their skill on the court into a college education. Like the NCAA, the NAIA strictly regulates the number of basketball scholarships a member school can offer.
NAIA Division I
There are 113 men's basketball programs, and 112 women's basketball programs in Division I of the NAIA. Each school is allotted eleven full ride scholarships for both the men's and women's teams. Partial scholarships are common in Division I NAIA schools, as it allows the schools to entice more players to their campus. NAIA schools also often offer players with impressive academic histories general scholarships and grants, which do not count toward the college's allotment of basketball scholarships.
NAIA Division II
NAIA Division II consists of 149 men's basketball programs and 148 women's basketball programs. Division II schools are allowed six full ride scholarships for both their men's and women's teams. Again, partial scholarships are common at NAIA Division II schools, as are general scholarships and grants for talented players who also excel in the classroom.
NJCAA Basketball
The National Junior College Athletics Association, or NJCAA, is the regulating body that sets the rules for athletics programs at community colleges and junior colleges throughout the country. The popularity of junior colleges has risen over the years, as they offer an intermediary step for students who may not be prepared to proceed directly to a four year college. While junior colleges often get overlooked when students think basketball, they actually offer an impressive number of scholarship opportunities for students who may not be headed to a four-year college or university.
NJCAA Division I
There are 221 NJCAA Division I schools, offering 216 men's basketball programs and 179 womens basketball programs. Each member school is limited to 15 full tuition scholarship for both its men's and women's teams. Scholarships at NJCAA Division I schools are full tuition awards, including stipends for books, fees and housing.
NJCAA Division II
NJCAA Division II is comprised of 123 men's basketball programs and 130 women's basketball programs. Participating schools are limited to 15 scholarships for both their men's and women's teams. These scholarships may only cover tuition, and can not extend to books, fees or housing. Division II scholarships can not be divided into partial awards.
NJCAA Division III
The NJCAA Division III is comprised of 98 participating schools. Each member school is home to both men's and women's basketball programs, but like the NCAA Division III schools they are restricted from offering any athletic scholarships. However, students with strong academic backgrounds, who excel at basketball as an extracurricular activity, may find that they are eligible for a general scholarship or grant that will help them pay for their junior college tuition.
High school basketball stars who want to turn their skills on the court into money for college will find that they have to work hard to get the attention of college recruiters. There are an extremely limited number of basketball scholarships available each year, and only the very elite players will be tapped for recruitment.
Unlike academic awards, applying for a basketball scholarship is not as easy as simply filling out an application and submitting high school transcripts.
Hopeful student-athletes will need to begin their scholarship quest early, working closely with their high school coaches and counselors to choose the schools with the most promising scholarship programs, and to notify coaches and recruiters of their intention to pursue a basketball scholarship.
They will also need to prepare play reels demonstrating their skills which can be submitted to college coaches for consideration. Then, recruiters will research the student's athletic and academic history to decide if they are eligible for a scholarship. It is a long process, and students must be prepared to stay in it for the long haul.
If you feel that your skills on the basketball court may be your ticket to a college education, the time to start preparing is early in your high school career. Talk to your coach and your guidance counselors, and discuss your plans to compete for a basketball scholarship. With their help, and a lot of hard work, your talent on the court just might take you to the school of your dreams.
Athletics
Browse Scholarships
Resources
More Educational Resources