Athletic Fencing Scholarship Programs
What You Need to Know to Get Recruited
Competitive fencing may not be the first image that comes to mind when you sit down to think about how you can receive scholarship funding, but perhaps it is time think again. Just as it is in the game itself, going after a fencing scholarship takes some strategizing, persistence, and skill, but can be very rewarding.
The benefit of your penchant for fencing is its uniqueness and specificity. Often when it comes to scholarship funding, the more particular your passion or sport, the better chance you will have of receiving award money targeted towards that particular talent from a relevant benefactor. In your search for monetary funding for your fencing practice, go after the specific rewards, express your unique interest and techniques of fencing, and you will be well on your way to finding an athletic scholarship or recruitment opportunity for your achievements.
Begin your foray into the monies that are available to eligible fencers by checking out some of these private and publicly funded awards. Use the following information as a practical guide that may help you win some money for your favorite sport.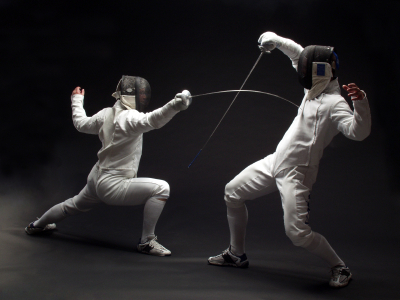 About NCAA Collegiate Fencing Scholarships and Limits
The NCAA (National Collegiate Athletic Association) sponsors 34 men's Division I and II combined varsity fencing teams, as well as 43 Div I and II combined women's fencing teams. Remember, Divisions I and II may offer athletic scholarships to the right athletes. The NCAA scholarship limits for varsity fencing teams break down as follows:
Div 1 Women's teams may offer 5 scholarships.
Div 1 Men's teams may offer 4.5 scholarships.
Div II Men's and Women's fencing teams may offer 4.5 scholarships each.
When you divide the number of permissible paid scholarships by number of varsity teams, you realize that there is not a huge abundance of NCAA athletic scholarships for fencing athletes. The ones that are awarded are given only to the very best of the best in their field. Nevertheless, the awards that are in place are given to some deserving student every year, and for a chance that it might be you it is definitely worth applying if you qualify.
Fencing Competition and Scholarships at Division III Schools
Division III schools are typically smaller than the others and consequently you will not find any pure athletic scholarships in this division. You will, however, find some very competitive fencing. Considering the fact that there are only 77 men's and women's Div 1 and Div 2 fencing teams you might wonder where the masses of other college-bound fencers play, and Division III will be your answer.
The NCAA lists 15 Div 3 schools that offer women's fencing and 12 that feature men's fencing. Expect that competition for these teams is hot. Schools in this division may work very hard to find talented fencers who also come with impressive academics or with demonstrated financial need.
Remember, there are plenty of other types of scholarships a college may offer a prospective student athlete. Div 3 schools are particular in that they are able to keep their athletics robust and competitive are able to appeal to a wider student audience, so attracting talented athletes is in their best interest.
Massachusetts Institute of Technology (MIT) fencing is a good example of a Div 3 fencing team that is able, through the caliber of its fencers, to compete among the Div 1 teams. There are no athletic scholarships, per se, but you better believe they have a good merit and need-based scholarship strategy in place to snatch the best a Div 3 school can possibly buy.
Collegiate Club Fencing
If you are still wondering where the masses of fencers are actually fencing, beyond the NCAA divisions, look no further. Dozens of colleges and universities sponsor fencing clubs, some for practice and sport, others for competition, or a combination of the two. Some of these, including the ones listed below, are those that sponsor athletic scholarships for fencing as a way of extending its club's passion into something more serious.
While these clubs and organizations do not have quite as much substantial funding as a huge national association like the NCAA, there are still small pockets of funding here and there that may be available to you. And even if you aren't going to school on a purely athletic scholarship, there are thousands of other scholarships at schools with fencing all across the country based on academics, financial need and other criteria, so don't throw away your fencing practice if you don't receive one of the few athletic scholarships.
Best Bet Fencing Scholarships
When it comes to fencing related scholarships that fall outside the realm of truly athletic scholarships, we've done the legwork for you. Here is a smattering of the funding available to those interested in fencing at various schools of interest. This list is by no means comprehensive, so we encourage you to combine this with your own research for the best bet at receiving funds for fencing. There may be fewer scholarships for fencing than for other sports, but don't let this fact deter you from the ones that exist. Here are some schools that have special opportunities just for fencers:
The Fencing Institute of Texas Scholarships
Two $500 scholarships are awarded each year to deserving undergraduate fencers through the Fencing Institute of Texas. Applicants for the Eric Wang Fencing Scholarships must be high school seniors or college freshman, sophomores or juniors and enrolled or accepted at an accredited college or university.
Applicants must have fencing experience and submit their application with two letters of recommendation from coaches or other fencers that will also attest to character.
University of Notre Dame
The University of Notre Dame in Indiana has a fencing sector that is both high-quality and matched with top academics. They claim student-athletes with an extremely high successful graduation rate that nearly always end up at the top of their graduating classes. They do offer rare full-rides to remarkable fencers who have the classroom scores to go along with their sports skills, but only a few a year and only to the very best. You'll want to get in touch directly with Notre Dame to inquire about fencing opportunities for the season.
Stanford University
Stanford in California is a rare gem in the sports world – an ivy league institution that also offers a ton of athletic scholarships, up to 300 per year, in fact, including two full rides for women's and men's fencing. Stanford is home to the Cardinal Athletics division. If you end up getting a full tuition education at Stanford for your fencing prowess, you will necessarily be the cream of the crop both academically and athletically. Their fencing is some of the best in the world, and combined with top-notch academics, creates a winning mix of features for an outstanding and well-rounded student.
Reed College – Portland, Oregon
The Williams Scholarship Fencing Tournament is held annually at beautiful Reed College to award financially deserving fencing students scholarships. The top 3 finishers in the tournament who are eligible for financial aid will share a substantial $10,000 scholarship award.
Columbia University – Herbert C. Spiselman Memorial Endowment for Fencing
Nationally ranked fencers competing in the World Cups and Work Championship may apply to ivy league Columbia for the Herbert C. Spiselman Memorial Endowment for Fencing. The scholarship funds go toward covering an athlete's costs associated with attending these competitions. Like the prior award to Stanford, this highly regarded fund is going to go to the best-of-the-best student in both academics and athletics.
Contact the Office of Financial Aid at Columbia University for details about this scholarship and how to apply.
Pennsylvania State University – "A Women's Fencing Scholarship"
Penn State is one of the top ranked fencing programs in the country, and luckily they have a one-of-a-kind very specific scholarship to go along with it. This Women's Fencing Scholarship is an endowment from an anonymous donor in the amount of $50,000. Scholarship money is used to fund women fencers that are able to demonstrate outstanding fencing abilities in combination with academic prowess.
NCAA Postgraduate Scholarship Program
The NCAA Postgraduate Scholarship award is for a student athlete in the final season of intercollegiate athletic competition in fencing (or one of another of the intercollegiate sports on the list). Applicant must have a GPA of 3.2 and plan to pursue a graduate degree full or part-time. The requirements for the highly sought after scholarship are very rigorous.
Selection criteria include academic achievement campus or community involvement, sportsmanship and leadership. Applicant must submit a 200-word statement detailing future goals, college transcripts, a school/coach nomination form and 3 letters of recommendation. This is a one-time scholarship in the amount of $7,500. There is no restriction as far as major.
Future Fencing Opportunities
The smorgasbord of athletic scholarships presented above should give you a good head start in your search for fencing awards. But there are other resources you should check out to make your hunt comprehensive. The NCAA website and the USA Fencing website will both be great overall resources to you in learning which colleges have fencing and what they offer as far as incentives to its stars. Remember that you are not limited to little-known colleges in your search; fencers have even been known to get full rides on athletic scholarship to extremely prestigious and well-regarded universities like Stanford, Notre Dame, and Penn State.
Be sure to contact the financial aid and sports or fencing departments of your college or university to see if they offer any scholarships particular to the school; some may have ones that are under-advertised or rarely seen simply because the sport is relatively obscure. Other sources of funding that could potentially offer you financial support may include your local fencing association or team, or even a local non-competitive club. Don't waste time in getting in touch with these organizations to find out if they may have some funding lying around that might be meant just for you.
Athletics
Browse Scholarships
Resources
More Educational Resources