Equestrian Scholarships
Money for Riding, Barrel Racing and More
Hot-shot equestrians, whether English or Western schooled, are welcomed into college programs around the country. Even the Rodeo scene includes some hotly contested scholarships. Now an Emerging Sport in the NCAA, equestrian pursuits are drawing more and more attention from scholarship administrators, as equestrian programs position themselves to attract top talent.
Get Recruited to an Equestrian Team
Winning is a collaborative effort between horse and rider, but much of the success in equestrian sports lies with rider nuances, including equitation or appearance, and horsemanship. Stand-out riders open doors to scholarships to some of the best academic universities in the country. Use your passion and equestrian skill to land access to college. The NCAA offers some excellent tips on preparing for recruitment, including this suggestion: Riding videos submitted to campus equestrian programs for review should demonstrate your skill level, but also your versatility. Your attire should accurately represent the standard for whatever equestrian style you are engaged in.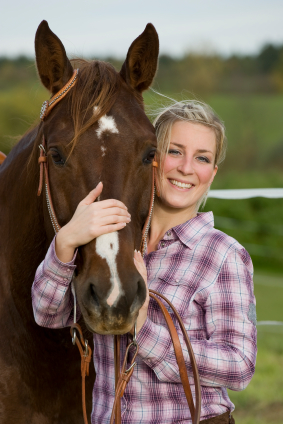 NCAA requirements include registration with the athletic Initial Eligibility Clearinghouse. Remember to follow recruitment rules, like the one prohibiting student-athletes from communicating with college coaches prior to their high school junior years.
Finding Teams that Compete in Your Equestrian Class
When you're shopping for an equestrian team, it helps to know which programs offer your equestrian class: hunter seat (including flat and fences), western, eventing, and dressage. The Intercollegiate Horse Show Association, Inc. maintains a comprehensive regional listing of college equestrian teams, as well as statistics about each school's equitation class and team size.
Equine Scholarship Programs
NCAA Varsity Equestrian Scholarship Schools and Limits
The NCAA limits equestrian scholarships to 15 per college or university–Div 1 and Div 2—that operate programs according to the NCAA Emerging Sport of Equestrian Women's protocols. Equine scholarship eligibility requirements vary across individual schools, so interested applicants are encouraged to contact individual programs for the most current information. As an NCAA Equivalency Sport, equestrian programs are allowed to divide scholarships into partial awards, as a way to distribute scholarship dollars among greater numbers of players.
Division 1 NCAA Equestrian Programs:
Auburn University in Alabama
Baylor University in Texas
Brown University in Rhode Island
California State University, Fresno
College of Charleston in South Carolina
Cornell University in New York
Delaware State University
Kansas State University
New Mexico State University
Sacred Heart University in Connecticut
University of South Carolina
Southern Methodist University in Texas
Stephen F. Austin University in Texas
University of Tennessee, Martin
Texas A&M University, College Station
Division 2 NCAA Equestrian Programs:
University of Minnesota
Pace University in New York
Stonehill College in Massachusetts
How to Land a Scholarship at a Division III School
There are some very well-respected and fiercely competitive equestrian programs among Division III colleges, but athletic scholarships for D3 schools are prohibited by NCAA rules. In order to draw top talent, Division III colleges use alternative scholarships that reward students for academic performance. As a rule, scholar-athletes are well-positioned for landing college aid, but it is imperative to put forth a strong GPA if you expect to get a scholarship at a strong equestrian school in Division III. Financial need also plays a role in evaluating scholarship candidates at Division III colleges. Stand-out riders, with financial hardship and strong high school transcripts are marked for scholarship assistance.
Popular Equestrian Scholarships
The United States Pony Clubs, Inc. Scholarships
The United States Pony Club distributes financial assistance at multiple schools across the U.S. United States Pony Club members earn awards based on criteria established by each school. Campus financial aid offices and equestrian programs are well-equipped to illuminate current opportunities. These schools have participated in recent USPC Scholarship programs:
Bethany College in West Virginia
Centenary College in New Jersey
Georgetown College in Kentucky
Lake Eerie College in Ohio
University of Louisville in Kentucky
Midway College in Kentucky
Otterbein College in Ohio
Salem International University in West Virginia
Stephens College in Missouri
William Woods University in Missouri
Wilson College in Pennsylvania
The Race for Education Scholarships for USPC Members
The Race for Education Scholarship Program assists horsemen and women pursuing related education, including agriculture disciplines and animal stewardship. The Horseman's Scholarship and The Thoroughbred Scholarship are awarded to deserving students, who are evaluated based on background and income. Age and GPA are additional selection criteria for annual awards valued at up to $6000 each.
Additional Race for Education scholarships are offered in collaboration with agriculture education groups like 4-H and others. Locust Trace High School offers its own program, as well as The Washington State Thoroughbred Foundation.
Intercollegiate Equestrian Foundation Scholarships
Students across the United States are eligible for Intercollegiate Equestrian Foundation Scholarships, which are awarded annually at the IHSA National Horse Show. Qualified applicants are in financial need for higher education, and exhibit strong histories of equestrian experience and involvement. Undergraduates with strong academic transcripts are encouraged to apply.
Campus -Specific Equestrian Scholarships
The Knox School in New York offers equestrian scholarships worth $1500 each for students participating in their first year of equestrian competition. Student applicants are evaluated based on performance in three key areas: Community involvement, academic achievement and extra-curricular participation. All grade levels are eligible, and applications are accompanied by original short stories that employ horses as characters.
Texas A&M Aggies are eligible to compete for the 15 annual scholarships allowed by NCAA Division I regulations. The funds are distributed among the 60 players on the roster, according to the coach's designations.
Black Hawk College provides Equine Scholarships for its noted equestrian program. Among two-year colleges, Black Hawk produces some of the highest caliber show teams and horse judging teams.
Western schools emphasize rodeo in some cases; so if your passion lies there, consider colleges like the University of Wyoming – where rodeo stand-outs qualify for financial assistance.
Equestrian Career Opportunities
The multi-faceted appeal of equestrian sports and hobbies draws riders, breeders, handlers and trainers – each requiring specialized education. Professional horse handlers, stable managers, and riding instructors cut their teeth in competitive college programs and equestrian club-sports across the country. Worthy riders and other agricultural professionals compete for scholarships that reward academics, commitment and horsemanship.
Athletics
Browse Scholarships
Resources
More Educational Resources