Student Loans for South Dakota Students
Compare Lenders for Best Deals
If you are a college-bound student in the state of South Dakota, you may rest assured that there is a whole collective of people and institutions working together on your behalf to make your education affordable. When scholarships, grants, and work-study programs, in addition to any out-of-pocket expenses you may be incurring, just don't cut it to pay for all of the costs of college, loans are there to fill in the gaps. Luckily, South Dakota has a few region-specific programs that offer loans with incentives just for students such as low-interest, reduced fees, and flexible repayment terms.
South Dakota's primary state-sanctioned not-for-profit student loan guarantor is the Educational Assistance Corporation (EAC) based in Aberdeen. Be aware that in 2009 the EAC and the Madison, Wisconsin based Great Lakes Higher Education Corporation became affiliated, and you can now find all that both non-profit loan agencies offer through one streamlined source at mygreatlakes.org. Great Lakes has operating centers in South Dakota and is the federally appointed loan guarantor for the regions of Minnesota, Ohio, South Dakota, Wisconsin, Puerto Rico, and the U.S. Virgin Islands under the government's Higher Education Act. The organization has been around for over four decades and service a hefty $85 million in loan monies for college students.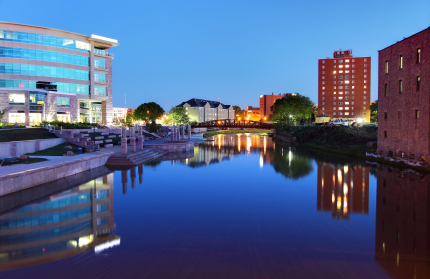 Their website will be one of your greatest assets as a student paying for college, as it corrals masses of financial aid information, including critical college planning advice, financial aid calculators and easy ways to apply for federal student loans, scholarships and grants. The Great Lakes Higher Education Corporation offers direct and practical student loan advice with no frills, but plenty of appropriate emphasis on proper planning. They provide complete explanations for each of the federal loans, as well as details reviewing who may qualify and how they should be used, just in case you need to brush up on your loan fundamentals. You'll find generic interest rates for all, maximum loan amount information and repayment term advice in easy to understand language through a user-friendly interface, as well as the ability to reference the Knowledge Center for your questions about loans and borrowing.
Great Lakes is a great proponent of financial literacy when it comes to college borrowing, and you can take advantage of their resources on budgeting, building credit, and loan consolidation. Similar to any other financial data website, you are encouraged to create a username and password for yourself so that you can access your loan information, manage your student finances, and even make loan payments online. You can even set up your mobile device to have quick and easy access to your finances at any time, a convenience that may save you hassle and worry as you navigate the rocky terrain of student loans. More information about specific state aid programs beyond the Great Lakes Higher Education Corporation can be found through the South Dakota Department of Education.
How Great Lakes Higher Education Corporation Works
The non-profit loan service urges students to shop for lenders carefully for both the Federal Family Education Loan Program (FFELP) as well as for alternative, or private, loans. South Dakota borrowers may choose a lender that partners with Great Lakes, explore interest rates and benefits, and apply by filling out the FAFSA, the essential form that you will need to submit before you will be eligible for any loan options. See below for your detailed loan possibilities available to South Dakota students that you will find through the Great Lakes Higher Education Corporation:
Applying for Loans
While most students know that applying for your federal Stafford Loan constitutes first filling out the FAFSA, you need to be aware that if you are applying for any other loans, such as an alternative loan, you may need to apply with a credit check. If you are not able to supply the necessary credit credentials, i.e., enough credit or good credit, you can apply through a lender using a co-borrower.
Typically, most of the large student loan providers make it part of their "borrower benefits" to be a little more lenient in the credit department since college students are usually young and inexperienced in this area. Some providers even roll together the combined credit records for both you and your co-borrower in order to get you a very advantageous interest rate. If you do choose to borrow with a co-signer, make sure this friend or family member is someone you trust and are willing to enter into a financial contract with, in addition to them having superb credit.
When you make on-time payments over a consistent span of time, you may receive a couple of points off your interest rate as an incentive to pay regularly. You may be eligible for even more off your already decreased interest rate if you set up automatic payments on your loans, which saves both you and your lender money. Always look for attractive deals such as these generous student incentives, which aren't hard to find and can end up saving you a significant amount of money in the end.
Consolidation Loans through Great Lakes
Some lenders include the Federal Consolidation Loan among the federal loans, while others have suspended its use due to increased fees attached to making consolidation loans. Consolidation is a useful option when the job market has let you down and you don't have a sufficient income to easily pay monthly bills for your loans. If you choose to consolidate, at this point, your monthly payment will be lowered and compressed into one sum at one interest rate, and consequently your repayment term will be stretched out over a longer period of time.
If you decide loan consolidation would be useful for managing your student loan debt, then shop for a lender that offers it with good benefits. With the federal consolidation program, you will end up with one monthly payment, in an amount that is likely half of what you were paying. The hitch is that your term of repayment is typically significantly extended in order to spread out the amount of the loan, but you take fewer chances with defaulting on your loans and possibly ruining your credit.
State Loans in South Dakota
With the Higher Education Corporation at your service providing every kind and style of loan that you might find useful, you are sure to be able to find a financial option to fit your needs while going to college in South Dakota. The state benefits from offering these bargains because it is training and strengthening its future economy, while you simultaneously benefit with an affordable and available education that will not leave you swimming in debt forever. Take advantage of the opportunities South Dakota offers to its citizens through Great Lakes, and you will be well on your way to receiving your undergraduate or graduate degree.