Arizona Student Loans
Search for the Lowest Interest Rate
College expenses aren't eaily affordable. There are several resources available such as grants and scholarships, as well as work study opportunities. However, these resources are limited. Often, even with some of this aid available, it is still hard to meet all the coasts of school. That's when loans should be considered. Before borrowing, remember that loans must be repaid. Use a loan payment calculator to investigate how much your monthly payment may be before you decide to borrow loans.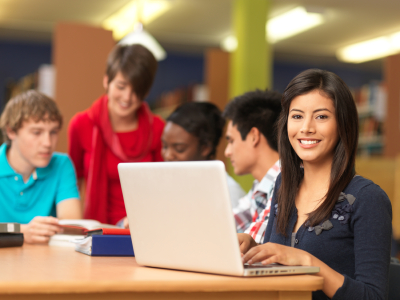 Arizona Higher Education Loan Authority
A few years ago the state of Arizona designated the Arizona Higher Education Loan Authority (AHELA) as the premier non-profit provider of federal student loans for the state of Arizona. In 2010, Congress passed and the President signed into law a bill that eliminated the FFEL program for all new loans made as of July 1, 2010. Since then, all federal student loans have been made under the U.S. Department of Education's Direct Loan program.
AHELA still offers tools and resources to assist students when planning their finances for school. They remain committed to providing outreach services, debt management education, default prevention services, and financial literacy training. They also offer help with choosing a school, preparing for tests, applying for financial aid, FAFSA tips, and searching for scholarships – as well as help for the college student and graduate's success.
AHELA also provides some nice information and advice on saving for college, building a blueprint for your financial aid needs, and they currently offer the Governor's 9/11 Memorial Scholarship, which requires only a short essay and application to apply. You may also want to look at Arizona scholarships and grants.
The Direct Loan Program
The U.S. Department of Education's Direct Loan Program offers a few types of loans: subsidized and unsubsidized Stafford loans for students, PLUS loans for parents and graduate/professional students, and consolidation loans for both students and parents.
Borrowing a Direct Loan is simple. Students complete one application, the Free Application for Federal Student Aid (FAFSA), for all FSA programs, including Direct Loans. The student's prospective school will draft an aid package, which might include a Direct Loan. The financial aid office at the school can say how much a student can borrow.
Borrowers make loan payments to the Department of Education for the life of their loans. It's "one-stop-shopping" from loan application through repayment. Flexible repayment options are available, and they can be changed without a fee at any time during the life of the loan.
PLUS loans require you have credit and that it's good. If you're worried your parents may not qualify for a PLUS loan because of their financial history, you may be able to borrow more than you initially thought with your Stafford Loan.
Students are required to apply first for all the federal loans for which they qualify. You can also access FAFSA applications directly through the AHELA website; either apply online or download and print a hardcopy and mail it back in. AHELA also gives you all the information you need on choosing a repayment plan, such as graduated, extended, standard or income sensitive, and the attached interest rates.
Other Resources
Private loans are education loans that are not funded by the federal government. Be aware the interest rate (APR ) you are charged on private loans will vary based on the Prime or LIBOR market interest rates. This means your monthly payment will change based on the current rates. There is also the possibility that loan payments will become due while you are still in school.
If you are considering student loans offered by private lenders such as banks or credit unions, eemember, there are important differences between federal and private student loans:
Interest rates – Interest rates for private student loans are usually higher than those for federal student loans and are generally not fixed.
Loan fees – Private lenders may charge additional fees such as origination fees, monthly service charges, or late fees.
Eligibility – In general, private student loans have stricter eligibility requirements. Lenders may require a good credit score and a co-signer.
Repayment plans – Private lenders may not offer repayment plans that are as flexible as those offered for federal student loans, such as income-based or extended payment plans.
Repaying Your Student Loans and Consolidation Loans
Many students end up carrying multiple student loans, from a combination of federal to perhaps an alternative loan. And even though most loans don't come due until six months after graduation, statistics show that many grads simply don't have the jobs that are enabling them to make the payments. For this reason, many options are being made available to make loan repayment smoother and less painful.
Consolidation loans and other repayment optiions are available through the Direct Loan program. Don't let loans default; consolidation is easy, affordable, and can save your credit for the future.
The Department of Education currently offers a 0.25% interest rate reduction for signing up for automatic payments from your checking or savings account.