Financial Aid in Missouri
Score Some Extra Cash This Semester
The "Show Me State" offers widespread educational opportunities for students pursuing associate's, bachelor's, master's and other advanced degrees. Missouri State, Saint Louis University, College of the Ozarks and University of Missouri draw interest from high school graduates nationwide – alongside a host of worthy state schools.
Missouri students of higher education draw from a variety of financial aid resources to meet college costs. Grants, scholarships and loans are key features of successful educational financing efforts for needy state students. Resources range from need-based grants that help disadvantaged applicants, to merit-based scholarships that recognize athletic and academic high-achievers. State-sponsored student aid initiatives originate from the Missouri Department of Higher Education, and supplement large scale federal financial aid programs.
Additional financial aid is put forth for specific purposes, like promoting diversity and bolstering enrollment in certain educational programs. In Missouri, students enjoy access to financial assistance for college that is:
Job-Specific - Nursing, engineering, teaching and other fields are promoted with scholarship opportunities.
Student-Specific – Some funding targets specific segments of the student body; like minorities, women and disabled persons.
Institution-Specific – Individual colleges and universities maintain campus-specific student assistance efforts.
Need-Based Financial Assistance
The first step toward landing valuable financial aid for college is to complete the Free Application for Federal Student Aid (FAFSA). The standardized application helps the U.S. Department of Education – as well as individual campus financial aid offices – compute your financial requirements for college. The cost of attending your school, your family's expected contribution and your personal income are used to determine how much assistance you need.
States use the same data to qualify you for student aid, so it is important to file your FAFSA according to Missouri deadlines, rather than federally imposed submission guidelines. Beyond Federal Pell Grants and William D. Ford Federal Direct Loans, look to these Missouri resources for need-based support:
Access Missouri Financial Assistance Program is a straightforward State Government initiative designed to increase access to college for disadvantaged state students. Awards are need based, as determined by Expected Family Contribution (EFC) on FAFSA results. To qualify, students must:
File FAFSA before April 2nd
Be U.S. citizen or permanent resident
Reside in Missouri
Be an undergraduate
Attend a participating Missouri Institution of Higher Education
Have an EFC below $12,000
Pursue first degree
Circumstances dictate award amounts, but these standards reflect minimums and maximums for some students:
Public two-year students are eligible for funding worth $300-$1000 annually
Four-year college enrollees qualify for $100o-$2150
students attending participating private universities are eligible for $200-$4600
Portability allows funding to be transferred between schools that participate in the program.
A+ Scholarships benefit graduates of certain Missouri High Schools who enroll in degree programs at participating community colleges and vocational schools. FAFSA results determine need and eligibility, and scholarship recipient must maintain a GPA of at least 2.5. Funds are available for 48 months following high school graduation, or until an associate's degree is earned.
Advanced Placement Incentive Grants are reserved for students who score at least a three, on two advanced placement tests. The grants are on-time awards worth $500 each.
Missouri Higher Education Academic Scholarship Program rewards the cream of the crop, acknowledging students that finish in the top 3% of SAT/ACT scores. The incentive aims to retain Missouri's top scholastic talent by providing scholarship resources to those who continue post-secondary education at colleges and universities within the state.
For part-time students enrolled at Missouri two and four-year colleges, the Marguerite Ross Barnett Memorial Scholarship offers $900-$1,700 to cover tuition costs. This award is not available to high school students. Instead, it is designed to support college students who work full-time, while pursuing college credentials on a part-time basis.
Merit-Based Resources
Students who graduate in the top 10% of their high school classes often qualify for Chancellor's Scholarships. The highly competitive awards are valued at up to $12,000 each, and may be renewed as long as at least a 3.5 GPA standard is maintained. Consult your Missouri high school guidance counselor for more information on this substantial opportunity.
The Robert C. Byrd Honors Scholarship is available for high school seniors in Missouri. Successful applicants graduate in the top 10% of their high school classes and score in the top 10% on ACT standardized testing. Most awards are between $1,100 and $1,500.
Academically gifted students in the St. Louis area who have limited financial means for higher education are invited to apply for financial assistance from the William L. Clay Scholarship and Research Fund. The organization has been awarding scholarships since 1983, to full-time students pursuing bachelor's degrees at Missouri colleges and universities.
Job-Specific Student Assistance opportunities
The Missouri Teaching Scholarship Program provides $2,000 annually to full-time state residents who are pursuing teaching degrees and fulfilling education licensing requirements. Qualified applicants graduate in the top 15% of their high school classes or score in the top 15% of standardized tests (ACT or SAT) results. Your college or university financial aid office has current program information. Participants agree to teach in Missouri public elementary or secondary schools for five years upon graduation. Service commitments that remain unmet convert scholarships into loans that are repaid – with interest.
Students with sights set on a master's degree in library science, or certification as a school library media specialist, are eligible for the Missouri State Library Scholarship, which provides tuition assistance for library programs at Missouri colleges and universities. State residents currently employed in Missouri, and those already enrolled at accredited institutions of higher learning are encouraged to apply.
The ASCLS Region VI Missouri Organization for Clinical Laboratory Science Education Scholarship offers financial aid to undergraduate students who are attending Missouri colleges and universities,to study clinical laboratory science or medical laboratory technology. Qualified applicants are required to be MOCLS members for at least two years.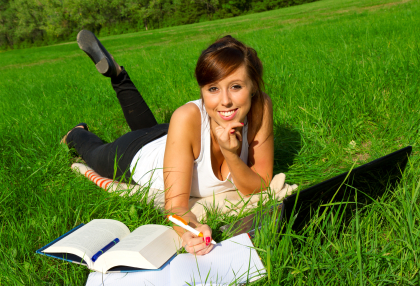 Grants and Scholarships for Missouri Minorities
Students of diverse ethnic heritage, including; African American, Hispanic, Native American, and Asian lineage, are encouraged to apply for the Missouri Minority Teaching Scholarships Program. Up to $3,000 is available annually to underwrite each participant's education at eligible colleges and universities. Qualified applicants graduate in the top 25% of their high school classes and in the top 75% of standardized test scores (SAT, ACT).
Minority students from the Kansas City metro region who are attending United Negro College Fund member universities, or the University of Missouri -Kansas City, are eligible for the Kansas City Initiative Scholarship. Awards are valued at between $2,500 and $5,000, and are applied to tuition and fees.
Campus-Specific Aid From Colleges and Universities
Like other state schools, The University of Missouri- Saint Louis participates in ROTC Scholarship Programs. Awards are designed to benefit graduating high school seniors, as well as ROTC students that are already attending college. The Scholarships are issued based on each applicant's grades and merit, rather than addressing need-based criteria. The ROTC stable of aid includes two-year, three-year and four-year options, depending on the number of remaining semesters each applicant is required to complete, in order to earn his or her degree. Specific programs also attract aid, like Army Nursing Scholarships for educating health care providers.
Crowder College, in Neosho Missouri, requires students to submit FAFSA applications, in order to be considered for campus aid. The school operates a Work Study Program that helps students pay for college by serving in agricultural, custodial and clerical positions on campus. Several Crowder Scholarships reward outstanding athletes from sports like women's basketball, women's softball and men's baseball. Curricular areas specifically targeted for scholarship funding at Crowder include:
Business Administration
Art and Design
Journalism
Music
College of the Ozarks Cost of Education Scholarship provides supplemental funding designed to fully finance each student's education. The school uses a well-established work program to help students offset tuition costs and increase affordability for needy enrollees. On the College of the Ozarks campus, each student participates in a 15 hour/week work-study program (plus two 40-hour weeks during breaks), to earn around $4000 during the school year. Earnings are combined with each student's Federal and State financial aid awards, to comprise the bulk of each participant's college funding package. Whatever financial obligations remain after these resources have been applied are addressed by Cost of Education Scholarships. Scholarship values do not exceed annual attendance costs, which are equivalent to approximately $17,000 per student.