Collegiate Wrestling Scholarships
Grab Ahold of Some Cash
The Fédération Internationale des Luttes Associées (FILA, or International Federation of Associated Wrestling Styles) has published a brief historical overview of the venerable sport of wrestling, tracing its origins from ancient civilizations like Sumer and Egypt through medieval Europe to the revival of the Olympic games, with modern amateur wrestling champions. FILA dates the origin of professional wrestling back to 1830, in France, and even then it was treated a form of entertainment (although the matches were genuine bouts).
A wrestling coach has posted a page of advice on obtaining a wresting scholarship, which can be summed up thus: the best national wrestlers who have a good chance to find financial aid will already be known to college coaches, and the lesser-known talents will have to seek exposure to bolster their chances. Be honest in evaluating your ability, because if you approach coaches at the top schools on your list of colleges, you will have one chance to make a successful sales pitch, and knowing your own worth is essential in scholarship negotiations.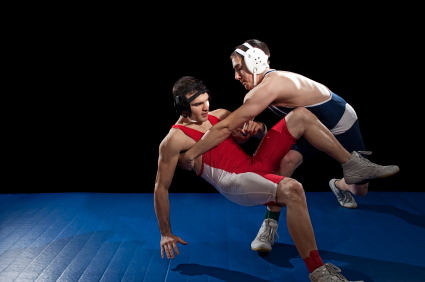 And selling yourself is what you will have to do. Here is what coaches will be looking for, besides success in matches (the importance of which cannot be understated): meet minimum academic standards, present an unblemished personal character, and the more you can excel in those two areas the better. The ideal scholarship prospect would be an excellent wrestler who's also a strong leader and team player, and that is the model you should emulate.
A Word About NCAA Eligibility
Wrestling is an NCAA (National Collegiate Athletic Association) sport, and most scholarships given to college wrestlers follow that organization's guidelines. NCAA has established strict rules on how to obtain and keep your eligibility, and those standards focus on keeping your amateur status (as opposed to accepting wages as a professional athlete) and on maintaining an acceptable academic record.
The NCAA has made a number of notable changes in academic eligibility for athletes at Division I schools, and wrestlers in the class of 2016 and up will need to meet those new benchmarks. For example, you will need a minimum core GPA of 2.3, 10 core requirements must be met by the beginning of senior year, and seven of those must be drawn from the English, Mathematics, and Science sections. You can read more on the new rules here.
There are also a surprising number of minor scholarships available from both private groups and colleges, of which the remainder of the page constitutes a sample.
Scholarships From Private Organizations
Greater Kansas City Community Foundation
If you are a high school wrestler in the Greater Kansas City Metropolitan area, you can apply for the Jeffrey C. Wicina Wrestling Scholarship, administered by the Greater Kansas City Community Foundation. You must be nominated by your wrestling coach, and in addition to your grades, the other important factor in the decision will be your personal character (which should reflect good citizenship and willingness to work hard in overcoming challenges).
Save Oregon Wrestling Foundation
The Save Oregon Wrestling Foundation distributes three scholarships annually to Oregon high school athletes who want to participate in college wrestling. The largest of the three awards is worth $3,000, and your school's wrestling coach will be able to help you in applying for the award. Online forms are available for both the application (which is very brief) and for the reference letters your mentors should supply in support of your request.
Scholarships From Colleges
The University of Findlay
The Jeffire Wrestling Scholarship at The University of Findlay (UF) always goes to a student on the school's wrestling team (that is, a varsity wrestler), and there is one award given every year. No details are provided on UF's website, but you may contact Findlay's wrestling coach directly for more information.
University of Tennessee, Chattanooga
The University of Tennessee, Chattanooga (UTC) also offers no public details on its wrestling scholarships, but UTC's financial aid page currently lists three awards:
The Joyce Litchford Memorial Scholarships (two annual gifts) go to junior or senior members of the wrestling team.
The James W. Morgan Wrestling Scholarship is designed to reward a member of the wrestling team who has achieved academic success.
The Nancy Curtis Noblit Scholarship in Wrestling supports UTC's student wrestlers.
Millersville University
Millersville University advertises six scholarships for college wrestlers, and here are descriptions of three of them:
The Dr. Craig Camasta Wrestling Scholarship is reserved for a member of the men's wrestling team who has a major in the School of Science and Mathematics and a strong academic record.
The George Doherty Memorial Scholarship for Wrestling goes to students who excel in the sport. Either your potential as a freshman or your performance on the college team will serve as the basis for awarding the scholarship.
The Glenn M. Flegal '54 Wrestling Scholarship is always given to a freshman with a record of success in wrestling. If no such candidate is available, a member of the wrestling team who has a GPA of at least 2.0 will receive the award.
Athletics
Browse Scholarships
Resources
More Educational Resources