Tennis Scholarships for Your College Education
The Ball's in Your Court
If you are a competitive high school tennis player and have high hopes of continuing this pursuit in college, consider exploring your talent and interest as a way of paying for your degree. When put into the spotlight of the popular, energetic and high-stakes sport that it is, tennis can act as another avenue to help pay for your expensive college tuition through athletic scholarships. Of course, the level of play expected on a college campus is more advanced than in secondary school, but that upgrade simply comes with the territory.
The best way to see if you are on the same page as other college players may even be to take in a college match or two at a local university. Explore the tennis facilities and attend a few games at schools you are interested in, and you will see first hand what you may be up against. Once you do this, you can begin to understand the "sport" of scholarship acquisition as well as you understand the game play of tennis itself.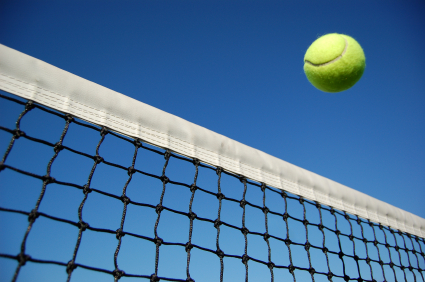 Keep in mind during your search for funding for your tennis passion that you need not be a professional athlete, but you must be serious, competitive, hard-working and in possession of high grades and a well-rounded set of extracurriculars in addition to your prowess with a ball and racket. If the idea of using your passion for tennis to round out your financial aid package sounds intriguing, check out some of the opportunities for collegiate scholarship and award money available to you.
How to Get a Tennis Scholarship
A long popular sport in both the amateur and professional worlds in places like the UK, tennis is now growing in popularity among both American high school players and on an international basis. The caveat here is that because of its international popularity, many tennis players abroad are hiring scholarship-recruiting services to help them claim some of the scholarships available here in the US.
This situation makes it very important for every US tennis player hoping to cash in on a scholarship to really focus and concentrate on getting noticed by collegiate level teams. You want to make sure you have the best chance of getting in on your section of the goods, too, and not miss a critical scholarship opportunity that's local to you.
To this end, there are a few basic steps you can take to boost your changes of getting noticed as the competition increases:
Market yourself. Have someone film your matches. You can use the film to make copies and send them with a short bio to schools you are interested in attending. This speaks of seriousness and professionalism, not to mention effort, to the people who will be judging your application. Additionally, it gives you a chance to give the gift of a bird's eye view of your particular game play and skill to those who are looking for just that.
Hire a Recruiting Service. Use the technique of your competitors to level the playing field out, or in this case, the court. If you don't know how to market yourself or you just don't have the time, an athletic recruiting service can be your saving grace. Just like any agency, they will help you sell yourself and your talents in the most appealing way possible, and may have invaluable insider information and advice on the college application process for up-and-coming athletes. They can help to get you noticed in a way that you never would have been able to on your own. Of course, this service usually charges fees. See an organization like Athletes USA or NCSA Recruiting to get an idea of what people are looking for and how the world of personal sports marketing works. Note: Hiring any kind of recruiting service will not be breaking any NCAA rules or regulations
National Scholarships
National Collegiate Athletic Association (NCAA)
There are a large number of different types of NCAA tennis scholarships (totaling around $1 billion annually) available for both men and women. Men choose from over 950 programs nationwide, while women choose from around 1,100:
For the guys, there are about 263 Division I, 161 Division II, and 314 Division III tennis scholarship programs. The NCAA allows each Division I and Division II men's tennis programs about 4.5 scholarships.
For the ladies, there are approximately 320 Division I, 212 Division II, and 361 Division III scholarship programs. The NCAA allows for about 8 scholarships for each Division I and 6 for each Division II.
For both men and women tennis players on the collegiate level, there are also some walk-on tennis scholarships. Players may inquire about these through the college or university that they are interested in playing for.
The sheer quantity of programs and scholarship monies available here may seem vast and almost too easy, but be aware that while the NCAA awards are certainly generous, you will need to be an outstanding tennis player in order to receive one. There are a large number of significant funds available if you go this route, and the best of the best are eligible to get up to their entire tuition paid for in this manner. GPA, test scores, personal statements, and class ranking may all be considered in the awarding of these scholarships. You will want to make sure you are at the top of your game in all respects before expecting one of these highly-sought after monies.
National Association of Intercollegiate Athletics (NAIA)
Not to be ignored, NAIA gives away a cool $500 million in student athlete funding per year. Though NAIA offers fewer scholarships than the more well-known NCAA, the perk that comes with this Division I and II program is that there are less strict requirements for getting on a team and maintaining your membership, and therefore scholarship. For instance, students must meet only two out of the three following stipulations: graduation from the top half of their high school class, at least an 18 on the ACT test or a 860 on the SAT, and a 2.0 GPA. The National Association of Intercollegiate Athletics offers students of its member schools 92 men's tennis programs, and 110 for women's tennis.
National Junior College Athletic Association (NJCAA)
Any student interested in seeing how far tennis can take them at the two-year community college level is invited to pursue a NJCAA scholarship. The organization provides funds for both men's and women's tennis athletes through one of its 141 women's programs and 120 men's programs in the US. The opportunities vary according to year and program, but average around 14 scholarships per year at each Division I and II levels.
College Scholarships
C. Roger Sorensen Scholarship
The C. Roger Sorensen Scholarship is available to students of all majors and years who are doing their college tennis team proud by playing well at the same time as maintaining at least a 2.5 GPA. The prize is renewable and may be used towards tuition at Eastern Illinois University in Charleston. Incoming freshman who have the potential to be a big positive influence on their college tennis team are eligible for the award, as well.
Bev Granger Memorial Scholarship

Bev Granger was an extraordinary woman dedicated to athletic sports, including golf, tennis, and skiing. As such, a scholarship fund has been assembled in her honor to facilitate the future education of students who incorporate sports into their academic world. This award would be ideal for an aspiring athlete who is enthusiastic about tennis but does not get recruited for a national scholarship. To apply, students will write an essay detailing how they embrace sports in their everyday lives and what they plan to do athletically in college. Award amounts vary.
Bottom Line
If you combine your talent as a high school tennis player with dogged determination and the capability of smoothly selling yourself as a student athlete, you have a great shot at getting a tennis scholarship to pay for some or all of your college expenses. In this uber-competitive field, competitions and awards are always popping up so make sure you keep abreast of new funding opportunities and other news with a major resource like the United States Tennis Association or even a local resource like the Texas Tennis and Education Foundation. And in your search for tennis-specific awards, don't neglect even the general athletics competitions like the Davis Law Group Scholar Athlete Program.
Of course, getting into your favorite college by means of an athletic scholarship is only half the battle. Once you are awarded the scholarship, you will have to be diligent at both the sport and your studies. Remember that only a small percentage of college players actually turn pro; you will need to also keep up those grades to keep your scholarship and earn the credits needed to graduate the program of your choice.
Athletics
Browse Scholarships
Resources
More Educational Resources