Scholarships for Swimmers and Divers
Tap into a Pool of Money
Athletic scholarships are prime resources for skilled high school sports stand-outs. Like need-based grants, scholarships don't require repayment, so they are important entries in each college-bound athlete's financial aid portfolio. If you are a top-notch high school swimmer or diver, you might qualify for scholarships into academic programs that would otherwise be out of reach. Use your hard work, and athletic gifts, to land financial assistance for college.
The vast majority of college athletes do not have extended sports careers beyond their scholastic years. As a result, respected athletic programs emphasize academics as well as competition. Gifted swimmers and divers have the best chance of securing college aid, when transcripts and test scores reflect high levels of performance in the classroom, as well as the pool.
Scholarships originate from individual university athletic departments and swimming and diving programs. Teams are regulated by sponsoring associations, like the NCAA and others. Scholarships are standardized across member schools, to create even levels of competitiveness across athletic conferences. To remain eligible for scholarships, follow the recruiting rules that govern your swimming and diving program.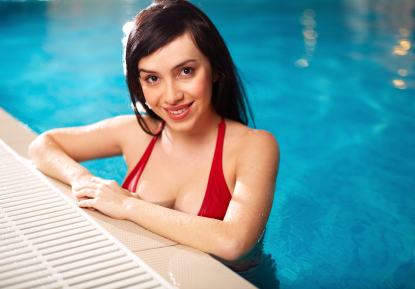 Scholarship Basics for NCAA Schools
Many NCAA member colleges offer swimming and diving scholarships. Men and women take advantage of $1 Billion in NCAA scholarships annually-in every sport, including swimming and diving. Swimming and diving are considered "equivalency sports", which alters scholarship approaches, as compared to"head count" sports like basketball and baseball. Equivalency gives NCAA swimming and diving coaches flexibility in the way they distribute financial aid. Coaches of "equivalency sports" provide swimmers and divers with three different types of scholarships:
Full-Rides (all of the college costs for courses, books and living are covered)
Partials (some of the costs are covered)
Walk-Ons (athletes are awarded funds based on try-outs given by the coaches)
The Scholarship Breakdown
The NCAA awards swimming and diving scholarships to men and women, under the same guidelines that cover other sponsored sports. In the NCAA, there are more than 190 colleges that support swimming and diving programs, and around 250 schools that host women's teams. The number of scholarships available at each institution is determined by the NCAA.
Division I colleges are allotted close to 10 scholarships each, whiled Division II colleges are granted 8 scholarships annually, to be disbursed among male swimmers and divers. For women, each NCAA Division I school is allowed 14 scholarships and every Division II college can give out 8 swimming and diving scholarships annually.
Equivalency allows coaches to split each of the scholarships into partial awards, in order to distribute funds more equitably among swim team members.
In total, there are more than 1,800 scholarships awarded to male divers and swimmers every year. Female swimmers and divers benefit from over 3,000 annual NCAA scholarships.
Noted Swimming and Diving Programs
If you are talented enough to obtain a swimming and/or diving scholarship, then competing for a well-respected team is well-within your sights. these schools maintain reputable programs for student-athletes.
The University of Arizona offers great swimming/diving programs, for men and women who attend the school. The campus offers beautiful weather and updated swimming and diving facilities, for practice as well as competition. The school's Hildenbrand Aquatic Center has a seating capacity of 600 and uses state-of-the-art lighting to accommodate short and long events, and competitive diving
The University of Hawaii-Manoa boasts respected athletic teams, including competitive volleyball and swimming/diving programs. The Duke Kahanamoku Aquatic Complex (DKAC to the locals) is comprised of functional training facilities and pools for competition, including: 50-meter training pool, 25-yard competition and diving pool, long course pool, diving facility with one-meter and 3-meter springboards and platform towers.
University of Georgia boasts a strong swimming and diving program, and has an established Swimming Scholarship Endowment that enables benefactors to contribute to education expenses for Georgia scholar-athletes. Several named memorial scholarships honor alumni and other accomplished individuals. For example:
Lisa Coole Memorial Women's Swimming Scholarship
Jack Bauerle Swimming and Diving Scholarship
Bernard Ramsey Scholarship for Academic and Athletic Excellence
Market Yourself
Thousands of students compete for athletic recognition every year, so it is important to stand out among scholarship candidates. Without violating recruiting rules, reach out to coaches and athletic directors who control scholarship purse strings. Your performance speaks for itself, so always include competition footage of your best events. Recruiting services are available for hire, which act as advocates, on your behalf. And your own high school coach is your biggest cheerleader at recruiting time.
Athletics
Browse Scholarships
Resources
More Educational Resources