Rowing Scholarships
Rowing is Serious Business on Some Campuses
Rowing is a big sport at a number of colleges and universities and because of its unique competitions and history considers itself outside the scope of other athletics. No longer just a hobby for well-to-do British schoolboys, rowing has hit the US with gusto as a major sport in colleges and universities. The NCAA now sponsors Women's Rowing, making scholarships even more hotly contested, especially where women's teams are popular. We've found scholarships from major associations, clubs and colleges all in the name of sport and athlete promotion. The niche field of rowing has much financial aid to offer those who are passionately interested in pursuing as a sport, challenge, and lifestyle, to its fullest. Here are some opportunities the serious rowing student will want to explore. Whether you are interested in learning more about rowing, participating in competitions, or coaching, there is a viable option to suit you.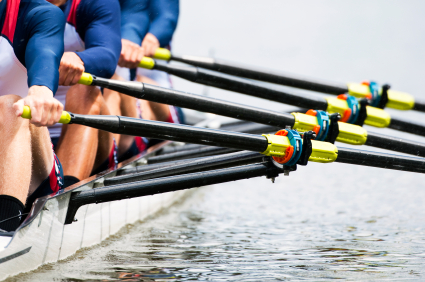 Scholarship Programs
Julia Shew Memorial Rowing Scholarship
The Occoquan Boat Club near Washington, D.C. is home to the Julia Shew Memorial Rowing Scholarship which provides funding for rowers still in high school to meet the financial requirements to join their rowing team. This award encourages students to start early, and get their coaches involved by asking them to write a recommendation letter. Consider this award your stepping stone to college and post-college rowing opportunities.
Hampton Roads Rowing Club, Virginia
Each year, the Hampton Roads Rowing Club offers two scholarships in the amount of $1,000 each to graduating high school students from the Tidewater area of southeastern Virginia. One male and one female student will receive scholarship assistance. In order to qualify, applicants must have already been participating in the sport of rowing and be planning on continuing with the sport while attending college in either a NCAA or a Club-based program. There is no citizenship or residency requirement for this scholarship. All applicants are required to submit a letter of recommendation from their high school rowing coach.
University of Cincinnati, Rowing Program
The Rowing program at UC offers scholarship assistance to exceptional athletes. Previous rowing experience is not required. Instead applicants are asked to submit a videotape of themselves competing, along with letters from coaches or any other information that would provide information about the individual's athletic ability. This is a great option for those students with athletic ability, and ideally a little comfort on film, who desire to explore rowing as a new arena of their sporting lives. Contact the department for more information on this award.
University of Tennessee, Lady Volunteers
The Packaging Insight Rowing Scholarship is available to a female athlete attending the University of Tennessee. The UT rowing team holds several championships and is considered in the nation's top ten and on the rise as rowing gains popularity. For more information, complete the online form and submit it to the University.
University of Iowa Foundation
Through the Hawkeye Visions Endowment Program, scholarship assistance is made available through the NCAA to intercollegiate athletes, including rowers, attending the University of Iowa. Each student athlete awarded a scholarship will have either a portion or the entire amount of his or her tuition covered by the Program.
University of North Carolina, Tar Heel Athletics
Student athletes, including those who are members of the rowing team, may be considered for one of the Weaver-James-Corrigan Postgraduate scholarships awarded each year at UNC which is home to both men's and women's crew. Scholarship recipients are awarded $5,000 in funding to be used toward their studies at graduate school. Those receiving these funds must have distinguished themselves academically and as athletes. Service to the community is also taken into consideration when determining which students will receive this assistance. In 2010, 40 students received this award. Contact the UNC departments above for more information on this scholarship.
University of Kansas, Kansas Jayhawks
The Williams Educational Fund provides scholarship assistance to student athletes including members of the rowing team at the University of Kansas. Through the support of KU alumni and members of the community, funding toward the cost of tuition, fees, room and board, and books is made available. Contact the Williams Educational Fund Directory for more information.
Walter Byers Postgraduate Scholarship
This award, sponsored by the NCAA, offers one male and one female student athlete up to $24,000 yearly for postgraduate work. This scholarship is different from the NCAA Postgraduate Scholarship which is awarded in smaller amounts. The student must hold a 3.5 minimum GPA and must have competed in an intercollegiate sport on a varsity team at a college which holds NCAA membership. The award is renewable, contingent upon the student's keeping up a high standard of work and athletics. Contact the NCAA for more information.
Amateur Rowing Association
British Rowing, formerly the Amateur Rowing Association, sponsors the Henley Stewards' Charitable Trust scholarship program. Postgraduate students interested in pursuing a part-time sports course in the United Kingdom while coaching part-time are invited to apply for the Henley Stewards' Charitable Trust (HSCT) scholarship program. Those adventurous students selected to receive financial assistance from HSCT will receive funding for two years.
Rowing as Lifestyle
Many students choose to begin rowing early in high-school and continue their rowing careers after college. Those interested in postgraduate studies in rowing can explore the options above for work in that area, such as the private scholarships offered at the University of North Carolina and through the Walter Byers Postgraduate Scholarship. For these students, rowing continues to be an integrated part of their daily lives and a full-time course of study and practice. There are plenty of rowing organizations willing to put funds toward that kind of exemplary passion and single-minded pursuit of a sport. As rowing is on the rise and steadily receiving more financial assistance since it can be an expensive activity, be sure to contact the rowing department of your school to find out more about what opportunities may be available to you as a student athlete.
Athletics
Browse Scholarships
Resources
More Educational Resources