Rifling Scholarships for Your Education
Take Aim at Your College Award
Do you enjoy the sport of rifle shooting? Believe it or not, you can turn your athletic leanings or hobby into money to help pay for your higher education tuition costs and applicable fees. Getting a scholarship for a competitive collegiate rifle team is unlikely, because of the few number of schools that have rifle programs. However, there are other opportunities available to sharpshooters and gun right advocates. Interest in the sport has been growing in recent years, and as it does, so will financial opportunities from participating schools.
National Rifle Association Scholarships
Not surprisingly, the National Rifle Association (NRA) offers a number of rifle-related scholarships. The Grand Scholarship is available to high school attendees to the annual NRA Youth Education Summit (YES). The summit teaches students to become knowledgeable and active citizens by learning constitutional process, and attendees compete for $30,000 in scholarships. All applicants must participate in debates and other activities during the week-long YES conference to be considered for the scholarship. Additionally, they must develop a portfolio of their experiences at YES or introduce an NRA program to their communities. (Many applicants opt for the Eddie Eagle GunSafe program when they choose the latter selection.) The number of Grand Scholarships that are given varies each year.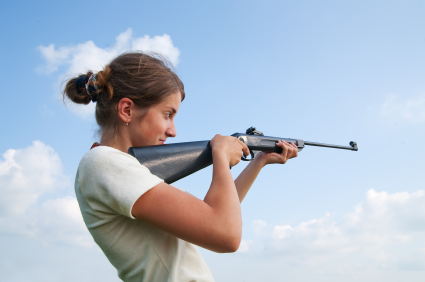 The Jeanne E. Bray Memorial Scholarship Awards Program provides up to $1,000 each semester (for as long as four years) to recipients. Applicants must be dependent children of public law enforcement officers who have been killed in the line of duty and who were NRA members at the time of their deaths or dependent children of current/retired law enforcement officers who are current NRA members.
ROTC Rifle Scholarships
If you're a member of a ROTC or JROTC rifle team, you can apply for a Civilian Marksmanship Scholarship Program award. Recipients must be undergrads or high school seniors who are competitive rifle marksmen and have maintained exceptional academic and leadership credentials, or are active members of a JROTC, high school, college, or ROTC rifle team. The amount of this scholarship is $1,000 and is renewable for up to four years.
NCAA Postgraduate Scholarship
Those involved in collegiate level rifle teams and who expect to continue their education beyond a four-year degree can apply for an NCAA Postgraduate Scholarship. Up to 174 $7,500 scholarship are given each year to athletes who have maintained a GPA of at least 3.2 and who expect to become part-time or full-time graduate students upon completion of their baccalaureate degrees. Both women and men can apply for this one-time award; however, because any NCAA recognized sportsperson can be eligible, competition is usually fierce.
State-Specific Rifle Scholarships
Maryland
High school juniors and seniors in the state of Maryland can try for the $1,000 Dave Ward Memorial Scholarship. This award is offered through the Monumental Rifle and Pistol Club, Inc. Applicants must write essays on "What Citizenship means to me"; however, they need not be a part of a rifle association to receive the scholarship.
Ohio
Maintained by the Ohio Rifle and Pistol Association (ORPA), the Donna J. Deal Memorial Scholarship provides $500 to assist students who are planning to attend any accredited institute of higher education. Recipients must be ORPA members and must have competed for at least two years prior to receiving the scholarship monies. They are not required to compete in college. Students should also have maintained a GPA of at least 3.0 during their junior and senior years in high school.
Athletics
Browse Scholarships
Resources
More Educational Resources