Scholarships for Skilled Golfers
Time to Get the Green
Scholarships are associated with exceptional performance in two primary areas: Academics and sports. The prospect of funding higher education with free-money scholarships is very appealing to most students; especially when college aid is earned playing sports. High athletic achievement requires determination, perseverance and dedication – traits that also support academic excellence. As a result, sports scholarships are most accessible to student-athletes who excel on and off the field.
Golf is fast becoming one of the most competitive college sports; showing growth in women's and men's collegiate programs. To support rising interest, and lure talented golfers to their schools, colleges and universities offer athletic scholarships to stand-out golfers. If your skill-set includes exceptional savvy on the course, consider golf scholarships among your financial aid options.
Individual campuses and the NCAA itself are active in supporting student-athletes. Golfers benefit from scholarship initiatives governed by NCAA rules, as well as privately funded financial aid from industry groups like the PGA and LPGA. Scholarship-seekers are also served by smaller collegiate organizations, whose programs maintain lower profiles. Use the following golf guide, and your passion for the game, to land valuable college cash.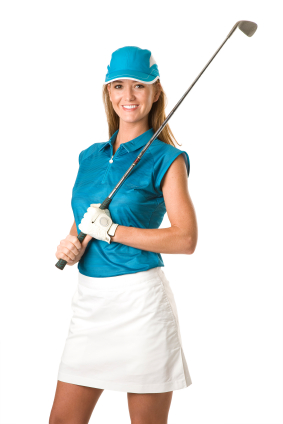 NCAA Golfing Scholarships
The NCAA (National Collegiate Athletic Association) provides golf scholarship administration guidance for men's and women's programs. The NCAA sponsors 289 Division I and 210 Division II Men's golf programs. To regulate access to higher education funding, the NCAA places scholarship limits on athletic programs. Each D1 men's golf program is permitted 4.5 scholarships and each D2 men's program is permitted 3.6 scholarships. That's just over 2056 annual men's golf scholarships.
Women's golfing scholarships are governed in a similar way. The NCAA sponsors 235 D1 and 128 D2 Women's golf programs. D1 women's golf teams are limited to 6 scholarships and D2 teams to 5.4. Just over 2101 women's golf scholarships are permitted annually for NCAA teams.
Golf is an equivalency sport; meaning coaches have flexibility in the way scholarship funds are distributed. For example, Coach "Abe" at University of Z has 4.5 scholarships for his D1 men's golf team. He is only limited by the dollar amount comprising the 4.5 scholarships – not by the actual number of scholarship recipients. If it benefits his or her particular program to do so, a coach can split the awards; offering partial scholarships to multiple promising golfers.
Scholarships You May Be Missing
In addition to the NCAA, two other collegiate athletic associations play roles in athletes' higher education financing: The National Association of Intercollegiate Athletics (NAIA) and the National Junior College Athletic Association (NJCAA). The organizations sometimes take a back seat to the NCAA, but educational opportunities within the NJCAA and NAIA are nonetheless widespread.
The NJCAA sponsors collegiate men's golf in three divisions and women's golf in one. Scholarships at NJCAA member colleges are sometimes less competitive that higher-profile resources. Some scholarships at two-year schools and small colleges even go unused. As you assemble your college funding package, thoroughly investigate golf scholarship opportunities outside the mainstream.
Division III Golf: How to Get a Scholarship at a D3 School
NCAA Division III schools are not sanctioned to distribute scholarships for athletic recruitment. But it is unreasonable to assume that coaches have no recruitment strategy in place. Academic and need-based scholarships provide the perfect conduit for rewarding students with athletic potential. The lesson for student athletes? – Your classroom performance is equally as important as your abilities on the course.
Use a solid GPA history and exceptional performance on college entrance exams to stand-out among other scholarship applicants. Your golf skills may open doors to higher education financing, but walking through requires a track-record of academic success.
Best U. S. Golfing Programs for Men and Women
"Best" is always subjective, but these committed programs represent the level of competition present in all divisions:
MEN
UCLA (NCAA D1)
Georgia Tech (NCAA D1)
Rollins College (NCAA D2)
Florida Southern (NCAA D2)
St. Johns (NCAA D3)
Oklahoma City (NAIA)
Midland College (NJCAA D1)
WOMEN:
Lay the Groundwork for Landing Golf Scholarships
Student golfers are best prepared to compete for collegiate athletic scholarships when certain steps are taken in advance. These basic pointers help sell your golf game to coaches and scholarship administrators:
Before you start beating the ground for NCAA scholarships, make sure to register with the NCAA's Initial Eligibility Clearinghouse, a requirement for athletes shopping NCAA scholarships.
Improve your chances with coaches, by providing references from a cross-section of tournaments you've played - include video segments from tournaments that demonstrate your versatility and skill level on a variety of courses.
Protect your eligibility – college coaches are unable to talk to you about recruitment until you have reached your junior year in high school.
Golf Scholarship Examples
National Minority Junior Golf Scholarship Association * Now known as Bill Dickey Scholarship Association
Generous scholarships further the organization's commitment to increasing minority representation in the sport of golf; especially in college. Various funding opportunities range from one-time $1000 scholarships, to $3500 awards that are good for four years. Candidates are evaluated based on the following criteria:
Academic history
Test scores
Financial need
Personal references
Community service participation
Golfing ability
Bill Hickey Scholarship Association hosts invitational golf tournaments annually, to raise money for educational philanthropy.
LPGA Scholarship Foundation
The LPGA sponsors these scholarships for college-bound female golfers:
The Dinah Shore Scholarship fund extends one annual $5,000 scholarship to an outstanding female entering college.
Marilynn Smith Scholarships go to female high school golfers who are good enough to compete at the college level. Each award is worth $3,000.
Phyllis Meekins Scholarships go to minority high school golfers enrolling in higher education. Eligible applicants demonstrate financial need, in order to compete for scholarships; worth $1,250 each.
The AT&T Pebble Beach Junior Golf Association Scholarships
The AT&T Pebble Beach Junior Golf Association stands committed to higher education for promising student-athletes. The Association sponsors several generous four-year golfing scholarships annually. Eligible applicants are graduating high school seniors, enrolling in four-year U.S. colleges.
Richard D. McDonough Golf Scholarship Foundation provides annual funding for higher education. Scholarships are reserved for student employees of New Hampshire golf courses and clubs. Male and female staffers are encouraged to apply for the awards, which may be renewed for up to four-years.
Athletics
Browse Scholarships
Resources
More Educational Resources