Using Our Scholarship Search Engine

Over $85 Million Dollars of Aid Available
Our database contains 23,394 award programs offering over $85 million in funding. We list scholarships, fellowships and grants available across all 50 states and Canada.
Results in our database are hand selected, editorially verified and regularly updated to keep the database fresh and current.
Have a financial aid program for your school or organization you would like us to review? There is a good chance your program is already listed in our database. In the coming months we will soon add the ability to submit additional listings to our site for review.
Our Inspiration
When we originally built our site over a decade ago it was designed to help students navigate the complex and unstructured field of financial aid opportunities, with topical guides that allow students to filter through financial aid programs to find the opportunities they were qualified for that best met their needs. Ultimately there were a number of problems with doing this with text-based topical guides:
Many students want to be able to look through the intersection of opportunities available to them in a way that is hard to do via text-based articles. For example, a Japanese student who is a college junior with a 4.0 GPA studying computer science in the state of New York stands a great chance of winning awards which fit her precise qualifications.
A database makes it easy to allow students to find the above sort of precise information. But it is next to impossible to create a similar experience using static HTML pages. Each page needs to be maintained, with application dates changing, websites & organizational names changing, links breaking, award amounts changing, programs expiring, etc. The more pages we create the harder it is to keep them up to date given our limited budget.
We also tried creating a search tool using custom search on a web-based search engine, but this suffered from the issue of listing sites too broadly or having to repeatedly update each individual page associated with each listing when sites moved or changed their CMS.
Ultimately we decided we had to host our own structured database.
By structuring programs in a database we allow students to quickly find programs that fit multiple criteria & we can regularly refresh the database without editing thousands of HTML pages one at a time. Further, this allows to add interactive features like sorting through which programs have submission deadlines in the near future.
Open Access Database, Ensuring Personal Data Security
Many financial aid search tools require students to create accounts and confirm their email address so they can then barrage them with an endless stream of email spam. The last thing busy college students need is frequent email solicitations or unwanted phone calls from salesmen pushing expensive & proprietary options.
Our search tool does not require user account registration & we do not collect any personal information. Students who find awards which fit their needs apply directly with the granting organization.
Quality-First Approach
Some of the most unscrupulous sources of "funding" are outright scams which charge students while delivering nothing. Those sorts of programs are not found in our database.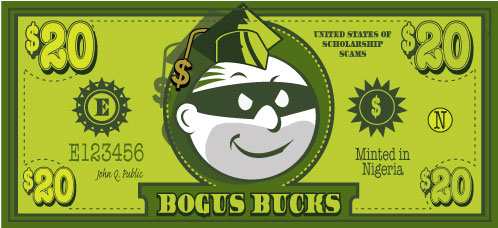 Many online scholarships are also created as marketing campaigns where the source has no intent of delivering the promised funds.
Our database does not list these time-wasting "opportunities." We choose quality over quantity to provide a better user experience & help students cut through the clutter. And our database is regularly updated to ensure the results are relevant and connect students with the opportunities available today.
We do not collect user information, do not serve ads in our results, and are not paid for promoting any particular scholarship opportunity.
Usability
College life can be hectic. Students may want to research options during short breaks in between classes. With that in mind, we have ensured our search tool works on any device (desktop, laptop, mobile phone) by leveraging responsive web design.
Further improving usability, our scholarship search tool does not require user accounts and does not carry any advertisements which could ruin the flow and clutter the user experience.
Searching Our Database
There are dozens of ways to search our database. Here are a few examples:
Sort by Award Amount - click the "award amount" button to the right of the interface to sort by the largest award amount.
Sort by Deadline - click the "deadline" button to find programs with soon approaching deadlines.
Input filters - click on school level, ethnicity, award amount or state to set relevant critera.

You can set multiple filters at the same time.
When you are done, click the "update" button to return relevant results.
Results can then be sorted by deadlne or award amount.
If you want to reset the filtering options hit the "clear" button and begin searching again.

Keyword search - click on "Keyword" and input your search to do a full-text database search for your major or other relevant terms within our database. Click on the "Update" button to search for listings containing that keyword.

Keyword search can be used in isolation, or combined with the above input filters.
Once the initial result set is returned you can sort by award amount or deadline.
If you want to reset the search hit the "clear" button and begin searching again.
SEARCH TIP: sometimes inputting many fields at once can narrow the result set down too far to where there are few available results. If you get few results for a particular filter set or search option, try leaving some of the input fields blank & search to see what financial aid opportunities are available based upon a lesser number of input criteria.
Decades of Experience
Collectively our team has worked in the education field for decades, helping students succeed in college.
Have Questions or Feedback?
The right side of the Scholarship Search Engine contains a feedback link which can be clicked on to offer feedback and advice.
Add Us to Your Source List
Maintaining a list of active external scholarships can be a time consuming and tedious task. Leverage our database of 10,000's of programs to save time you can use to better maintain & promote your internal scholarships.
Text Link
Copy the following code to add a text link to your site.
example: College Scholarships Search
Mini Logo
Copy the following code to add a small logo link to your site.
example:


Large Logo
Copy the following code to add a small logo link to your site.
example:


Homepage Text Link
Copy the following code to add a text link to your site.
example: College Scholarships.org
Mini Site Logo
Copy the following code to add a small logo link to your site.
example:


You're In Good Company
As Seen In...
Our site has been featured by many major news organizations & recommended by many top colleges & universities, inlcuding:
Browse Scholarships
Resources
Browse Grants
Student Loans
More Educational Resources