Scholarships for Military Reservists
Get the Military Advantage for College
America's military reserves include the following groups: Army National Guard, Army and Navy Reserves, Marine Corps Reserve, Air National Guard, Air Force Reserve, and Coast Guard Reserve. Each is a body of auxiliary troops that remain inactive until they are "called up," or required to embark upon active duty because the active forces are engaged.
Those engagements always involve some emergency, including war, so enlisting in the reserves is a grave responsibility. In the past ten years, the National Guard, for instance, has traveled to international war zones and also assisted Americans stricken by natural disasters like tornados and floods. So the reserves' duty can be both hazardous and rewarding, and part of the compensation given to reservists and their families is financial aid for college.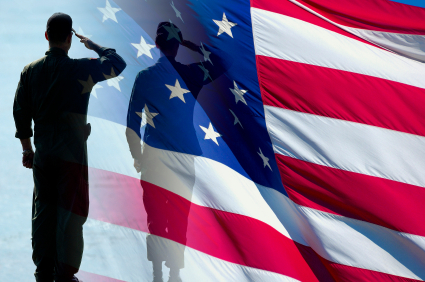 Military Scholarships
Montgomery GI Bill-Selected Reserve (Chapter 1606)
The Montgomery GI Bill-Selected Reserve (Chapter 1606) benefits are paid out by the Veterans Administration (VA) to reservists based on your eligibility as determined by your branch of the reserves. All branches agree on using the following basic criteria for eligibility:
A six-year enlistment period
You must have completed Initial Active Duty for Training
You must have the equivalent of a high school diploma, and
You must stay in good standing with your reserve unit.
The VA's pamphlet explaining how Chapter 1606 works is an excellent reference on the subject. As of October 1, 2012, rates for monthly college payments ranged from $356 for full-time enrollment to $89 for less than half-time. For vocational training, you receive $267 a month for the first six months, $195.80 for the next six months, and $124.60 thereafter.
The terms of the reimbursement are set by federal law, so make sure to check the GI Bill page for current information.
Reserve Educational Assistance Program (REAP) (Chapter 1607)
The Reserve Educational Assistance Program (Chapter 1607) provides as much as 36 months of financial aid to college-bound reservists. The Department of Defense is responsible for determining your eligibility, and the VA also pays this benefit.
The amount of money given is a percentage of the GI Bill rate for active duty members, and monthly payments range from $625.60 to $1,251.20, depending on your length of service. You can choose among various types of college and vocational training programs.
Reserve Officers Training Corps Scholarships
The Reserve Officers Training Corps (ROTC) scholarships vary according to which branch of the reserves you're training for, so these details of how the Army, Navy, and Air Force ROTC programs work will give you an idea of what the program has to offer.
Army ROTC
There are three categories of Army ROTC scholarships available, depending on your status (high school student planning for college, current college student, or enlisted soldier). The scholarships have flexible terms, and are bestowed based on academic achievement and character. You can request scholarships between two and four years in length, choose between tuition or room and board, and receive extra money for books and fees.
Living allowances start at $300 a month during your first year in school and range up to $500 a month in your fourth year.
Navy ROTC
The Navy ROTC maintains three scholarship programs for Navy, Nurse, and Marine Corps trainees. The Navy program hands out scholarships depending on your major in college, and you can increase your chances of receiving an award by focusing on Tier 1 or Tier 2 disciplines. Tier 1 includes eight types of engineering (for example, aeronautics and naval architecture).
Tier 2 contains thirty-eight other categories (computer science, civil or materials engineering), and every other major falls in Tier 3.
The Nurse option requires you to attend an NROTC college that houses a nursing school. Required SAT scores are 530 in Critical Reading and 520 in Math, while those for the ACT are 22 English and 21 Math.
The Marine Corps track, for those between 17 and 23, lets applicants qualify with one of three scores: a SAT of 1000 (Math and Critical Reading), an ACT composite of 22, or an Armed Forces Qualification Test of 74. You must pass a fitness test and background check, and have the equivalent of a high school diploma.
Air Force ROTC
The Air Force ROTC has established three scholarship programs:
The Airman Scholarship and Commissioning Program and the Scholarships for Outstanding Airman to ROTC pay for enlisted persons to leave active duty and attend school with as much as $15,000 a year in educational assistance.
The Professional Officer Course – Early Release Program involves leaving active duty to attend school full-time. You must have a qualifying score on the Air Force Officer Qualifying Test, and you'll receive a monthly allowance of $450-$500.
Other Scholarships For Reservists
Many organizations, including private foundations, state governments, and schools, give scholarships to those enlisted in the military reserves.
Pat Tillman Foundation
The Pat Tillman Foundation sponsors the Tillman Military Scholars program, for full-time students. While in school, you must maintain a GPA of 3.0 to renew, and you may apply either through a participating school or through the Foundation itself.
Amvets
Amvets has set up the Dr. Aurelio M. Caccomo Family Foundation Memorial Scholarships (two each year, for $3,000 each) to help reservist veterans acquire new job skills that will make them more competitive when applying for employment.
North Georgia College & State University
North Georgia College & State University has posted a page of scholarship information, including awards suitable for reservists like the Georgia Military Scholarship (valued at $70,000 over four years because of all it includes) and the Guaranteed Reserve Force Duty Scholarship, which pays for room and board plus $1,200 a year for books and a living allowance of $350 per month (sophomore year) to $500 a month (senior year).
Military Branches
Other Military Related
Browse Scholarships
Resources
More Educational Resources