Army Scholarships
Scholarships for Service, Family Members and Non-Commissioned
The Army provides service members, spouses and children with a wealth of scholarship resources designed to ensure that military families have access to high-quality education and training. The U.S. Military commitment to education is on display at organizations like the Department of Defense Education Activity (DoDEA).
With roots dating to WWII, the DoDEA; a field effort of the Office of the Secretary of Defense, educates, engages and empowers military professionals through education. The DoDEA operates almost 200 accredited schools internationally, which adhere to a comprehensive prekindergarten – 12th grade curriculum.
For military families continuing into higher levels of education, Uncle Sam puts forth a host of benefits that support educational mobility. Active duty Army personal receive money for college and on-the-job training. And in some cases, military service actually translates directly into college credits.
Three distinct groups benefit from public and private aid that targets Army personnel and others serving in the military: Service members themselves, their sons and daughters, and military spouses.
Scholarships for Service
G.I. Bill
The Montgomery G. I. Bill is a long-standing military benefit that provides college funding for those who serve in the Army and other branches of the U.S. Armed Forces. The program is administered in two distinct chapters: Mongomery G.I. Active Duty and Montgomery G.I. Selected Reserve.
Members of the Army Reserve and Army National Guard are eligible for G.I. Selected Reserve Aid once they have completed their active duty for training periods, and entered into six-year reserve commitments. Money is applied to degree, certificate, apprenticeship and vocational training tuition and expenses. Applicants must possess – or be working to obtain - high school diplomas or equivalent credentials.
Montgomery Bill Active Duty (Chapter 30) aid provides up to 36 months of benefits to soldiers enrolled at institutions of higher education. The $50,000 windfall is subject to additional funding allowances for active duty Army personnel who make contributions to their Montgomery accounts. The $600 buy-up program leads to additional student aid totalling up to $5400 for each participant. Generally, veterans remain eligible for Montgomery G.I. assistance for ten years following service, and additional $25,000 'kickers' may be earned by entering into Army Reserve contracts.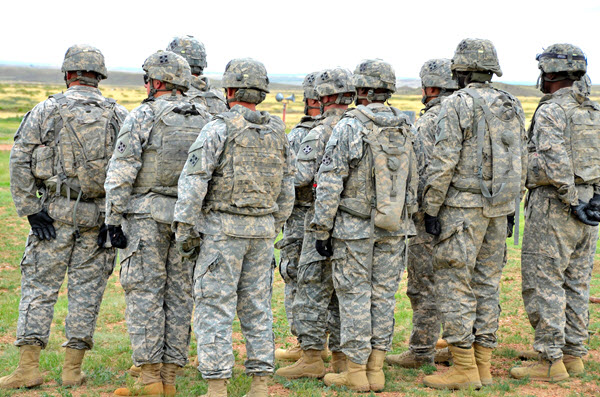 Army ROTC
This program is for military minded high school students, as well as those who are already in college. ROTC scholarships offer flexible funding solutions for students who aspire to military careers, including two, three, and four year payment options. The scholarships are based on merit and grades, rather than financial need, and each award specifically accounts for student needs related to tuition, room and board , books and fees.
Each scholarship includes allowances for monthly living expenses, which are adjusted based on your standing within the ROTC curriculum.
The US Army Health Professions Scholarship Program
The F. Edward Herbert Armed Forces Health Profession Scholarship Program (HPSP) offers scholarships for students willing to trade military service for help meeting advanced medical schooling expenses. Qualified graduate students attend accredited schools in dental, medical, veterinary, psychology and optometry programs. Full tuition scholarships and generous monthly stipends of $2000 are issued to each award winner. Qualified medical and dental school applicants are also eligible for additional $20,000 sign-on bonuses.
Prepare to serve if you utilize this generous Army medical school financing option. For every year that you receive funds, you are committed to a year of active military service. Minimum service requirements are 2 or 3 years, depending on which medical specialty you are studying. To apply, you must:
Be a U.S. Citizen
Possess a bachelor's degree
Be enrolled full-time at an accredited school
Qualify as a commissioned officer in the United States Army Reserves
Scholarships for Family Members
In addition to scholarships for soldiers, military families benefit from college aid that targets children and spouses. Public and private funding sources are tapped for scholarships that lift Army families into higher education.
The Fisher House charity administers a unique scholarship program for sons and daughters of active duty, retired and reserve members of the U.S. military. The scholarship awards are tied to the national commissary network, which provides groceries for military families – saving them up to 30% on the food they buy.
A minimum of one scholarship is dispensed each year, for each commissary located within the network. The $1500 awards are made possible by ongoing support from manufacturers whose food is sold at commissary locations. Kellog's, Proctor and Gamble, Del Monte, PepsiCo and other recognizable companies support the Scholarship for Military Children Scholarships. The program has distributed more than $10 million in twelve years.
Qualified military children are encouraged to compete for the scholarships if they are attending a four-year university and possess a high school cumulative grade point average of at least 3.0. The competitive program draws more than 67,000 applicants annually.
ThanksUSA is a charitable non-profit organization dedicated to providing need based college, technical and vocational school scholarships for spouses and children of U.S. Military personnel. The foundation awards educational aid to military spouses and dependent children under age 24. Qualified applicants are pursuing their first degrees at two and four-year colleges and technical schools. Spouses also qualify when they are pursuing certification – even when they already possess a bachelor's degree
Scholarships are worth $3000 each, and though they are non-renewable, students in good standing may re-apply in subsequent years. Kaplan University funds an annual scholarship that is administered by ThanksUSA. The award provides a full ride to an eligible military student spouse. Applications for ThanksUSA aid are submitted alongside active-duty records, transcripts and candidate photos.
DUSA Scholarships are offered to daughters and granddaughters of career Army officers who are either on active duty, retired from active duty after 20 years of service, died while on active duty or died after retiring with 20 years of active service. Selection criteria include academic achievement, financial need, leadership and strong character. Applicants provide supporting documents including proof of service, 3 recommendations, 3 original essays, 4 years of transcripts, ACT/SAT scores and a resume. This $1000 scholarship is for undergraduate students.
Army Emergency Relief administers the Major General James Ursano Scholarship Fund, which provides scholarships to dependent children, stepchildren and adopted children of army soldiers; whether they are active, retired or deceased. Applicant eligibility is determined by demonstrated financial need and individual accomplishments. Scholarship winners are full time students, under age 23, who maintain the program's 2.0 GPA requirement.
Memorial Scholarships
Larry Strickland Leadership Award and Scholarship recognizes a non-commissioned officer who exhibits leadership and fosters positive stewardship of our soldiers. Mr. Strickland was a victim of the 9/11 Pentagon attack. His annual memorial award consists of a bronze eagle and $4,000 toward fees, books and other expenses related to the pursuit of higher education.
Joseph P. and Helen T. Cribbins Scholarships provide $2,000 educational grants to enlisted and honorably discharged soldiers serving in the Army, Army Reserve or Army National Guard. The funds are disbursed based on individual accomplishments and personal academic achievement; and the awards are restricted to students pursuing degrees in engineering, computer science and related fields. Each applicant must submit a letter of recommendation, a one-page autobiography and a current transcript.
Military Branches
Other Military Related
Browse Scholarships
Resources
More Educational Resources