Computer Networking Scholarships
Scholarships from Colleges and Government
With the high-tech level of efficiency and function that the first world currently prides itself on, the role of computers and the sciences related to their technology is one of the newest and one of the most major fields of study that you can undertake today. For the future IT/IS or computer networking student, this promising market means guaranteed job availability and a huge range of options in searching for degree programs.
Students who earn Bachelors and Masters degrees in the field will likely have to specialize or concentrate in networking within the realm of a larger computer science degree. Ph.D. students are ultra skilled in both theory and practice at that level, and will often find lucrative fellowships and assistantships in research projects focused on grid computing, advanced networking or distributed computing. These aspects, all the most advanced concepts in the field of computer networking, combine with practical application to make a very useful comprehensive degree.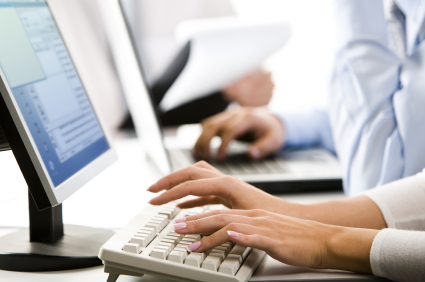 Special certificates of achievement are also a common method of standardization in education in the community and technical college arena. These vary from program to program, but will prepare an IT network technician to perform basic cabling, network design, basic router and switching, system monitoring and basic security.
If you are seriously considering computer networking as your chosen study in college, look out for an array of scholarship funding at all levels of collegiate effort. Not only will your local technical school be able to provide you with information on specific networking opportunities, but there are a few national, public, and private award options on a larger level.
Between the general scholarships awarded college students for merit or financial need, and these rewards that serve to fund computer networkers in particular, you will be able to put together a complete financial aid package that may cut your college costs considerably.
College Training Scholarships
Brooklyn Polytechnic University
Brooklyn Polytechnic University in New York sponsors post graduate assistantships and fellowships in an array of advanced IT areas. Common projects include issues of networking and computer system distribution.
These particular awards are Ph.D. Scholarships. Awards generously fulfill the cost for full tuition at Brooklyn Polytechnic and in most cases award a stipend for auxiliary expenses.
Nashville State Community College
Nashville State Community College offers the Electronic Data Systems Diversity Scholarship. Only minority students and women specializing in computer networking systems may qualify for the scholarships.
This is the college's way of pulling in those who are severely under-represented in the field of computer science by giving them an incentive. Qualified students must maintain at least a 3.0 GPA and be pursuing an Associates degree.
Mississippi Gulf Coast Community College
TRI-MEC Scholarships from Mississippi Gulf Coast Community College award students majoring in a computer science program up to $1100 for each semester of studies as long as academics are maintained.
Eligible majors include, among a few others computer-related fields, Computer Networking Technology. Applicants must also have a GPA of 3.0 and demonstrate financial need.
Cisco Networking Academy
Cisco Systems is a big-name technological developer and innovator who now also provides a broad spectrum of training in technology, and a special sector just for computer networking, through their Networking Academy. By the numbers, Cisco has trained over 4 million students in 10,000 academies in 165 countries. The academy partners with various governmental organizations, non-profits, and other business ventures to create "the world's largest classroom" of educational computer training resources, both in an online setting and in the classroom.
They emphasize certification to get students into careers beginning at the entry-level, and then move up to more advanced training and specialization. If you are interested in a Cisco Networking Academy near you – wherever you are in the world – and have financial need, they offer a few scholarships that cover the cost of training. These are often through corporate sponsors of Cisco, such as Panduit. There are even a couple award incentives just for women in technology, as well as one for $500 named after Cisco's second CEO, John Morgridge. Contact Cisco as an interested student to find out more about this year's scholarship opportunities for their career training programs.
Google Lime Scholarship Program
Leave it to the world's most popular internet search provider to introduce an exciting and unique scholarship opportunity in computer networking. Through Google's Lime Scholarship Program, $10,000 is available to US students (and 5000 to Canadian students) who have a disability and need funding to train in computer networking or attend a professional conference or retreat. All computer science students who have a valid disability and are academically outstanding are encouraged to apply, but Google will only pick the best of the best for this one-of-a-kind opportunity to pursue computer networking with a large backing of funds behind you.
Government Scholarships
Cyber Service Scholarships
Federal Cyber Service Scholarships for service are part of the Information Assurance initiative funded by the DoD, NSA and the NSF, all government security programs. Students enrolled in IT programs across the country in over 50 accredited institutions may apply for consideration. The needs of the national program are so comprehensive that IT majors in almost any area, including computer networking, are welcome and needed for service in this unique opportunity to get an education and a job at the same time.
In all, the program will award close to 200 scholarships each academic year. With a minimum scholarship of $10,000 for undergrads and $15,000 for grads, you can see how these would be very competitive. Only the best and most motivated tech students will win these awards.
Be aware that there is one further stipulation, though: the goal of the program is to boost security personnel at the federal level and they are doing this by offering full tuition in exchange for a period of work commitment after graduation. Essentially, what they are offering is a 1-for-1 exchange of funding for service, and if you think this would be a good fit for you it can be a fantastic opportunity.
Utah State Office of Education
Student scholarships in Technical Education are available through the Utah State Office of Education. Students pursuing IT programs and Networking at the technical college level may qualify for a number of awards. These varying incentives range in eligibility requirements and award amount:
USOE Tuition Scholarships are open to any undergraduate students enrolled in an IT major, including networking, at a state technical college of Utah.
CompTIA Awards go to students who are recommended by faculty members. One may not apply on one's own, but must be nominated. CompTIA is one of the leading IT certification companies and offers an award in the amount of $250.
Novell/USOE Young Network Professional Scholarship program is open to students who are enrolled in a Novell Network certification course.
More Opportunities in Networking
From the listing here, you can see that finding appropriate funding for your degree in computer networking is possible with a little research, hard work, and determination. The effort that you put in here will eventually be its own reward, as computer networking is such a vital and necessary part of the way our society functions and your talents in in the industry will always be needed. With a degree in computer networking, no matter at what level, you will have a highly marketable, practical and essential skill-set that is in high demand on the current and predicted future technology markets.
Additionally, don't forget to check with your local technical school or college for more scholarship options in computer networking. Not only do many small colleges often offer quite a bit of funding to dedicated students, students of technology may be able to find some monetary incentives or certification opportunities through private computer groups, local networking clubs, or electronics corporations in your community.
Remember that your resources are not exhausted if you have searched for only scholarships for schools in your area – programs like Cisco Networking Academy above have over 10,000 hubs worldwide that they provide training from, so there is bound to be a physical or online education option that suits you, and funding to go with it. Big-name companies like Intel are gold mines, too, in offering significant scholarships for innovative work in computer development and networking.
Technology Scholarships
Browse Scholarships
Resources
More Educational Resources