Coast Guard Scholarships
Scholarships for Enlisted, Reservists and Family
The U.S. Coast Guard (USCG), which is a branch of the armed forces under the jurisdiction of the Department of Homeland Security, has several types of careers available for college graduates. You can become an officer, join the ranks of those enlisted, serve in the reserves or auxiliaries, or work for the USCG as a civilian. So what will you find yourself doing when you have joined?
The USCG patrols America's coastlines, rescuing stranded boaters and victims of plane crashes. It enforces fisheries conservation laws, confiscates illegal drugs, and intercepts immigrants discovered during searches of boats. A USCG officer was designated as Federal On Scene Coordinator to lead the government's cleanup effort after the 2010 Deepwater Horizon oil spill because the USCG is responsible for controlling offshore pollution incidents.
Like other branches of the military, the USCG offers college scholarships as inducements for potential recruits, and for the families of active service members. Other groups supporting the USCG also provide some scholarship funding. The following are examples of the type of financial aid you and your family can expect to find.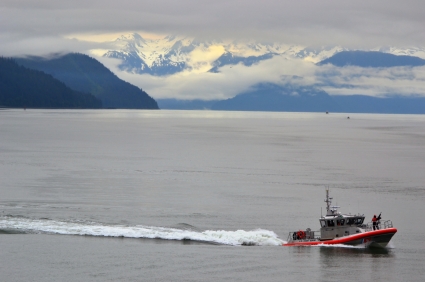 Military Funding
The Coast Guard pays some, and perhaps all, of the college tuition expenses incurred by three types of members: Active Duty, Selective Reserve or Coast Guard federal employee. This is called the Tuition Assistance program, and you can find more details on how it works here.
For spouses and other family members of those enlisted in the Coast Guard, the Coast Guard Mutual Assistance hands out Supplemental Education Grants (up to $150 annually) to pay for school expenses other than tuition.
The Coast Guard Exchange System Scholarship Program, for dependent children entering college, provides one-time scholarships of $1,500 to the most favorably evaluated applicant, $750 to the second-ranked, and $500 to the third. Criteria considered in the evaluation include academics, accomplishments and hobbies, and demonstrated leadership potential. The following documents must be submitted with an application: transcript, essay describing one's personal goals, and two reference letters.
Private Funding
Coast Guard Foundation
The Coast Guard Foundation offers six different scholarships for those connected to the USCG:
The RADM Arnold I. Sobel Scholarship, Commander Ronald J. Cantin Scholarship, Commander Daniel J. Christovich Scholarship, Fallen Heroes Scholarship, and USAA Enlisted Coast Guard Reservist Family Scholarship (six awards of $1,000 each) all go to dependents of Coast Guard members.
The Captain Ernest Fox Perpetual Scholarship is awarded to those working at the Aviation Logistics Center in Elizabeth City (North Carolina).
The Coast Guard Institute, which is the Coast Guard's educational program, also maintains a page of grants funded by both the Coast Guard Foundation and the Vander Putten family. Both active and reserve members in grades E-3 through E-9 are eligible and the four awards (the University of Oregon Bookstore Education Grant, Marine Science Education Grant, CG Foundation Education Grant, and Vander Putten Education Grant) range from $250 to $500.
Scholarships From Colleges
Lake Superior State University
Lake Superior State University offers the Amy Ignatowski Memorial Award to active USCG members, reservists, and their dependents. Applicants must belong to USCG Sector Sault Ste. Marie, Michigan and maintain a GPA of at least 2.0.
Columbia College
Columbia College has set up the Coast Guard Spouse Grant, which pays half of your undergraduate tuition at Columbia. The most you can collect is $4,000, and the grant cannot be used simultaneously with other monetary awards from the college.
Temple University
If you are a student at Temple University and wish to become an officer candidate, you can take advantage of the Coast Guard College Student Pre-Commissioning Initiative (CSPI). This requires joining the Coast Guard, and you will be considered an active service member. It's an excellent offer if you're interested in a career in the Coast Guard, because not only will full tuition be paid for you for one or two years, but your books and fees will also be covered. And you'll receive $2,000 per month in salary, plus military allowances for items like bed and board.
Tip: When looking for Coast Guard scholarships, don't forget to review scholarships that apply to all military members or their dependents. For example, the two $500 scholarships provided by the Women's Memorial Foundation (the Sarah Marjorie Kelley Scholarship for students in technical fields and the LTC Margaret L. Ellerman, USA, Ret., Scholarship applicable to any discipline) are open to any woman serving in the Coast Guard.
Military Branches
Other Military Related
Browse Scholarships
Resources
More Educational Resources