Network Management Scholarship Funding
Install, Configure, Debug Small to Large Network Systems
If nothing gets you going like the wires, chips, and micro-parts of a computer networking system, consider making a career of it by getting your degree in network management or technology. In this age when nearly every social system relies heavily on computer data to keep organized and connected, there is no shortage of need for professionals to oversee the inner workings of these networks, troubleshoot, and develop solutions for hiccups in the flow of information.
Network managers and technicians are responsible for the overall function of a computer network. As a career person, you will deal with all types of networks, including LAN, WAN, MAN, and even wireless. Network managers may also be responsible for all the substantial components of a network: routers, switches, cabling and conduit. As a network specialist, you may be trained to configure switches and routers, install cabling and configure new networks. You will also possess training in network design, network resources and basic security practices, everything from the fundamentals to the complex development of new networking systems.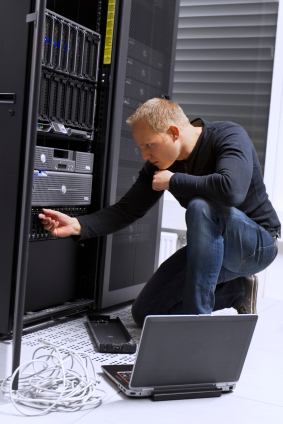 In the workplace, a network manager may work alone and wear a variety of different hats and responsibilities, or they may be part of a network team and specialize in one aspect of a very large network. If the hands-on challenge and mental configuration of this career appeals to your sensibilities, you will be pleased to know that there are scholarship opportunities available to cover the costs of your education in the field that will lead you to a rewarding career in networking. Here are a few originating from both private colleges and professional associations:
Scholarships
Syracuse University
The Federal Cyber Service Scholarship sponsored by the Systems Assurance Institute of Syracuse University in New York includes those graduate students studying Telecommunications and Network Management. The total award may be $18,000+ for graduate students.
The hitch for this generous sum is that you owe the federal government a year of your services for each year of scholarship you accept. You do, however, get to work within your field, so this education-and-a-job package deal is perfect for the student who doesn't mind committing to a job in return for free schooling in their dream career.
Kirkwood Community College
The Kirkwood Community College Foundation awards students the following scholarships to those deserving individuals who need financial assistance to attend programs at the Kirkwood Community College in Cedar Rapids, Iowa:
Bradley and Riley PC Information Technology Scholarship is open to students enrolled in a LAN Management program. Applicant must be interested in remaining in the Iowa region to practice their work and fulfill their career plans locally.
NSF Technology Scholars Program offers over $3,000 to qualified IT students. Applicants must be pursuing network management or a related degree program. This is a merit and need-based award.
Rockwell Collins Career Edge Academy Scholarships are awarded to 20 students with an emphasis on underrepresented populations. Awards are $1,000.
DeVry University
The Cisco Network Academy Scholarship is offered through DeVry University and gives qualified students $1200 a semester to study networking. A prerequisite for this gift is the basic Cisco Certified Network Associate certification, which offers basic skills in network management.
DeVry, an accredited school that has over 95 North American locations along with a host of online programming, generously gives away more than $40 million a year in scholarship funds that students do not have to pay back.
ASM Educational Center
The ASM Educational Center is based in Maryland and offers a plethora of technical training programs and certifications. ASM sponsors the very popular Microsoft certification courses, including the MCSE course that covers the basics of network management and systems management.
The scholarship offers up to $2,000 to offset the cost of the highly-sought-after course, which students can then take online or in a brick-and-mortar building. Unfortunately, scholarship benefits are not available to international students, in this case.
Northwest College
Northwest College in Wyoming offers a number of public and privately funded awards for its multitude of programs. Particularly, students enrolled in the Northwest College Business Network Technician program may qualify for one of the following scholarships through their generous financial aid department.
The Montana-Dakota Utilities Company Scholarship is awarded to a student who lives within the service area and is enrolled in a computer science program, including coursework in network and systems management.
Additionally, dozens of private general scholarships are available to Northwest College Students. The smallest awards start with $100 and go up to very substantial gifts.
Cisco Networking Academy
This training opportunity, as its name indicates, is a primary resource for those desiring to acquire immediately usable skills that are essential to the field, internationally innovative, and fundamental. Cisco is a major player in the technological realm of networking and systems management. Cisco Networking Academy is actually 10,000 different "academies" in over 165 countries that put their emphasis and efforts upon certification, training, and career placement. The previously mentioned DeVry University scholarship to Cisco provides funding for training in this regard.
If you choose to go this route, there are a number of other scholarships available to contribute to the cost of your training through the academy, and you are likely to be placed into a career as soon as possible after your education is complete. Get in touch with Cisco directly to find out which of these you are eligible for. Some awards, such as this one from Bangladesh, award funds to complete the next module in the training program to be a Cisco Certified Network Associate as soon as one is finished with the previous section of work.
Further Opportunities in Networking
If you have exhausted the above resources, rest assured that there are many more: this is only a small sampling of scholarship funding that is available to you for your degree in networking. Don't neglect online programs, general technology training, and the funds that may be waiting for you at your own front door through your college or university's financial aid office and department of computer science. There will most likely be both general funding and networking-specific awards available to you through the appropriate department of your college. Additionally, non-collegiate organizations like Cisco Systems Network Management and Automation who play a large role in industry training, conferences, events, careers, and standards, may prove to be a valuable resource for you to keep abreast of happenings and development in network management.
In your journey to uncover the selection of network-management opportunities that are available to you, be sure to make your special talents and intentions clear and well-defined, especially as the field grows progressively more popular and crowded. A well-rounded applicant who is academically sound as well as technologically-driven will make a memorable candidate for the plethora of unique programs – such as another Cisco-based computer networking degree at Westwood College – offered to those going into the nitty gritty of network managing.
Technology Scholarships
Browse Scholarships
Resources
More Educational Resources