Technology Management Scholarships
Synthesize Your Business Savvy and Tech Skills
Technology managers are one of the most widely needed professions in our society. Information technology (I.T.) managers analyze information systems and portfolios to determine whether a company or organization needs to upgrade its system or switch platforms, forecast needs, integrate planning, design and implementation and a whole lot more. Large organizations, including universities and corporations, depend on technology managers, or I.T. specialists, to control quality customer service and optimum economic efficiency. Wherever industry and business must comply with the latest market trends and technological developments, there will be professionals specializing in technology management and information systems.
As an I.T. manager, you will likely have experience or training in business principles and organization in combination with information systems. Curriculum may include database management, systems management, project management and even network management and management of an organization's very critical Help Desk.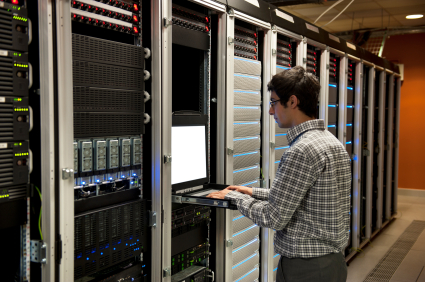 Technology managers may earn bachelor's or master's degrees. The more responsibility, the higher the degree you should seek. Large-scale enterprise I.T. systems demand professionals with versatility in both real-life experience and rigorous education.
Scholarships
Arizona State University
Arizona State University College of Technology & Innovation offers several scholarships, including:
APS/ASU Scholarships, $2,000, for all levels from incoming freshman, transfer through seniors in the college, based on need and a minimum GPA of 3.0.
The Honeywell Retirees Club Scholarship, amount varies, was created to provide scholarship support to an active member (or a family member) of the Honeywell Retirees Club attending ASU.
Albert McHenry Scholarship, up to $1,000, to academically proven students of all levels in the college.
Lee P. & Phyllis W. Thompson Quasi Memorial, amount varies, for full-time students in the college.
Project Management Institute Educational Foundation
PMI is a non-profit, non-political, public charitable organization with the slogan, "Empowering the future of project management." Its educational outreach foundation provides grants ranging from $1,000 to $10,000 for establishing new initiatives, undertaking research in the field of project management and as seed money for special projects. It also lists more than a dozen scholarships offered through specific schools or PMI chapters, ranging from $1,000 to $10,000 to full tuition for undergraduates and graduates. Scholarships are also available for teachers and professionals.
Society for Information Management
SIM has chapters throughout the United States to concentrate on information management's value to the business world. It provides scholarships of $2,000 each to: University of North Texas (UNT); Baylor; Texas Christian University; Southern Methodist University; University of Texas at Arlington; and University of Texas at Dallas. Local chapters may also offer regional scholarships. For instance, the Seattle Chapter has offered disadvantaged high school students in the Seattle area scholarships for pursuing information technology management.
Xerox
Xerox Technical Minority Scholarship Awards go to students majoring in a range of I.T. programs, including information and technology management. Qualified applicants must be of African American, Asian, Pacific Island, Native American, Native Alaskan, or Hispanic descent and have a minimum 3.0 GPA. Awards range from $1,000 to $10,000 for qualified minorities enrolled in a technical degree program at the bachelor level or above.
Polytechnic University of New York University
The graduate program at NYU-Poly offers specializations in technology and information management. The Accelerated Management of Technology program is a fast-paced suite of courses that ramp up any business graduate to handle the ever-changing technological demands of the business world. Students may qualify for general merit and need-based scholarships as well as a large number of changing endowments. Interested students must contact the school directly for a current list.
Howe School of Technology Management
The Howe School of Technology Management at Stevens Institute of Technology funds a total of five Master of Technology Management for Experienced Professionals Alumni Scholarships worth $10,000 to cover a full academic year of the program. Interested applicants must include a letter of recommendation from an alumna. The average age of students in the program is around 35 because these awards go to those who have worked at least 10 years in a wide range of high-technology services, but want to enhance their knowledge and skills.
Technology Scholarships
Browse Scholarships
Resources
More Educational Resources