Information Systems College Scholarships
Synthesize Business and Technology
Information systems are the means by which data is collected and analyzed and the resulting information is distributed. For a business, that means its interface with and use of the hardware and software where its data is stored and transmitted. Businesses use information systems to manage their work processes, for communication between employees and with customers, and even to market their products on the web.
There are two branches of the discipline, computer information systems (CIS) and management information systems (MIS). CIS focuses more on the technical aspect of computing, making sure all machines and programs function as they should. It includes skills like networking, computer security, database design and administration, and programming. If the information system performs at a high level, the company can extract more value from its use.
MIS is concerned with the business side of computing: how to use computers to control workflow, collect and analyze data, and make information available to the managers who decide on the company's strategy. MIS specialists determine what the business needs from its computers, and CIS specialists are responsible for meeting that need.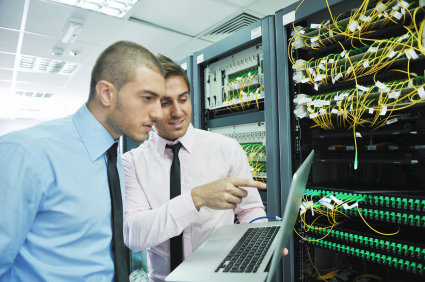 Scholarships From Colleges
Saint Vincent College
Saint Vincent College has devised an interesting method of awarding its CIS Competitive Scholarship, which goes to the high school senior who wins a logic exam. You must apply to Saint Vincent in order to compete, and the scholarship brings $16,000 ($4,000 for each year of college) to complete a CIS degree program. The winner must maintain a 3.0 GPA in freshman year and 3.25 thereafter.
University of Louisville
The University of Louisville's College of Business offers a Computer Information Systems degree program, and CIS majors may apply for any of the scholarships awarded to other students in that college. Some freshmen and transfer students are also eligible, and there is one online application for all the business scholarships.
Some scholarships are renewable, and the scholarship committee will decide which awards you receive. There is a separate page of information on the one CIS-specific scholarship, the CIS Scholastic Excellence Scholarship, and that goes to a full-time undergraduate major who has a GPA of at least 3.0. You must fill out a Free Application for Federal Student Aid (FAFSA) demonstrating financial need, and the scholarship is worth a maximum of $10,000 per year for two years.
Minnesota State University (Mankato)
The College of Science, Engineering and Technology (CSET) at Minnesota State University (Mankato) sponsors ten scholarships for its CIS students, and here are three examples of what is available:
The Federated Insurance Computer Science Scholarship is for juniors or seniors with a 3.0 GPA in major courses, and a major in CS, IT, or ISYS. There are two awards in the amount of $1,500 each.
The Turning Pointe Scholarship, for $1,000, goes to a single mother with at least one dependent child who has a major in CSET. There is no particular GPA criterion for this award.
The Mary and Clifford Hendrickson Scholarship is given to a student with a major in CSET and an overall GPA of 3.0.
University of North Florida
The University of North Florida's School of Computing has posted a list of scholarships here. There are five scholarships offered, including these three:
The Information and Computing Services, Inc. Scholarship goes to a junior or senior who is classed as a Florida resident in terms of tuition and is a full-time student with a GPA of at least 3.0.
The Modis Professional Service Scholarship is designed for a student who takes at least six credit hours and qualifies under one of three GPA calculations, one involving first-time college students, one for transfer students, and one for current students (a 3.2 GPA).
The Haskell Company Endowed Scholarship requires a GPA of 3.0 and full-time enrollment.
University of Georgia
The Management Information Systems Department at the University of Georgia provides scholarships funded by its corporate partners every spring. There is a departmental contact listed on the school's site if you'd like more information.
Scholarships From Private Organizations
Robert Half Technology and the Association of Information Technology Professionals
Each year, Robert Half Technology and the Association of Information Technology Professionals (AITP) open two $2,500 scholarships to AITP student members. To apply, your transcript must show you have a major in computer science (CIS, MIS, IT), and your GPA in your major courses must be 3.0. You must have completed at least one semester, and be enrolled as a full-time student.
The evaluators will look for academic excellence, leadership, and professional potential.
Boeing Company
The Boeing Company, like many large corporations, partners with colleges and universities across the nation to offer scholarships. Boeing funds a number of scholarships that emphasize computer science. There are many institutions that hand out variations of the Boeing Company Scholarship for Computer Information Systems, made available through the University of Central Missouri Foundation and given to a CIS major. You must be a junior or senior with a GPA of 3.25 both overall and in your major courses, and preference goes to AITP members.
Technology Scholarships
Browse Scholarships
Resources
More Educational Resources