Grants for Environmental Science Students
Seize Your Opportunity
The environmental sciences include all the scientific disciplines that analyze different aspects of the earth's environmental conditions. That means the field embraces geology, atmospheric and marine sciences, ecology, soil science, chemistry, biology, and even physics.
You'll discover that some of the funding for study in the environmental sciences, especially that provided by the government, flows in the form of research grants to private organizations like colleges, which then distribute some of the money to the students who participate in the funded projects (often in the form of fellowships). One example is the National Science Foundation's Research Experiences for Undergraduates (REU) program.
To take part in an REU project, you would need to check the search page to find institutions that engage in the type of research suited to your particular field (for example, earth or ocean sciences). Those locations are called REU Sites, and you can apply through those particular host institutions.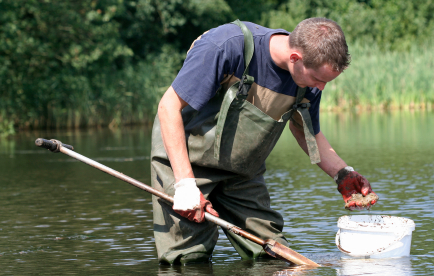 Government Fellowships
Environmental Protection Agency
The Environmental Protection Agency offers several fellowships for students at different academic levels, and here are some of those opportunities:
The Greater Research Opportunities Undergraduate Fellowships go to sophomores in college who are majoring in one of the fields listed above. The fellowship includes tuition support for your junior and senior years in college plus an EPA internship for the summer between those two years.
The National Network for Environmental Management Studies fellowships, for both undergraduates and graduate students, permit environmental science students to complete research projects that involve either environmental protection or pollution control. Students work on the projects full-time in the summer and part-time during school, and receive a stipend.
Science to Achieve Results (STAR) fellowships for graduate students support research into subjects like the effects of particulates or drinking water quality on health, environmental chemicals that disrupt the endocrine system, and the health of children.
National Oceanic and Atmospheric Administration
The National Oceanic and Atmospheric Administration (NOAA) also provides student fellowships like the following:
The NOAA Living Marine Resources Cooperative Science Center Fellowship is for undergraduates in sciences related to sustainable fisheries. You'll be given the chance to conduct research in areas like Essential Fish Habitat and Aquaculture, and receive a paid internship plus stipend in return.
The Great Lakes Commission-Sea Grant Fellowship gives a graduate student $34,000 per year, plus $6,000 for medical insurance and necessary travel. You'll be working on projects that advance environmental quality in the Great Lakes states.
The NOAA Coral Reef Management Fellowship, for students with either bachelors or masters degrees, provides two years of financial assistance to help manage coral reefs in the U.S. Flag Pacific and Caribbean Islands. Medical insurance, travel, and relocation expenses are paid.
NOAA also funds Sea Grant programs in coastal states, which are administered through schools located in those states, and as of 2012 there were 32 programs to choose from. You can examine the Sea Grant map to see where they're located.
Grants Through Colleges
Oregon State University
Oregon State University is the headquarters for Oregon's NOAA Sea Grant program, and you can find a wealth of information on research projects and how to apply for a grant to fund your own. These grants are designed to underwrite team projects headed by an experienced environmental scientist like one of your professors and staffed by students in training.
Recently funded projects include the effects of ocean acidification on fisheries and substances produced by creatures living near hydrothermal vents.
Michigan State University
Michigan State University's Environmental Science and Policy Program (ESPP) offers two conference funding grants and one set of fellowships. The $750 grants go to graduate students who want to attend multidisciplinary conferences that have an environmental theme, and the $1,000 grants to ESPP specialization students for the same purpose. All grant recipients must present their work at those conferences.
New doctoral students may apply for a $35,000 fellowship to cover the first year of study, and five fellowships are awarded every year.
Grants Through Private Organizations
Cary Institute of Ecosystem Studies
The Cary Institute of Ecosystem Studies retains 16 Ph.D. scientists to direct its REU research projects, working on such topics as the interaction of infectious diseases and ecological changes, the effect of acid rain on forests and bodies of fresh water, and climate change.
Summers are designated as annual REU study periods, and students accepted into the REU program receive on-campus housing, a $6,000 stipend, and a $600 allowance for food.
Woods Hole Oceanographic Institution
Woods Hole Oceanographic Institution underwrites marine and geosciences research for higher education in a number of ways, such as these programs:
Undergraduates can choose among the Summer Student Fellowships, Minority Fellowships, and Guest Student Program, which is a very interesting type of casual internship opportunity.
Graduate students can join the MIT-WHOI Joint Program (a partnership with the Massachusetts Institute of Technology) or the ongoing interdisciplinary study of geophysical fluid dynamics.
Postdoctoral environmental scientists can apply for appointments as scholars and fellows, or as Postdoctoral Investigators to assist with existing contract and grant research.
Subjects
Browse Grants
Academic
Government
More Educational Resources