Paying for Social Work Degrees
Help Yourself First
Social workers fill a vital need in communities all across the country. For the disadvantaged and the disenfranchised, social workers provide a bastion of hope when events and circumstances become too much to handle. It is a noble profession, and one that requires a unique dedication to the welfare of others. Social workers bring relief and counseling to people in a variety of difficult, and often life altering, circumstances. Students with degrees in social work often find themselves working with abuse survivors, families and children in troubled circumstances, the aged and infirm, and the mentally or physically disabled. These are the people who depend upon social workers on a daily basis.
A career in social work offers many rewards, but it also requires an extensive education. While there are some career opportunities for graduates with a bachelor's degree, the majority of the professional positions open to social workers require a doctorate or a Master's degree. The extensive education required to become a licensed social worker brings with it a greater financial burden for college students. To meet this burden, both the public and private sectors support a wide variety of financial aid programs designed to help students find the funds they need to complete college. These programs are supported by Federal and state governments, professional associations and colleges and universities. If you have the desire to serve others, and the determination to succeed in your educational goals, there may be a grant, scholarship or loan-forgiveness program that meets your needs.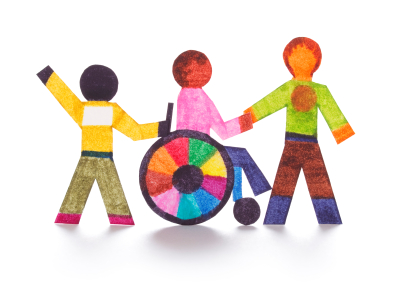 Federal Grants for Social Work Students
The Federal government offers a number of college grants through the United States Department of Education. While they are not specific to students pursuing a degree in social work, they can offer vital financial assistance to students pursuing a public service career path. The following grants from the Federal government are open to all students, including those pursuing a degree in social work.
The Federal Pell Grant is available to undergraduate and graduate students who can demonstrate the requisite level of financial need. Award amounts vary according to financial need, status as a full or part-time student, and the total cost of attendance. The maximum award amount currently stands at $5500 per academic year.
The Federal Supplemental Educational Opportunity Grant (FSEOG) is open to students who have received a Pell grant, but are still faced with extreme financial need. The FSEOG is administered through the financial aid offices of participating colleges and universities, and is awarded on a first come, first served, basis. Award amounts range from $100 to $4000. Students must apply for the FSEOG through their college's office of financial aid.
The Public Service Loan Forgiveness Program offers partial forgiveness of Federal student loans for graduates who enter a field of public service. While not strictly a grant, this program can benefit licensed social workers who have outstanding Federal Direct Loans.
As with all Federal and state supported financial aid programs, students must first fill out and submit the Free Application for Federal Student Aid before applying for any of the above programs.
State Supported Grants for Social Work Students
Many states offer financial aid for students pursuing careers in public service, particularly in areas where there may be critical shortages of qualified professionals. States routinely offer grants and loan-forgiveness programs for students pursuing degrees in nursing, teaching, primary healthcare and social work. Typically, these will be award-for-service programs requiring the student to agree to a predetermined term of service working within the community. These programs vary significantly from state to state, and students should contact their state's Department of Higher Education for information on specific programs which may be available to them.
The following examples of state supported financial aid for social work majors will give students an idea of what to look for from their state government.
Maryland's Workforce Shortage Student Assistance Grant provides financial assistance to resident students who are pursuing a degree, and ultimately a career, in a critical need profession such as teaching, healthcare or social work. Awards are determined according to a combination of academic merit and financial need. Students must be residents of Maryland enrolled in a state college or university, and must agree to a term of employment in a high need community or facility. Awards amounts range from $1000 to $4000.
New York's Licensed Social Worker Loan Forgiveness Program is an award-for-service program that offers full or partial loan-forgiveness for social workers who agree to a predetermined term of service in an at risk community or critical-need facility. While not a grant program as such, it provides much needed financial assistance to students in New York State who are pursing degrees and careers in social work.
Financial Aid from Colleges and Universities
Colleges and universities offering degree programs in social work often support grants, scholarships and fellowships for students majoring in social service and related studies. Available financial aid programs will vary from school to school, and students are encouraged to contact the financial aid offices at their college of choice to learn about programs which may be available to them.
The following grants are typical of the kinds of school supported financial aid programs for students pursuing degrees in social work.
Wayne State University's School of Social Work offers a number of grants and scholarships for its undergraduate students, as well as fellowships for graduate level students. Chief among the university's programs is the Elizabeth N. Brehler Scholars Program. This writing competition awards $3000 to the student who delivers the finest manuscript on the the importance, and responsibilities, of social work in modern communities.
The Boston College Graduate School of Social Work offers the Presidential Tuition Scholarship. The award is decided on the basis of academic merit, diversity and experience. Applicants must be graduate level students currently enrolled at Boston College Graduate School of Social Work. Award amounts vary according to availability of funds.
Social Work Grants Supported by Professional Associations
Students pursuing degrees in social work will also want to look for grants, scholarships and fellowships supported by the professional associations that represent, and advocate for, social workers. These organizations routinely offer financial assistance to students who are pursuing degrees in social work. In some cases, it may be a requirement that students become members of the association or organization in order to be eligible for any benefits. In addition to providing much needed financial assistance, many of these professional associations also offer career advice and counseling for new graduates who are moving into the workforce.
The following are a two examples of the financial aid programs sponsored or administered by professional associations related to social work and social services.
The National Association of Black Social Workers supports a wide range of scholarships, grants and fellowships for African-American students pursuing a career in social services. The many financial aid programs supported by the NABSW include the Dr. Joyce Beckett Grad Student Tuition Scholarship ($1000), the Stella Brown Book Award ($250), the Emma & Meloid Algood Undergrad Tuition Scholarship ($1000) and the Salena Danette Brown Book Scholarship($250).
The National Association of Social Workers sponsors a number of fellowships for graduate level students, including the Jane B. Aron Doctoral Fellowship and the Eileen Blackey Doctoral Fellowship. Award amounts are $2000 per academic year, and applicants must be student members of the NASW.
A career in social work brings great rewards, and great responsibilities. It is a proud and noble professional path to follow, but students often find that the extensive educational requirements bring financial burdens that are difficult to surmount. Fortunately, there are many sources of financial aid available to students pursuing degrees and careers in social work. Grants, scholarships and loan-forgiveness programs make it possible for students to pursue their devotion to the service of others.
Students interested in pursuing a career in social work should also refer to our section on Scholarships for Social Work Majors for information on further financial aid opportunities.
Subjects
Browse Grants
Academic
Government
More Educational Resources