Physical Therapy Student Grants
Stretching Your College Budget?
A career in physical therapy can take many different paths. Physical therapists work with a wide variety of patients, including athletes, the elderly and infirm, and patients with chronic debilitating illnesses. Physical therapy specialists also routinely work with patients who have suffered severe injuries, and are struggling to regain their mobility and independence. Physical therapists are in high demand, and with an aging American population that demand shows little sign of abating.
Students interested in physical therapy have two career levels to consider. Licensed physical therapists must have a Master's degree or Ph.D., which will require a four year university education. Becoming a physical therapy assistant requires, at minimum, a two year degree. Many students pursuing a career in physical therapy choose to stagger their education, first pursuing a two year degree at a community college or vocational school, and then working as a physical therapy assistant while pursuing their Master's or Ph.D..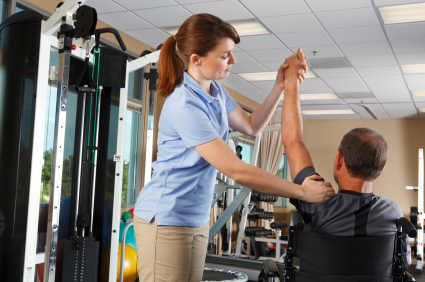 Physical therapy can be a rewarding and lucrative career, but it requires a significant amount of education and training. Whether entering directly into a four year program, or taking the community college route, pursuing a degree in physical therapy can be expensive, and most students will require some level of financial aid to help them meet the costs of their tuition. Fortunately, the high demand for physical therapists has led to an increase in the availability of grants and scholarships for students pursuing physical therapy as a career. These programs are sponsored by a variety of sources, including the Federal government, colleges and universities, and private and professional organizations.
Federally Funded Grants
The first stop for any student pursuing grants to supplement their college fund is the Federal government. While there are no Federally funded grant programs specifically targeting physical therapy majors, there are a few government education grants that can be applied to the needs of students enrolled in a PT program.
The following Federal grants may be applicable to students enrolled in a physical therapy program at an accredited college or university.
The Federal Pell Grant – The Pell Grant is available to undergraduate students with the requisite level of financial need. Physical therapy students enrolled at the community college level will find the Pell grant particularly useful. Award amounts are determined by financial need, cost of attendance, and status as a full or part time student. The maximum award allowance is $5,500 per year.
The Federal Supplemental Educational Opportunity Grant – The FSEOG is available to undergraduate students enrolled in a participating college or university. To be eligible, students must have already qualified for a Pell grant, but still have exceptional financial need. The FSEOG is a campus based program, and students must apply through their college's financial aid offices. Award amounts range from $100 to $4000 depending on financial need, status as a full or part time student, and total cost of attendance.
In addition to the Federal grant programs discussed here, the U.S Department of Health and Human Services offers a number scholarships and loans through the Health Resources and Services Administration. While not strictly grant programs, the financial aid incentives are designed to assist students entering into the healthcare profession. The following scholarship program is open to students pursuing a degree in physical therapy.
The HRSA Scholarship for Disadvantaged Students is a campus based grant funded by the U.S. Department of Health and Human Services. The program provides assistance to financially needy students from disadvantaged backgrounds. To be eligible, students must be pursuing a degree in an approved healthcare field, including physical therapy. Participating colleges and universities determine eligibility and award amounts.
As with all Federal and state financial aid programs, students must first fill out and submit the Free Application for Federal Student Aid before they can apply for any of the above programs. The FAFSA is a requirement for all government supported financial aid, and students should make it priority number one in their search for college funding.
Colleges and Universities
Once any available Federal financial aid has been exhausted, students should look to their college of attendance for possible grant opportunities. Many colleges and universities offering physical therapy degrees provide financial aid for their attending students. Programs will vary greatly from school to school, and students should contact their college's office of financial aid for information on grants and scholarships for which they may be eligible. Students should also contact the department head of their physical therapy program to learn of any financial aid programs which may be available, either through the college or through private organizations.
Physical therapy students attending a community college or vocational school may find fewer available financial aid programs than those attending a four year university. Universities typically offer more financial aid opportunities than two year colleges. However, students should still consult their school's financial aid officer for information on campus-based grants and scholarships as this can help them determine the university to which they wish to transfer after receiving their two year degree.
The following financial aid opportunities will illustrate the types of campus-based programs available to physical therapy students.
The School of Allied Health Sciences at the University of Nevada, Las Vegas offers a variety of scholarships and grants for its attending students. Both undergraduate and graduate students have access to a number of financial aid programs designed to help them fund their education. The UNLV Grant provides up to $3900 in financial assistance to enrolled undergraduate students with extreme financial need, while the Nevada Bureau of Indian Affairs Grant offers up to $2000 in financial assistance to Native American students with financial need.
The College of Mount St. Joseph offers degree level courses in physical therapy, occupational therapy and sports medicine. The college sponsors a wide range of scholarships and grants for its attending students, many of which are available to students pursuing degrees in physical therapy. Current programs include the Mount St. Joseph Grant which provides up to $2000 in financial assistance to students with extreme financial need. Mount St. Joseph also offers the MSJ Opportunity Award to current students who demonstrate a high level of academic achievement. The current value of the MSJ Opportunity Award is $6000.
The School of Health and Rehabilitation Services at Ohio State University offers a number of fellowships for graduate level students completing their Master's or Doctoral degree in Physical Therapy. These fellowships are highly competitive, and target students engaged in specific rehabilitation related research. Current programs include the OSU Clinical Residency in Geriatric Physical Therapy , the OSU Clinical Residency in Pediatric Physical Therapy, and the OSU Clinical Residency in Sports Physical Therapy
Private Organizations
Private organizations and professional associations are prime sources for grants and scholarships dedicated to encouraging and supporting students pursuing careers as physical therapists. Professional associations of physical therapists often offer financial aid to deserving students, in the form of grants, scholarships and fellowships, as a way to develop the next generation of industry professionals. Many of these professional associations are regional, and students should search for state organizations that work to improve access to licensed physical therapists within their area.
Physical therapy students looking for grants and scholarships to help pay for college should refine their search by focusing on their particular field of interest. For example, a student wishing to pursue a career in sports medicine will want to look for organizations that serve the healthcare needs of both amateur and professional athletes, while students who wish to specialize in geriatric physical therapy will want to look for organizations dedicated to the needs of the elderly.
The following examples are typical of the kinds of financial aid opportunities supported by private and professional organizations for physical therapy students.
A degree in physical therapy can lead to a variety of career opportunities. Physical therapists work with athletes recovering from injuries, children and adults with disabilities, and elderly patients working to manage chronic pain or improve their mobility. For many patients, physical therapy offers their best chance to regain their independence, and to live full and rewarding lives free of pain. For students pursuing careers in physical therapy, grants and scholarships provide the much needed financial assistance they need to realize their professional ambitions.
Subjects
Browse Grants
Academic
Government
More Educational Resources