Acute and Critical Care Nursing Scholarships
Fast-Paced and Demanding Patient Care
Acute or critical care nurses work with patients who are suffering from immediately life-threatening conditions. The first intensive care units, which are typically where an acute care nurse works, did not start to appear until the middle of the twentieth century, so the idea of specializing in acute care nursing is fairly new.
As a critical care nurse, your patients will be extremely fragile, and caring for them will mean successfully accounting for the numerous interconnected factors that govern not only their health but their survival. Critical care is, consequently, a very demanding field, but potential rewards for dedicating yourself to it are correspondingly great. Furthermore, the continuing high demand for the profession will guarantee you a choice of jobs for the foreseeable future.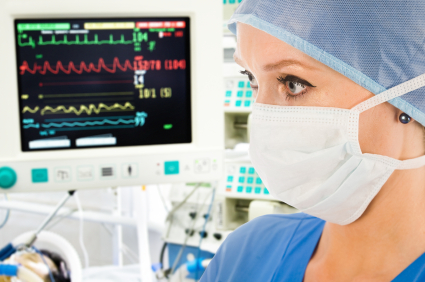 Scholarships From Private Organizations
American Association of Critical-Care Nurses
The American Association of Critical-Care Nurses (AACN) offers scholarship assistance to members who are seeking further professional development. AACN wants to fund individual courses that suit your specific career goals rather than courses you need for a degree program, so you will need to describe the connection between your plans and the course for which you're requesting funding.
With your application, you will need to provide a detailed budget, and there is an annual limit of $3,000 per recipient.
Scholarships From Colleges
Johns Hopkins University
The School of Nursing at Johns Hopkins University, which offers both undergraduate training and a masters degree program for the nurse practitioner in adult-gerontology acute care, has posted a page of nursing scholarships. Several of those are suitable for the adult-gerontology acute care track:
The Fuld Fellowship in Patient Care Quality Safety is intended to support nursing students who focus on older adult care. There are 20 undergraduate scholarships available for $16,000 each.
The Academic Merit Scholarships, for undergraduates and masters candidates, look for students who have not only strong academic records but also participate in outside activities. If you maintain a good record, the scholarship is potentially renewable.
The Peace Corps Fellows Scholarships, for recently returned volunteers, and the Teach for America (TFA) scholarship, for TFA members, bring annual awards of $12,500 each.
University of California, San Francisco
The University of California, San Francisco's School of Nursing currently offers masters degrees for two types of acute care nurse practitioner specialization (pediatric and adult-gerontological). It administers two particularly suitable scholarships, in addition to general financial aid:
The government-funded Professional Nurse Scholarship/Traineeship, which provides a monthly allowance of $500 for between one and three quarters each year. You must apply separately in order to renew from year to year.
The Dr. Kathleen Puntillo Critical Care/Trauma Scholarship, for students with a GPA of at least 3.0. If you are a masters student, you must also have your registered nurse's license.
University of Texas at Arlington
The College of Nursing at the University of Texas at Arlington offers two acute care nurse practitioner degree programs (one being for pediatric acute care), and has a single application form for all its different scholarships. If you are an undergraduate who has finished at least one semester and been admitted to the junior level of the College, you may be eligible for the nursing scholarships.
GPA requirements are 3.25 for undergraduates and 3.5 for graduate students.
Vanderbilt University
The Vanderbilt University School of Nursing has established several acute care degree programs (one pediatric plus two in adult-gerontology), and hands out a large number of scholarships in support of its students. Two of those are designated for acute care nursing students:
The Frances Phillips Ward Scholarship goes to a student in adult-gerontology acute care, and if you focus on oncology nursing you will receive preference.
The Zelle Scholarship is awarded to an adult-gerontology acute care student who wants to specialize in rehabilitative medicine.
University of Florida
The University of Florida College of Nursing has a scholarship program underwritten by the University of Florida Foundation, providing 34 choices for nursing students. Those seeking a masters in adult critical care with an emphasis on burn nursing are eligible for the F. Eugene Tubbs Critical Burn Nursing Scholarship. For details, contact the College of Nursing.
Oklahoma State University Medical Center
Oklahoma State University Medical Center (OSUMC) makes an interesting scholarship-for-service program available to current and potential employees who need money for school. Critical care nurses are always in demand, and if you intend to study in a field in which OSUMC is hiring, OSUMC will pay for your courses. You must keep a GPA of 2.7 to qualify for renewal and agree to work six months at OSUMC for each semester of financial aid you receive.
Nursing Degree Levels
Specialties
Browse Scholarships
Resources
More Educational Resources