Jewish Scholarship Funding
Helping You Towards Your Degree
The American Jewish community is philanthropically oriented, and financial aid for Jewish college students is correspondingly easy to find. The first area to check for scholarships if you are a Jewish student, or a student interested in Jewish studies, is the collection of Jewish groups in your area. Try organizations like B'nai B'rith, Hadassah, Jewish war veterans' clubs, Jewish women's associations, and so on.
If you volunteer at a Jewish community center, ask your supervisors for recommendations, and consult your rabbi to see what he or she suggests.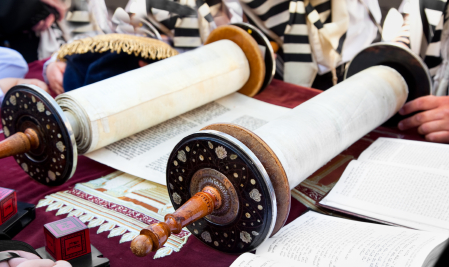 Scholarships From Private Organizations
Jewish Federations Of North America
A group known as the Jewish Federations of North America sponsors the Federation Executive Recruitment & Education Program (FEREP) scholarships as part of an employee recruitment and development effort. The FEREP awards are made to graduate students in exchange for at least two years of paid work in one of the North American Jewish federations.
Candidates must have a bachelors degree and a GPA of 3.0, and eligible fields of study include non-clinical social work, public administration, and business administration (nonprofit track). That professional orientation must be paired with graduate-level Jewish studies, and the FEREP scholarships bring $20,000 per year for up to two years.
Jewish Community Federation
The Jewish Community Federation lists ten scholarship funds for which college students can apply. Here are three of those options:
The Marvin Anmuth Scholarship goes to a Jewish student of electrical engineering who lives in the San Francisco Bay Area. Requirements include financial need, a 3.0 GPA, and community leadership, and the award varies between $2,500 and $5,000.
The Elaine and Barry Gilbert College Scholarship gives between $3,000 and $5,000 to Jewish students who are seniors in high school planning to attend a school in the University of California system. Graduates of either Lowell or Washington High School (San Francisco) receive preference.
The Gail Karp Orgell Scholarship goes to a female student at a four-year school who has a strong academic history, shows athletic ability, and is known for leadership. The amount ranges from $2,000 to $4,000.
Jewish Community Centers Of North America
The Jewish Community Centers (JCCs) of North America offer a set of graduate scholarships not unlike those handed out in FEREP, meaning they are intended to produce professional employees to work at the JCCs. Graduate students are given as much as $10,000 each year to pursue studies in such fields as nonprofit management, early childhood education, health and physical education, and Jewish studies.
Students will work at a JCC during school (an arrangement like an internship, but called a "field placement"), and must agree to continue employment at a JCC location for at least two years after graduation. Should you fail to secure such employment, the scholarship aid will convert to a loan, albeit one with no interest.
Scholarships For Jewish Studies And Jewish Students
There are a great many scholarships available to students majoring in Jewish studies, as you can see from the stipulations pertaining to FEREP and the JCCs, mentioned above. The following is a small sample of aid distributed through individual colleges and universities.
University of Minnesota
The University of Minnesota administers two scholarships reserved for Jewish students. The Bentson Family Scholarship is worth $24,000 over a four-year period, and it considers academic achievement first, including GPA, class ranking, difficulty of coursework, and scores on standardized tests. In addition, other factors may also receive weight, including your particular talents, any personal hardship, and military service.
The Leon & Ida Finkelstein Memorial Scholarship goes to a Minnesota resident, preferably to one who has lost a parent, and the award is based on financial need.
University of Wisconsin-Madison
The Mosse/Weinstein Center for Jewish Studies at the University of Wisconsin-Madison (UW-Madison) provides an array of grants, awards, and scholarships to its majors. Here are three of the scholarships:
The Robert and Beverly Natelson Family Award in Jewish Studies for $3,000 can be given to either an undergraduate or a graduate student, and both academic history and financial circumstances will be considered.
The Marjorie and Harry Tobias Undergraduate Major/Certificate Scholarship is for financially needy undergraduates, to help ensure they can continue their Jewish studies.
The Ida and Isaac Lipton Scholarship for Domestic Study goes to students seeking to take courses outside UW-Madison, like a summer term or seminar at another school.
University of North Texas
The University of North Texas provides scholarships through its Jewish studies program, many of which share basic requirements like two reference letters from teachers and submitting a short statement about your scholastic progress. Other common standards are a GPA of 3.0 or above, completion of two major courses, and a written statement of intent to minor in Jewish studies (for undergraduates), and a GPA of 3.25 plus proof of an ongoing Jewish studies dissertation (for graduate students).
Those criteria apply to the Schultz Family Scholarships, the Jay and Kathy Wolens Jewish Studies Scholarships in Memory of Max and Florence Wolens, and the Wisch Family Scholarships, among others.
Scholarships For Study In Or Students From Israel
This special category of scholarship is fairly easy to find, and its goal is to strengthen ties between the two Jewish communities of America and Israel.
Hebrew Immigrant Aid Society
The Hebrew Immigrant Aid Society (HIAS) helps Jews from elsewhere in the world start new lives in the United States. HIAS scholarships go to immigrant students who have been enrolled in American schools for at least a year prior to application. Acceptable study programs include associate, bachelors, masters, and doctoral degrees, as well as technical certificates.
Religious
Browse Scholarships
Resources
More Educational Resources